Handsome Hung Black American Gay Porn Star, Andre Donovan
Known Aliases:
Years Active: 2015 – 2022

POWER PLAY: Andre Donovan fucks Jake Waters
After watching Jake Waters secretly touch himself during a work meeting, Andre Donovan is ready to see what the businessman's stroke game is like first-hand. Andre immediately gets down to business by pulling out his 9.5′ for his co-worker to swallow. Now completely rid of his constricting suit and only wearing a jock, a hard Jake gets into position for Andre's hung dick to bareback him. He winces while lying on the bathroom counter as his co-worker endlessly thrusts himself inside of his young hole. With his eyes rolling into the back of his head, Andre pulls out and covers his fellow manager's ass in a thick layer of jizz. He then shoves his stiff dick back inside Jake with the bottom blowing his load just moments later.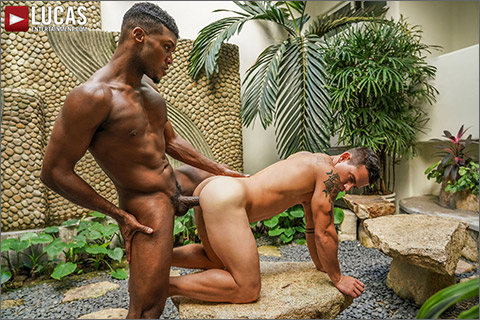 BAREBACKING BRENT EVERETT: Brent Everett Bottoms For Andre Donovan's BBC
Brent Everett has always been sexually versatile. All his adult life guys have wanted to get fucked deep and hard (and preferably raw) by Brent's big, fat cock. But sometimes there's no more beautiful sight than seeing his tight muscles flexing as he's bouncing on a big cock. Andre Donovan never fails as a hard-and-rough top — don't forget, his sex scene with Allen King on Fire Island during the September 2019 production was a standout. Brent Everett takes Andre Donovan's BBC from plenty of positions so he can feel that monster dick tickle the prostate as much as possible!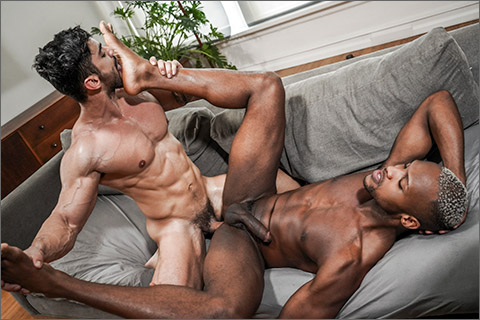 GENTLEMEN 26: LONG, HARD HOURS: Andre Donovan Bottoms For Arad Winwin
Arad Winwin is a powerful Persian business tycoon who is not afraid to use his influence to get men to do whatever he wants whenever he wants. Arad is well aware of Andre Donovan and his business acumen in New York, and he's also aware of Andre's personal life as an alpha top in the city and how it intermingles with his white-collar life. Arad makes it his mission on his business trip to New York to make Andre work very long and very hard for his executive contract, and that means Andre Donovan, a total top, is going to have to bottom for the first time and take a hard pounding from Arad Winwin and his rock-hard raw cock!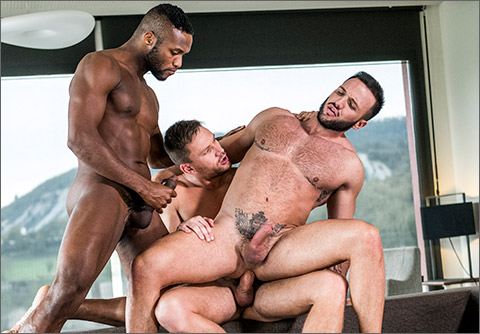 DONATO REYES' BAREBACK PREMIERE: Donato Reyes' Bareback Premiere With Andre Donovan And Andrey Vic
Donato Reyes has been out of the gay porn industry for four years now, and when he was actively filming he never once starred in a bareback sex scene. Donato is now back and he's chosen Lucas Entertainment as the studio where he's making not one, but two debuts. You'll get to see Donato in a never-before-seen gay bareback sex scene for the first time ever, and it's his first scene filmed in four years! Lucas Entertainment exclusive models Andre Donovan and Andrey Vic were hand-selected to pop Donato's bareback cherry. Andre is the first to slip in his raw dick as he goes back and forth fucking Donato Reyes and the Russian star Andrey. Afterward, Donato is used from both ends as Andre gets his cock sucked while Andrey fucks the cum out of Donato!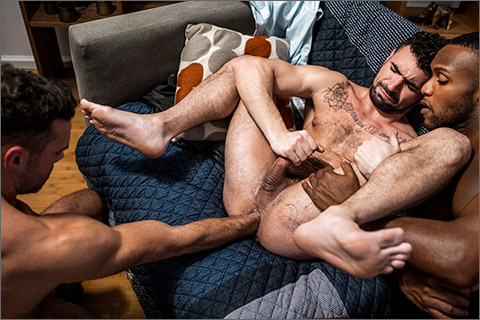 GENTLEMEN 25 – EDJI'S THE BOSS: Manuel Skye And Andre Donovan Double-Fuck Ian Greene
Manuel Skye and Andre Donovan are two top-level executives working at Edji Da Silva's company. They both take charge at work and after hours when they exploit their power over their subordinates. Ian Greene has always had a thing for both guys, but he never knew what would be in store for him when he stayed late for a special performance review. Manuel and Andre do not hold back on the guy; they double fuck his ass, shove their hands up his hole, and leave him with a rosebud he won't soon forget. And that's how you earn a promotion at Edji's company!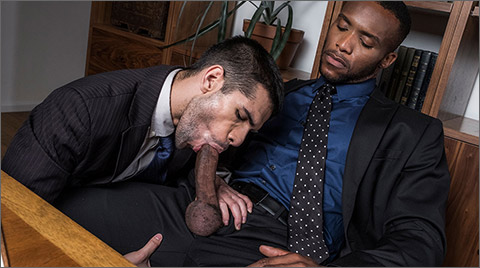 GENTLEMEN 21 – TOP MANAGEMENT: Andre Donovan Makes Ty Mitchell His Bitch
Ty Mitchell has been in love with his boss, Andre Donovan, for months. Who wouldn't fall for him? He tall, handsome, has an incredible body, and his big black cock is a beautiful sight to behold. Andre has known all along that Ty wants Andre to take control of him and show him who is truly in charge. Andre doesn't take it easy on Ty, either: as a gorgeous gay black man and a dominant top sexually, he shows Ty he loves roughing a bottom up!

EARTHBOUND – HEAVEN TO HELL 2: Andre Donovan as Dark Angel fucks Johnny V as Barfly
The Devil's Dark Angels have been sent to a sinful nightclub to capture and return Rogue who abandoned their master. In his quest for information, one of the Devil's Dark Angels, Andre Donovan, encounters a bar patron, Barfly. After learning what he needs to know, Andre decides to have some fun with Barfly. A single kiss snowballs into writhing and groping, which then turns into Barfly sucking Andre's massive cock. Moistening his fingers with spit, Andre probes Barfly's hungry hole, eager to sample its pleasures. Spreading Barfly's ass wide, Andre dives in tongue first and delivers a frantic rim job. Removing all his clothing, Andre slaps his huge cock across Barfly's ass, then presses it inside. As sweat glistens on their bodies, Andre picks up speed, pounding the hell out of Barfly. After doing it doggy style, Andre positions Johnny in a seated position, using gravity to bounce him up and down. Barfly's huge balls flop up and down as he rides Andre's thick fuck stick. When he climaxes, Barfly shoots a hot, white load across Andre's muscular thighs. Kneeling before Andre, Barfly eagerly licks the Dark Angel's cock and balls. His reward is a blast of cum to the face, and he gratefully uses his tongue to clean Andre's throbbing cock.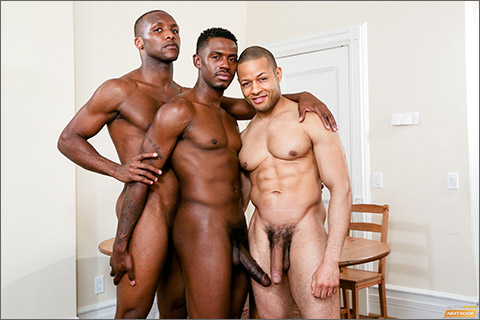 PLAYING BONES
What a sweet treat for all you strip dominoes lovers. The game of 'bones' is played among friends by taking turns positioning dominoes together to accumulate points, based on the rules. Today, Krave Moore has invited over two friends to have a little fun. But Rex Cobra and Andre Donovan don't know yet that Krave has another kind of 'bones' in mind!
   When Rex brings out the vodka, the guys decide to play strip dominoes, with shots to boot. The first guy peeling his shirt off is Krave. Not too long after, Rex and Donovan are pulling their pants down and showing off their gradually swelling cocks. Some horseplay ensues, and Krave is eventually on his knees, enjoying both hard dicks at once. Since Krave had the most points in the game, he gets to bottom this time. Krave is a real cock-hungry boner hound and loves being in the middle of the action.
   After slobbing on both knobs for a while, he bends over so Donovan can get some nice access to his ass. While Donovan enjoys tasting Krave's tender hole, Krave continues slurping Rex's fat, swollen cock. Then they switch things around a bit so Rex can slide his big dick into Krave's ass. He works his large meat in and builds to a good, solid steady fucking, the proper kind Krave likes. This gets Donovan eager to slam Krave's tight end, so they switch things around.
   Join this friendly round of strip dominoes that turns into a hot and wild fuck party before the game's even over!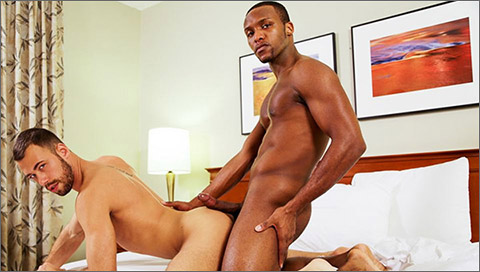 LOVERS' QUARREL
Brandon Jones is a dirty, naughty bad boy. He texted a picture of his dick to the hot guy that works at the gas station downtown. Andre is PISSED! But Brandon knows the quickest way back into his good graces. That's why he's kissing softly and licking gently along the back of Andre's neck. Sure enough, Andre can't resist this type of sweet loving. Before Andre can even turn his frown upside down, Brandon is taking Andre's fat, meaty dick deep. After some passionate sucking, Andre has a nice taste of Brandon's tender ass. He licks it up and down thoroughly, anticipating what's next. Andre pushes his thick erection into Brandon slowly at first, then pounds him hard. He makes sure to deliver a solid punishment so Brandon won't text flirt with other guys anymore. Join these love birds and find out if naughty Brandon learns his lesson!
VIDEO ON-DEMAND: Andre Donovan @ AEBN SMUTJUNKIES THEATER
DVDs & ON-DEMAND: Andre Donovan @ TLA VIDEO