Lucas Entertainment Russian Hunk & Gay Porn Star, Alexander Volkov
Years Active: 2015 – 2020
LUCAS ENTERTAINMENT INFO:
Alexander Volkov is a gorgeous man straight from the lands of Russia, and will debut in his first scene on Lucas Entertainment in a gay bareback sex action in the near future. Don't miss his incredible debut!
Height: 5'7
Weight: 180 lbs
Dick Size: 8.5″
Position: Bottom/Versatile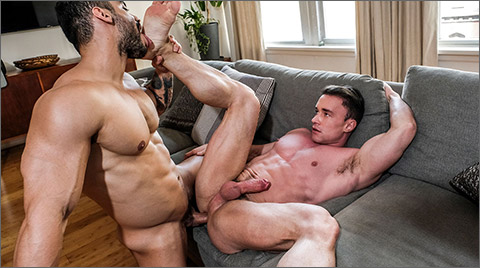 ROCK HARD & RAW: Arad Winwin and Alexander Volkov Fuck Like Jocks
Arad Winwin and Alexander Volkov are two gay jocks with impressive physiques, and they take pride in their bodies. So there's no better couple than among these ripped gay porn stars. Alexander Volkov's strength is on full display when he bottoms—this guy can take a rough pounding, and he's been infatuated with Arad Winwin for a long time, so it's a perfect match. Alexander worships Arad, using his mouth on Arad's rock-hard Persian cock before spinning around and taking his pounding like a good bitch.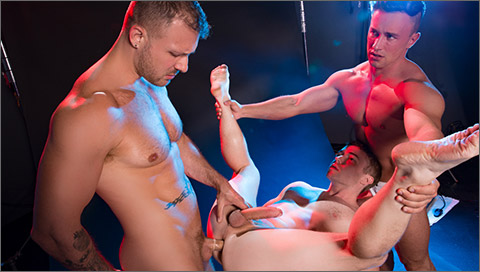 DEPTHS OF FOCUS: Austin Wolf fucks Alexander Volkov & Gabriel Cross
It's quiet on the Hot House set as Austin Wolf preps his photography gear. Production assistant Gabriel Cross introduces today's subject: Alexander Volkov. 'Today's going to be a closed set. You guys can go,' announces Austin to the other crew. After loosening Alexander's tie, Austin steps behind the camera and starts shooting. After a few poses, Austin instructs Gabriel to remove Alexander's shirt. As Gabriel opens Alexander's shirt to reveal his smooth, muscular torso, their eyes meet and they share a smile. Alexander's next look is an edgy black bodysuit, and after that Alexander steps into a tight, white jockstrap. They wrap the shoot, and Alexander turns around to show off the huge bulge in his jockstrap. 'Did you enjoy that?' asks Austin. Alexander affirms, and Austin and Gabriel both move in to make out with the ripped hunk standing before them. Unbuttoning his fly, Austin shoves down his jeans and puts his cock in Alexander's mouth. Gabriel bends down to suck Alexander's hard meat, then stands up and makes out with Austin while Alexander alternates between sucking their cocks. Gabriel proves he has a perfect mouth for cocksucking too, trading places with Alexander and using his mouth to stimulate the sensitive tips of Alexander and Austin's cocks. Bending over a stool, Alexander sucks Gabriel's cock as Austin rims Alexander's ass. With Alexander lubed up, Austin slides his thick meat into Alexander's backdoor. Gabriel plays with Alexander's nipples as they make out, sharing long, passionate kisses. Alexander shows off his versatility when he becomes the meat in a fuck sandwich between Austin and Gabriel. Switching things up, Gabriel spreads his legs as Austin and Alexander take turns fucking him. Gabriel strokes his rock-hard dick and busts a nut, shooting his cum onto his stomach with Alexander still inside him. Kneeling down, Gabriel opens his mouth to catch Alexander and Austin's hot loads, letting their semen splash across his tongue and roll down his face. Read Less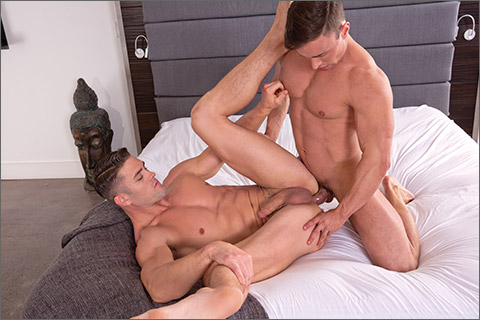 DEEP RELEASE (FVP-265): Ryan Rose & Alexander Volkov flip-fuck
Muscled Alexander Volkov arrives for his spa day, and Ryan Rose lets him in. Alexander strips down, revealing an incredible physique worthy of a Greek god. With massage oil, Ryan delivers deep tissue relief to Alexander's bulging muscles, but Alexander's huge, uncut cock demands attention as well. Stroking Alexander's cock with one hand, Ryan slips the fingers of his other hand into Alexander's' tight ass crack. Stripping off his uniform, Ryan's hard cock is irresistible to Alexander's cock-hungry mouth. Alexander rolls over on his back, allowing Ryan total oral access to his hard cock. Ryan rims inside Alexander's foreskin while playing with Alexander's nipple. Removing the headrest on the table, Ryan pulls Alexander foward and facefucks his throat. Ryan's huge, lengthy cock disappears in Alexander's mouth, and Ryan leans foward to 69 Alexander's cock. Moving to a king-size bed, Ryan puts his ass in the air for Alexander to get a taste. With his probing tongue, Alexander drives his saliva into Ryan's hole, then drives his cock in doggy style. Their gorgeous, smooth bodies show off every muscle as they writhe in erotic ecstasy. Trading roles, Alexander gives up his ass to Ryan's powerful rod. Picking up speed and intensity, Ryan delivers a pounding that leaves Alexander breathless, slamming his cock deep against Alexander's prostate. Flipping Alexander into missionary, Ryan's thrusting becomes so intense that a trail of precum drips from Alexander's rock hard cock. Reaching his climax, Ryan pulls Alexander close and blasts huge ropes of precum that arc across Alexander's face and into his mouth. Alexander closes his mouth around Ryan's still-shooting cock, and when he opens to suck Ryan's cock, huge waves of semen spill out. Leaning back on the bed, Ryan uses his tongue to stimulate Alexander's erect nipple, causing Alexander to unleash massive spurts of cum that splash all over his washboard abs.
CLICK HERE TO GO TO HIS LUCAS ENTERTAINMENT DETAILS