Randy Blue Bearded Tattooed Venezuelan Gay Porn Star, Alex Torres
Years Active: 2015
RANDY BLUE INFO:
Alex Torres is a beefy hunky Venezuelan with a hot body and an even hotter dick. He also happens to the boyfriend of Randy Blue gay porn star Andres Moreno. When we first met Alex he was suppose to do a solo jack off video and Andres was simply suppose to film it and ask a few questions. That jack off video quickly became a steaming bareback gay porn video. We are not complaining though.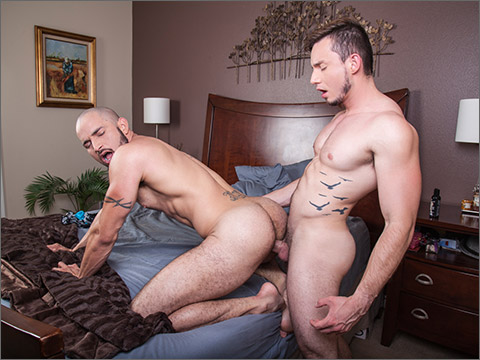 BOYFRIENDS ALEX TORRES AND ANDRES MORENO BAREBACK FOR THE RANDY BLUE CAMERAS
Alex Torres is about to make his solo debut. His boyfriend Andres Moreno brought him in. So I thought it would be fitting that Andres be the one to interview him since he knows him best. Well, I did not think that all the way through, because by the time the interview was over and Alex was ready to jerk off, he demanded that Andres join in. Alright, I will be honest. I pretty much knew that this was going to happen. And what follows is some of the hottest sex you will ever see. Andres and Alex have been together for months and fuck at least twice a day. They know every inch of their bodies and know exactly what buttons need to be pushed. Alex has a hot shaved head and beard and tattoos to go with his nice hard muscled body. Andres is also big and beefy, but with a softer more innocent quality about him. I wanted Alex to take charge and give Andres the fucking he desired. They took turns filming each other blowing each other and then threw the camera to the side when the fucking began. Alex is always the top, but Andres was feeling a little rambunctious and flipped Alex over and stuck his dick inside of him. This got them going. And when Andres sat on Alex and let him pump up into him. He was ready to cum. While Alex fucked him, Andres came and Alex put it in his mouth while he pounded into him. Then Andres let Alex cum inside of him. Alex pulled out as geysers of jizz shot every where. Then he sucked the cum right out of Andres and his willing hole. Then the two snowballed and made out for what seemed like hours. I may be wrong, but I have a feeling these two are going to have a long and happy cum filled relationship ahead of them.
Tags: Hardcore, Latin, Hairy, Muscular, Beefy, Hung, Uncut, Amateur, Anal, Men with Beards, Cum Eating Videos, Kissing, Rimming, Gay Porn Stars with Dark Hair, Guys who cum while getting fucked, Multiple Cum Shots, Cum Hungry Boys, Big Shooters, Creampie Videos, Gay Porn Muscle Bears, Uncut Latino Porn Stars, Scruffy, Bareback Video
CLICK HERE TO GO TO HIS RANDY BLUE DETAILS