New American Gay Porn Star, Alex Hawk / Alex Hawke
Known Aliases / aka:
Years Active: 2016 – 2019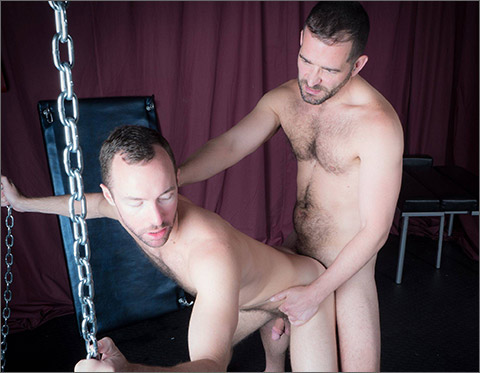 ERIC HASSAN & ALEX HAWK
Eric Hassan and Alex Hawk had been trying to hook up for several months. When we put the call out for hairy pigs who liked to fuck bareback, both answered. Little did they know we were about to pair them up! And so, after filming a 3-way — and still wearing the scent of the two men who fucked him and came inside him — Alex moved to another dungeon room where bearded Eric lied in wait. Alex immediately dropped to his knees and set about kissing the hairy hunk, chewing on his nipples and licking his way down Eric's inviting treasure trail. Alex takes his sweet time, savoring practically every inch of Eric's hairy body before burying his face in the man's crotch. He then pulls out Eric's cock and devours it down to the balls. And speaking of balls, Alex knows Eric's are heavy and full of seed meant just for him. Sperm hounds can sniff out the protein they most crave, you know. No part of the body is left out — not even toes or feet — as Eric and Alex explore each other in a sensual fashion that borders on the romantic. Eric works Alex, priming him to take on that enormous man meat. But Alex is built small and it takes a while to work all that thick cock inside. But Eric eventually manages to slide the entire length inside Alex, bareback fucking the otter and sending him into orbit before delivering a H-U-G-E load of jizz.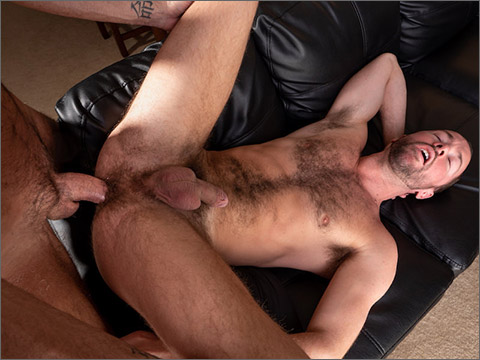 FUCKING DADDIES: D Arclyte fucks Alex Hawk
With today's modern society and it's many obligations, sometimes couples can become distant and fall out of sync. Bearded and tattooed D Arclyte knows this, which is why he and sex pig extraordinaire, Alex Hawk, make sure they always make time for date night. It might consist of sitting watching television and holding hands or going to the movies. Or, in this particular instance, it's all about dinner and dessert. And there's enough cock for Hawk to call his bearded daddy dinner, just as Hawk's savory hole is Arclyte's dessert! The two make out a bit and slobber on cock, but it's Arclyte's eating of Hawk's ass that will leave you drooling. It doesn't take long for daddy to slide that raw cock home, taking his sweet time as he fucks Hawk bareback. After all, sometimes you just want that dessert to last, don't you? Like taking small bites from his favorite cake, Arclyte relishes in the sensation presented before him, the delicacy that is Hawk's hungry hole. Daddy speeds up, stuffing Hawk full of succulent meat. Sadly, like dessert, all good things must come to an end. While riding Arclyte, Hawk whips out a frothy load and glazes Daddy's belly. Then Arclyte adds the proverbial cherry on top with a creamy finish that splatters everywhere.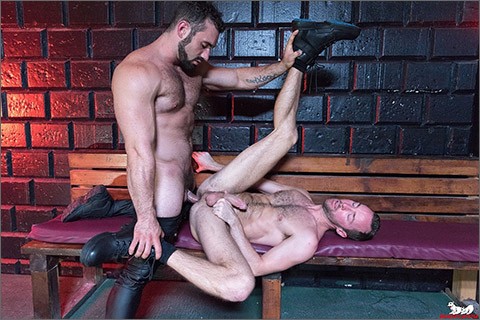 JAXTON WHEELER FUCKS ALEX HAWK
New comer Alex Hawk shoots his very first adult video ever, and it's with industry veteran muscle stud Jaxton Wheeler. Unfortunately for his first job, Alex shows up late and Jaxton meets him at the door, not wanting any excuses. Jaxton wants to make sure Alex knows who is the master and commands him to remove his shirt, drop down on all fours and start licking his boot like the bad puppy he is. Jaxton tells Alex to remove his belt, pull down his pants and kneel on the floor again. Jaxton takes the belt, makes a lease out of it and commands his pup to stand up, lick his armpits and nipples. Pushing Alex back to his knees, Jaxton frees his cock from the confines of his leather pants; wagging it in front of Alex like a chew toy in front of a dog. Alex is finally permitted to take the bone and he sucks every last inch as deep as it will go. Jaxton puts his hand on the back of Alex's head and begins face fucking him until Alex is gagging on his cock. To further insure who is master, Jaxton turns his ass to Alex, shoves Alex's face into his hole and commands him to lick his ass until it's clean. Jaxton has Alex bend over the bench, takes his cock and points it right for Alex's ass. He very quickly buries his cock deep inside Alex and Alex moans very loudly with a definite pained pleasure. Jaxton goes to town ripping Alex a new asshole. The pounding is incredibly intense and when Alex is finally permitted to touch his own cock he blows his load onto his leg and stomach. Jaxton pulls out quickly, straddles Alex's face and dumps a huge load of jizz all over Alex's face and mouth. As Alex licks up his tasty treat his new master walks away, leaving him lying in his sweat and cum.
VIDEO ON-DEMAND: Alex Hawke @ AEBN SMUTJUNKIES THEATER
DVDs & ON-DEMAND: Alex Hawke @ TLA VIDEO