Red Head Hunky American Gay Porn Star, Alex Adams
Known Aliases / aka:
Years Active (Gay Porn): 2012 – 2015
TWITTER @alexadamsxxx
PRIDE STUDIOS STATS / INFO:
Cock: 8″ cut
Hair Color: Red
Position: Versatile
Height: 5'10"
Eye Color: Blue
Alex gets the green light and immediately gets comfortable. He drops his shorts and peels off his tee shirt as he stands groping his growing cock through his boxers. His body is naturally smooth and has a well defined frame. Alex' is hairless from the neck down trimming everything off. He lubes up his growing cock and gets to work on that dick. He's at attention in seconds as his fist becomes a blur. His smooth nut sack rests heavily on the couch's arm rest as he straddles it to beat his meat. The porn he's watching has Alex' cock throbbing for attention and Alex has no intentions of denying his desires. He strokes that dick slapping it up against his abs to tease it as it throbs at his touch. Alex then decides to show us the backfield as he kneels on the couch and puts that hot ass of his up in the air. He reaches around and spreads that ass open to show us his tight hole. His low hangers dangle below bouncing to and fro as Alex continues stroking his raging hard on with his other hand. He moans softly as his finger slips inside. He is dripping as he fingers that hole a bit to show off that hot ass he knows you want.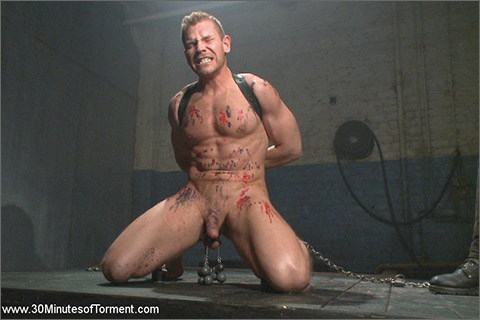 ALEX ADAMS ENDURES THE COCK, BALLS AND ASS TORMENT
The Wall – Hands chained to the wall, Alex Adams is ready for the challenge in store for him. Van gets his cock rock hard before warming him up with punches to the body. He pulls and squeezes on the stud's balls before taking him off to the pit. – The Pit – Weights are added to Alex's balls before hot candle wax is poured all over his torso. Alex screams in pain from the heat against his cock before Van gives him a vicious flogging. – The Water Chamber – Alex is bound in electrical tape with clamps all over his chest, water spraying him in the face and on his tender skin. Clothespins are then clamped all down his torso as Alex struggles to hold up heavy buckets of water. After enduring all three challenges Alex is finally rewarded by getting to blow his hot load.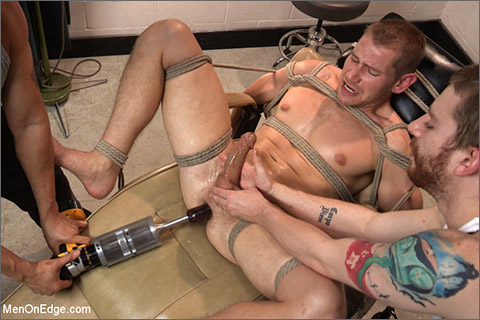 DON'T YOU WISH THIS IS YOUR DENTIST?
Sebastian's at the dentist visiting Dr. Alex Adams when he ties the poor dentist up and calls Van to join in on the fun. When he arrives the two start playing with Dr. Adams' fat cock till it's rock hard. The two put tit suckers on his nips as they edge him with the vibrating hitachi's right on his cock head. After tormenting the dentist's nipples, Van and Sebastian tie him down in the exam chair with a ball gag shoved in his mouth. They continue to edge Dr. Adams' throbbing cock while sucking on his toes to drive him wild. Finally the two pervs shove the fucksall up Alex's ass & milk his cock till he blows a load all over the machine fucking his hole.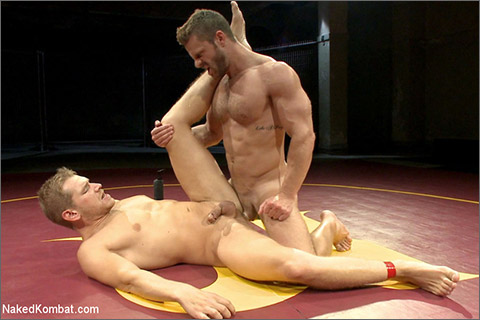 LANDON "THE LAW" CONRAD vs ALEX "THE AXE" ADAMS – THE OIL MATCH
After losing his last two matches back to back, Alex "The Axe" Adams returns, more determined than ever to gain that win under his belt. The only thing standing in Alex's way of redemption is porn superstar Landon "The Law" Conrad. Landon says he doesn't have classical training but his huge mass and experience fighting in a few barroom brawls will be more than enough to lay down the law. Landon starts off the fight, catching The Axe in a bear hug and squeezes the hell out of him. Alex doesn't tap out though, he answers right back by shoving his balls right in The Law's face. These two mountains of muscle are oiled down and their cocks rock hard for a vicious third round. Nobody wants to lose and be the bitch for the day, first one to break will be ridden around like an animal and take a hard ass fucking as his punishment.
KINK MEN
PRIDE STUDIOS
GIO CARUSO'S BAIT BUDDIES
MEN.COM
GAY ROOM
CHANNEL 1 / RASCAL
ALL WORLDS VIDEO
FACTORY VIDEO / CUM PIG MEN