Spanish Kink BDSM Gay Porn Star, Alec Loob
Known Aliases:
Years Active: 2016 – 2018
BOY FUN INFO:
Nationality: Spain
Date of Birth: 1996
Height: 170 cm / 5'6
Weight: 55 kg / 121 lbs
Dick Size: 7.5″ uncut
Role: Versitile
Orientation: Gay
HARDKINKS INFO:
Age: 19
Role: Master
Height: 172 cm
Weight: 55 kg
Don't be fooled by his childish look, Alec is a proper Dom who takes shit from nobody. He's found in Hardkinks the place to beat up and humilliate whoever messes with him. Don't miss his movies, and get ready to discover what this young lad has in store.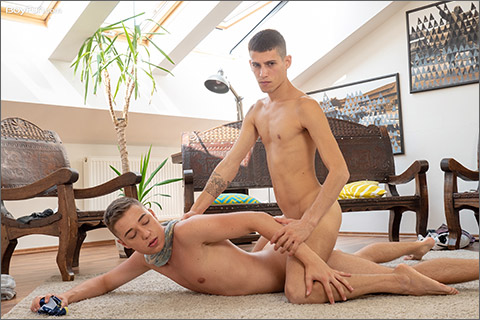 POUND THE PEEPER
If you knew that slim and sexy Alec Loob was naked in the shower, his big uncut cock throbbing in his wet fist, would you be able to resist getting a little look at the goods? Young Max Trey can't help himself, he's soon spying on the lad and watching the horny young man wanking his rock solid dick. Such an invasion of privacy might not result in a hot session of horny BoyFun for all guys, but when Alec knows a friend is into it he's gonna make use of that mouth and ass. When he catches Max wanking off over him he doesn't hesitate to give him the real deal, rushing out with angry energy, his throbbing boner leading the way. He corners his friend and gets his dick in that welcoming mouth, something horny Max has only been fantasizing about until now. The greedy face fucking isn't exactly a punishment for the boy, giving the peeping tom exactly what he wanted, but he's gonna get a whole lot more before Alec is finished teaching him a lesson. After a little foot fun and toe sucking Alec gets a taste of his stalkers delicious dong, showing he's no slouch when it comes to appreciating dick, but with a little licking of the boy's ass his intentions are soon clear. Max may have only wanted to wank off to the sight of his friend enjoying his own cock, but he's about to get an awesome bareback ride on that immense dong! Riding Alec's meat on the couch and taking it from behind on the floor Max endures a deep and penetrating fuck, his moans escaping his lips as the pleasure builds, finally laying back to launch fresh cock juice up his smooth young body, Alec's incredible shaft firing powerful jets of semen right over his cite face! Perhaps next time Alec will just invite his friend to join him in the shower?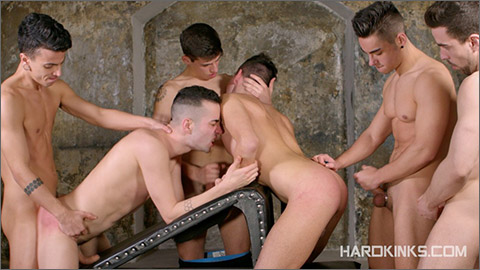 BULLFIGHT EDITION VOL 4
4 Alpha scallies versus 2 submissive twinks in this new Bullfight Edition with which we celebrate the fourth anniversary of Hardkinks. Get ready for a frantic session of sex in our dungeon.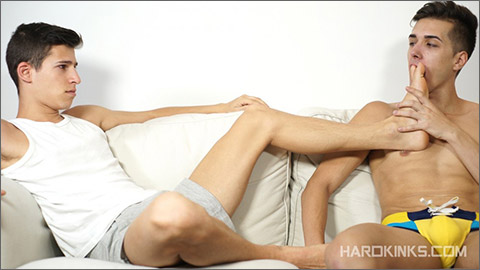 TWINK IN CHARGE
It's a hot summer day and Alec's sweaty and stinky feet are ready to be licked, worshipped and massaged by his new slave. Be ready for a session of domination between young & dirty twinks.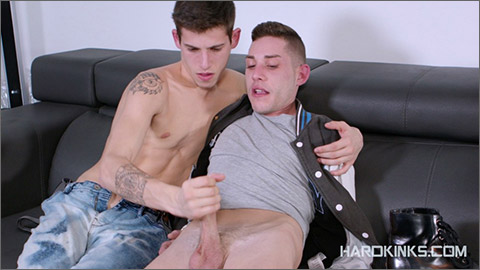 LE PETIT SKIN
You walk down the street and suddenly everything fades to black. You wake bound and immobilized in your own home, in the hands of a skin twink wanting to humiliate and fuck you without limits.
ALEC LOOB BOY FUN PROFILE
CLICK HERE TO GO TO HIS HARDKINKS DETAILS