Smooth Sexy American Gay Porn Star, Addison Graham
Years Active: 2012 – 2018
TWITTER @AddyAddicted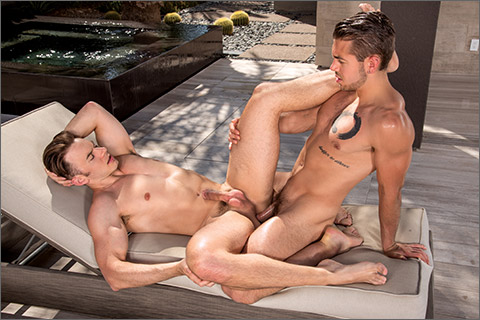 HIDDEN PALMS: Dante Cole fucks Addison Graham
Dante Cole is catching some rays on a hot summer day in the pool when Addison Graham dives in to cool off. Things get hotter when Addison swims over to Dante and gets the stud hard by taking his thick rod into his mouth. Addison works it up and down until Dante grows into his open throat. That's Dante's cue to bend Addison over to work his ass with his probing tongue and fingers. Dante loves the taste of Addison's smooth hole so much that he can hardly wait to get all the way inside the horny hunk. Dante is done with the foreplay and teases Addison's hole with the tip of his dick, making Addison open up even more. Dante needs the prize in front of him and slides into Addison, plowing away to feel every inch of his deep, tight hole. Dante flips the muscle hunk onto his back so he can look into his eyes and hits just the right spot for Addison to let go for a full release. It's an extra thick load that stays where it lands all over Addison's perfectly carved abs. The sight of Addison covered in his own load is all it takes for Dante to pull out and add to the mix. Dante covers Addison's dripping body with cum and then as an added bonus for the lucky young stud, Dante gives him a second surprise load in his gaping, begging mouth.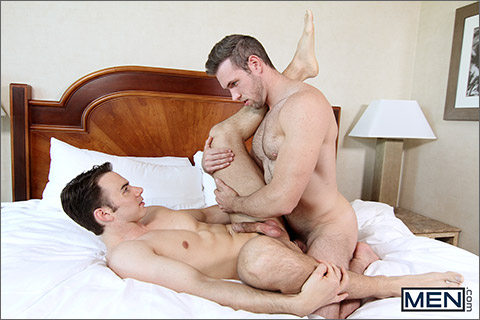 FOUR LETTER WORD
Addison Graham gives Alex Mecum one of the most passionate blow jobs ever seen. Alex pumps his thick cock into Addison's tight hole, until Addison canít hold back his load and shoots all over his stomach. Alex then pulls out and explodes, sending his cum all over Addisonís body.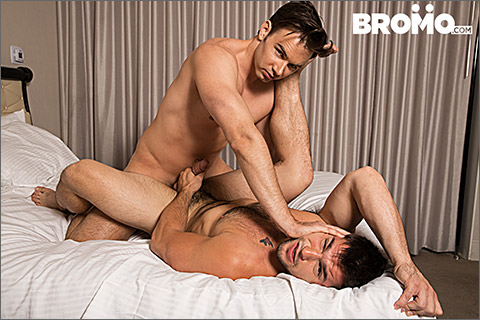 STR8 BITCH: Addison Graham fucks Aspen
Tobias has caught wind of Aspen's special services. He gets right down to it as soon as Aspen is through the door and tears his clothes off before shoving his big dick down the str8 guy's throat. Tobias fully takes charge of Aspen and uses his str8 ass like his personal plaything. Burying his thick cock bareback and deep inside Aspen's round ass, and pounds hard and fast until he makes him kneel in front of him and shoots his load all over his hairy chest.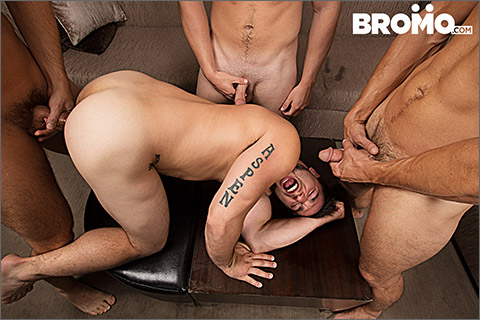 STR8 BITCH: Addison Graham, Evan Marco, Tobias fuck Aspen
Addison Graham, Evan Marco, and Tobias get together after a long day at work and decide to have a bit of fun with their little str8 bitch Aspen. The three hunks get right down to business by passing each other aspen's mouth to be properly fucked before they each take turns fucking his hot ass raw. This gangbang only gets better when the guys break out the dildos and stretch Aspen's ass even more before diving back in with their huge cocks over and over again.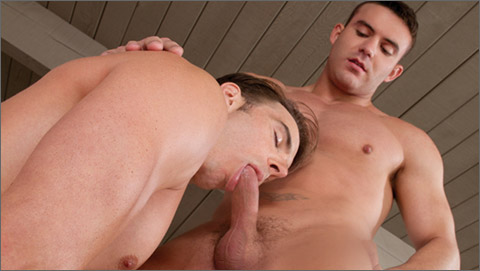 HEATED – PART ONE: Killian James & Addison Graham (all oral)
Straight out of the pool, Killian James has a throbbing erection sticking out several inches over the waistband of his trunks. It catches the attention of Addison Graham, who's watching from the window. When they make eye contact, Killian give his cock a few squeezes to make sure Addison knows the attraction is mutual. Smooth and tan muscle-hunk Addison bats his blue eyes, smiles, reveals a glimpse of his own hard-on and reels Killian in. They connect first at the lips, and Addison reaches for Killian's exposed cock, freeing it from the confines of its swimsuit, and sucks it. They kiss and cuddle on the bed, panting, taking turns sucking each other's hefty endowments. Killian fingers Addison's willing hole and sucks until he gets a mouthful of hot cum, which he lets drip down his chin and lips. Addison chomps on one of Killian's nipples while Killian jacks out his own thick release.

RIPPED: Gabriel Cross fucks Addison Graham
Dark-haired dreamboat Addison Graham and gymnast-bodied muscle-boy Gabriel Cross perch knee-to-knee and nipple-to-nipple on a bench in the locker room, making out. Gabriel's smooth, pale body is quivering with excitement. Hands and mouths explore each other's sexually eager young bodies. When the lure of Addison's cock becomes too tempting to resist, Gabriel grabs it and puts it in his mouth. They swivel into a sixty-nine position. Gabriel kneels and offers his plump buns to Addison's probing tongue and penetrating cock. Addison lies on the floor in a shoulder stand, spreading his legs ordering Gabriel to 'stick it in me.' Their legs make an enormous 'X' as Gabriel plunges his cock repeatedly into Addison's hungry hole. Gabriel leans over for a kiss, then they move to the bench, jacking their hung cocks and encouraging each other to shoot heavy, creamy loads. Gabriel laps up Addison's cum and lets it drip back into his mouth, adding his own jizz seconds later.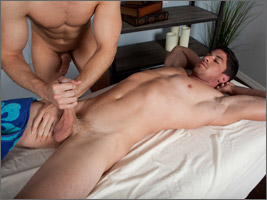 ROMEO ALFONSO FUCKS ADDISON GRAHAM
It has been a few months since Romeo did a scene with us. And he came back huge. His muscles were bulging and heaving like I have never seen them before. I knew they needed to get rubbed down. So I set up the massage table. Addison came in and was excited to get a massage. I informed him that Romeo was the one getting a massage. Addison was disappointed for like three seconds until Romeo took his shirt off. Addison gravitated right to his massive chest and touched it. I think I am fine with being the masseur today, he said. Romeo got on the table and laid down on his stomach. Addison took some oil and began touching all over his body. From head to toe, Addison worked Romeo over. He had him flip over and then slowly kissed his stomach and then his chest and then his hot Cuban lips. They made out until they both got hard and then Addison sucked him off. Romeo returned the favor and let Addison shove his dick down his throat. The back and forth continued as they each rimmed each other. But after Addison had his hole nice and wet, Romeo grabbed a rubber and shoved his shaft right in. They fucked doggie, and cowboy and then missionary. Finally Addison busted all over himself while Romeo plunged in and out of him. Romeo pulled out and came all over Addison. Romeo then collapsed on top of Addison and made out. This video is like a fairy tale, Because there sure was a happy ending.
MEN.COM
BROMO
FALCON STUDIOS
GAY ROOM