William Higgins Czech Gay Porn Star, Adam Zrzek
Known Aliases / aka:
Years Active: 2017 – 2018
WILLIAM HIGGINS INFO:
Model Name: Adam Zrzek
Age: 24
Home Town: Prague
Height: 187cm/6'1″
Weight: 82kg/180.4lb
Foot Size: EU45/US9.1/UK8.6
Penis Size: 18cm/7.09″
Profession/Student of: University student
Hobbies: Sport
Favorite Sports: Tennis
Active Sports: Jogging
Movie/Music/Sport Stars: Novak Djokovic
Visited Countries: England
Want to Visit Countries: France
Dream of My Life: I do not know.
Zodiac Sign: Leo (July 23 – August 22)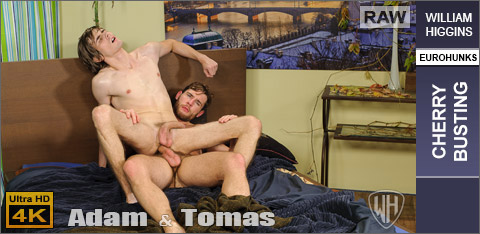 CHERRY BUSTING: ADAM ZRZEK & TOMAS BERGER
Str8 guy Tomas Berger is paired with Adam Zrzek for a cherry busting. But not only that we get a flip-flop too. It is Adam who is getting his cherry busted and the guys are quickly naked and rock hard. Adam's massive cock is first up for some hot sucking. Tomas' mouth wraps tight around the big cock and he sucks voraciously. Adam is on his knees with Tomas' head working on that huge cock. he licks the shaft as well as he sucks. Adam reaches over and wanks Tomas too, encouraging him to suck harder. Then Tomas wanks himself as his mouth keeps working on Adam's dick. Then Tomas sits and leans back for Adam to return the favor. His mouth and hand works on that dick. They keep kissing each other too as they wank and suck. Taking turns on sucking Tomas also rubs Adam's hole, his finger probing it. Adam raises his legs for Tomas to rim his hairy hole. Then Tomas shoves his big, hard, cock into that hot hole. It goes in deep and Tomas starts to fuck. Tomas fucks deep into the hot, hairy, hole. Then it is all change as Tomas lays back legs spread as Adam's huge pole enters his tight ass. That big cock stretches the hole and fucks deep inside. Tomas wanks himself as as Adam pounds his tight hole. Tomas then sits on Adam's big dick and rides up and down on it. He continues to wank himself as he feels that tock hard dick deep in his ass. Adam fucks up into that ass. Then Tomas rides it some more, taking the whole dick all the way in his ass. As he takes the cock Tomas dumps his hot cum. Adam's cock comes out of the ass and Tomas wanks it hard and fast until it shoots the creamy load as well. The cum just keeps coming as Tomas wanks on that massive pole. Then they go off to the shower to clean up.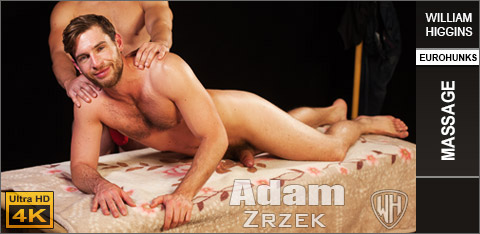 MASSAGE: ADAM ZRZEK
Adam Zrzek is in for a massage. He looks so good as he strips down to his underwear and lays on the table. Petr Zuska arrives, wearing just his underwear too, and starts to massage Adam's back. His hands glide all over Adam's back and shoulders. Then Petr removes Adam's underwear, exposing his sexy ass. Adam is hard and raises his ass to have a feel of his stiff cock. Petr's hands work on the sexy ass with Adam enjoying every minute of it. His ass cheeks are spread to show the hairy hole. Adam moves onto his knees to show off that ass and Petr reaches down to feel the stiff cock as he rubs the hairy ass. He wanks the stiff cock as he slides a finger deep into Adam's hole. That hole is ready for more and a vibrator is shoved deep inside. As it fucks into Adam's ass his cock is wanked too. Adam is enjoying it and reaches to feel his cock and balls as the wanking and fucking continue. He turns over and lays down, with his legs in the air. The toy continues to fuck his eager hole as his cock is wanked. Then he drops his legs as Petr continues wanking the cock. Petr leans over and sucks on that big stiff dick. Then he comes off the cock and wanks it until Adam dumps his huge, creamy load all over his belly. Then Adam goes off to the shower to clean up.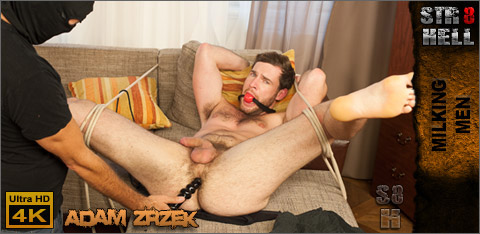 MILKING MEN: ADAM ZRZEK
Adam Zrzek is a very sexy guy. He is enjoying a wank as he lays on the sofa. Then he is joined by a helping hand. Gagged amd shackled Adam writhes around as a hand feels over his sexy body. The hand gropes Adam's cock. Then his underwear is cut off, to show his hardening cock. His balls are tickled as the stiff dick lays on his belly. Then a hand takes hold of that cock and wanks it. It is wanked and oiled, getting so hard. His balls are tied up too as the wanking continues. That dick is teased and tormented, keeping hard the whole time. Then a dildo appears as fingers probe his hot hole. Adams legs are raised into the air and the dildo goes into his tight hole. That hole gets fucked by the dildo as his cock stays nice and hard. Finally he gets his wish and the cock is wanked to a big cumshot.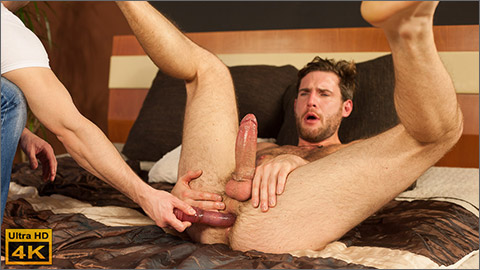 HOT ASS: ADAM ZRZEK
Adam Zrzek is a very hot str8 guy. We haven't even posted his casting yet, but had to put this hot ass scene online as he is so good. He looks great as he lays on the bed, in his underwear, groping himself and taking a peek at his big cock. Then he is joined by a helping hand who quickly pulls the cock out of the underwear. He uses oil on the cock and starts to wank it and Adam feels his sexy body. His hairy chest and equally adorned pubic region look great and that big, fat cock is oiled and wanked. Adam cant leave the dick alone, taking over the rubbing and wanking. Then he lifts his legs to expose his hairy hole too. Oil is dripped onto it and the hands rub it all over. The cock is wanked with one hand as the other starts to finger that hairy hole. The finger goes in easily, and deep. Adam's fat cock stays rock hard as his hole takes the finger all the way. Then a fat vibrator is pressed against the hot hole and slides all the way inside. that hole opens up nicely to let it in. Adam feels it fucking his hole and grabs his stiff dick and wanks it. He rubs his fingers over the hole and almost urges the toy to go back inside. He wanks hard as his ass is fucked deep by the toy. Then he drops his legs and his big cock is wanked some more. Then Adam is left alone a while and he kneels, fingering his ass. The helping hand returns, dripping oil onto the sexy ass as Adam plays with himself. A big, fat, dildo pushes against his ass hole and soon slips in, with Adam reaching back to grab it. He thinks it is too big, measuring it against his cock. But he is really up for getting it deep in his hole. Pushing his ass back onto the dildo it slips inside but is a tight fit. So the vibrator returns and fucks that ass, as Adam wants to feel it deep inside him. He reaches back and fucks himself with it too. Then he lays on his back and wanks his massive dick, while his hole gets fingered. That cock is so hard and the balls so tight as his ass feels the finger. He continues to wank his mighty meat until he pumps a thicky, creamy load from it, onto his hairy belly. He gives a big smile and then scoops up the cum and eats some. He offers some to the helping hand too, with another lovely smile.
WILLIAM HIGGINS
STR8HELL
BADPUPPY
CLICK HERE TO GO TO HIS WILLIAM HIGGINS BIO PAGE
CLICK HERE TO GO TO HIS STR8HELL BIO PAGE