Sexy Uncut Hung Gay Porn Star, Adam Ramzi
Years Active: 2013 – 2020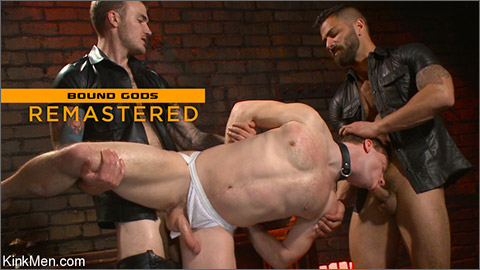 REMASTERED 2022: WELCOME TO THE HOUSE MR RAMZI
Head to toe in his tight leather uniform, Christian Wilde admires a new deerskin crop. Doug Acre, house slave #153 stands at attention to Christian's left, stuffed in a cramped cell. They await the arrival of Adam Ramzi, who will undergo dom training today. With Adam's arrival, Christian presents #153 to Adam, outlining the essential concepts of BDSM as he smacks the slave with his hands and crop. Christian has the boy get to boot blacking as he explains to Adam the importance of keeping the slaves tasked with chores. #153 sets down the polishing rag and gives Mr Wilde a proper spit shine with his tongue. Mr Ramzi learns first hand how a slave properly services his master's cock as #153 begs for more. While sucking Mr. Ramzi, Christian stands the slave up and fucks him from behind, as he struggles to balance on one leg. Christian then brings Doug back to his knees and blows a hot load all over his face. Adam then tries his hand at flogging, delivering a vicious treatment in tandem with Christian as #153 endures every blow. With his slave all to himself, Mr Ramzi binds & blindfolds his boy to a fuck platform, legs spread upward, hole at full presentation. #153 feels every inch of his master's uncut cock ram inside him before Mr Ramzi blows his load all over the bound stud's fat cock. On his knees, #153 is ordered to cover the new house dom's boots and lick it up clean.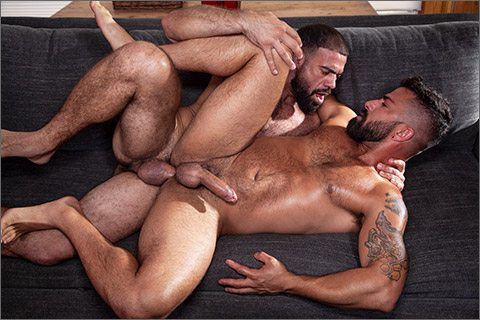 BLOOD MOON – TIMBERWOLVES 2: Ricky Larkin fucks Adam Ramzi
Rugged Adam Ramzi arrives in the woods and immediately texts his secret bareback fuck-bud, beefy and hung Sheriff Ricky Larkin, who replies that he's on his way. Inside the cabin, Adam strips down for a hot shower after the long car ride. Meanwhile, Sheriff Ricky arrives and lets himself in, shucking his uniform in horny anticipation. Entering in a towel, Adam finds him buck naked and half hard. Playful and passionate, the bearded men kiss and grope in a charged reunion, with the Sheriff showing more than the Long Arm of the Law. Ricky kneels first to devour Adam's uncut cock. Switching places to swap spit and blowjobs, Adam chows down on Ricky's thick cut meat. Over a table, Adam gets a reach-around and has his hole munched till he pleads softly and simply: "God, I want that dick in me! Fuck." Sworn to keep the peace, the Sheriff obliges with a solid deep dicking, his veiny monster and heavy sack pounding Adam's eager hole. On the sofa, Ricky pins Adam down for more raw drilling. Ricky makes Adam moan till the Sheriff fucks a load out of him and makes his eyes roll back in delight, then slurps up the jizz and spits it back on Adam's hole to fuck him again, till Ricky blows his own unlawful load all over Adam's furry crotch and hairy pucker. He shoves it back in and they collapse in a spent, sweaty, satisfied heap.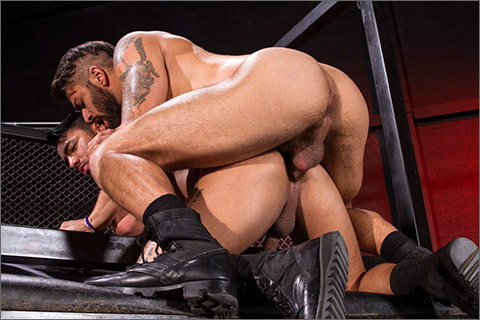 PRIMAL: Adam Ramzi fucks Bruno Bernal
Bruno Bernal looks up at Adam Ramzi with a primal urge. They make out as Bruno tugs on Adam's nipples. Instinctively, Bruno sinks down and opens his mouth to receive Adam's throbbing, uncut tool. With deep thrusts, Adam feeds his cock down Bruno's throat. Adam fixates on Bruno's ass, so he parts Bruno's firm, tan cheeks and dives in tongue first. His spit drips down Bruno's crack as Adam lubes up the tight hole. Returning to his oral worship, Bruno sucks on Adam's balls and runs his tongue along the edge of Adam's foreskin. Moving to a 69 position, Bruno impales his face on Adam's cock as Adam buries his face in Bruno's ass. All that rimming has Bruno's ass ready to get fucked, so Adam thrusts his cock in and delivers an uninhibited pounding. Bruno's abs flex as he gets pummeled by Adam's massive, thick meat. Rolling over, Bruno gets in doggy style position and Adam continues his anal offensive. Bruno's flanks ripple with the pressure of Adam's intense pummeling. Flipping on his back, Bruno assumes missionary position and jerks out his load, spewing cum across his chest with Adam still inside. Pulling out, Adam kneels next to Bruno and unleashes a gigantic, spurting load that shoots across the bed. With their primal needs satisfied, they finish with satisfying kissing.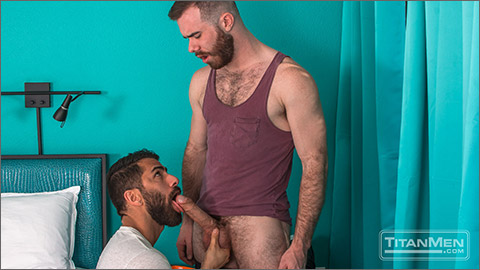 SWAP: Matthew Bosch fucks Adam Ramzi
As their partners head off to work out, host Matthew Bosch shows visiting friend Adam Ramzi to his room. But the distracted Adam has his eyes fixated on Matthew's groin: "Can I see it?" Matthew's massive uncut meat is quickly in Adam's eager hand. The bearded visitor wraps his lips around it, playing with the hairy jock's low hangers. He whips the sizeable shaft onto his chest, then slams it against his face. Matthew shoves him onto the bed and sucks him back. He eats him out, getting Adam to moan "Fuck me with that big dick!" He rams him from behind, then turns Adam over for more, their hairy groins slamming against each other. The sweaty Adam sits down on Matthew and rides, his own boner slamming against the top's chiseled stomach—so excited that he releases a big hands-free squirt onto the top, then takes a facial before stroking out his second load. With cum clinging to both of their beards, they share a final wet kiss.

BOOM: Jack Hunter & Adam Ramzi flip-fuck
Adam Ramzi uses a piss bucket in front of construction bud Jack Hunter. They stroke each other, kissing deep before Adam wraps his bearded lips around Jack's tool. "Suck that big dick," moans Jack, guiding Adam's head down. Adam gasps for breath, Jack beating his dick on the sucker's mouth. Adam fucks Jack's face, the sucker chewing on his foreskin. Adam plants his beard in Jack's ass before ramming him from behind, the two then switching positions. "Give it to me slow," says Adam, who takes it deep. He gets on his backópropping up his boner for the top to stroke. Jack fucks a load out of Adam, then dumps a big wad all over his beard.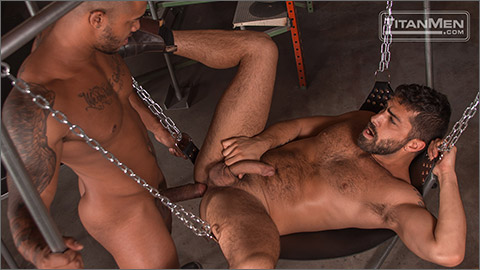 SLING: Jason Vario fucks Adam Ramzi
Adam Ramzi has a package for warehouse stud Jason Vario, who tells the deliveryman that they make play gear. "Like for playgrounds?" asks Adam. "No," laughs Jason, leading him to a sling. "Think a little more adult." Jason deep throats Adam's uncut cock, which bursts out of his uniform. Adam bends over for a kiss, beating the sucker's pecs with his dick. Jason slides off his overalls to release his monster, Adam gasping for breath as he worships it. Jason whips it on the sucker's face, Adam slapping Jason's huge pecs. Adam sits on a rim seat, their cocks rock hard as Jason tongues the quivering stud's hole. Adam sucks Jason as he gets eaten, then gets on all fours. Jason wraps his arm around the bottom, who grips it as he gets plowed ("It's so fucking big!"). Adam straddles the sling as he gets it doggie style, then gets on his back — his cock bouncing as Jason thrusts inside him. Jason jacks Adam's load out, then spurts on the bottom's beard.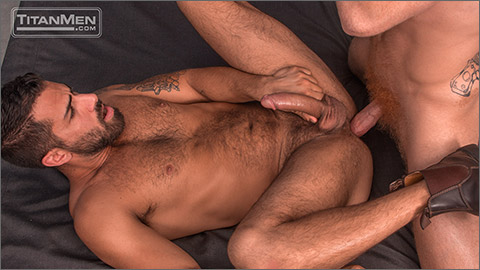 POOL SERVICE: Adam Ramzi & Bennett Anthony flip-fuck
Tree trimmer Adam Ramzi has some wood he can't cut down thanks to pool man Bennett Anthony. They take a break, passionately kissing as their hands roam. Adam gets his handsome face fucked by Bennett's boner—then stuffs the red beard, gripping the back of his neck as he shoves it in. Adam's uncut cock pulses as he sucks him back again, his lips brushing Bennett's bush. They take turns planting their scruff in each other's holes, a moaning Adam then propping up his boner as he gets fucked fast ("Take that dick!"). Bennett gives up his ass—his boner bouncing as he takes it. He rubs Adam's abs, the top stroking him before pounding the cum out.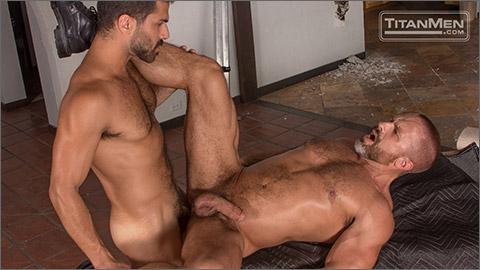 DEMOLITION: Adam Ramzi & Dirk Caber flip-fuck with Jack Giles
At work in an empty pool, Adam Ramzi is approached by Jack Giles from Big Ball Wrecking: "I hear you need this hole demo-ed?" The two smile, embracing and licking each other's pits. Adam deep throats Jack's cock and they eat each other—but are soon interrupted by Dirk Caber, who wants Adam all to himself. Adam sucks and eats Dirk, then reaches around to stroke him as he fucks the grunting bottom from behind—squeezing pre-cum out of his cock and feeding it to him. The verbal Dirk ("Fucker!") continues to leak, feeding his finger to the top. On his back, Dirk's stiff shaft pulses up as Adam goes deep. Dirk squirts, then fucks a load out of the moaning Adam.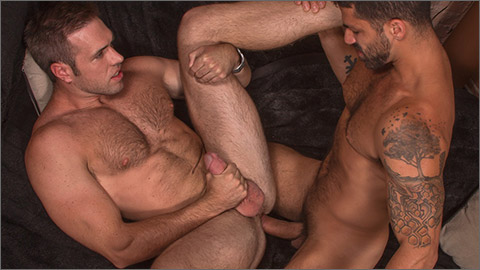 2 MEN KISS: Adam Ramzi fucks Alex Mecum
Alex Mecum lays his head in Adam Ramzi's lap—and is quickly greeted with a kiss. Adam rubs his furry face on the jock's chest. He grabs Alex's ass, then releases the stud's huge cock. The two slurp each other, Adam reaching up to grip Alex's pec as he sucks him—Alex resting his own hand atop it before Adam feeds him a finger. They clasp their hands together as Adam continues to suck. "You're so handsome!" moans Alex. "Your eyes are amazing!" They kiss, their steel shafts poking each other. Alex's toes curl as he gets fucked, wrapping his legs around Adam—who offers his ass and begs for Alex to unload all over him, cum drenching his beard and mouth.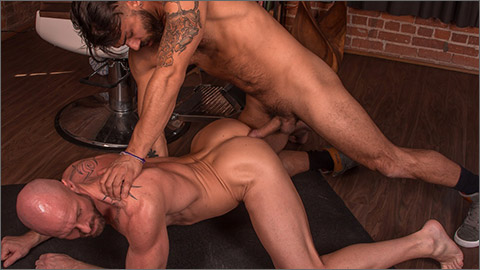 BEARDS: Adam Ramzi fucks Mitch Vaughan
A day at the barber turns into a hot sex on the barber's chair when hairy, hunky Adam Ramzi gets a trim from the ripped and ready Mitch Vaughan. With the sounds of the busy city just outside, the two men explore each other's bodies in this sweat-and-muscle bound scene.
   Mitch drops to his knees and blows Adam right in the chair. Adam's uncut dick is dripping pre-cum and throbbing as Mitch buries his face in Adam's crotch. Switching places, Adam gets Mitch into the chair and gives his hard dick some attention before turning him around and giving his asshole a tongue lashing.
   After fucking him in the barber chair, Adam moves Mitch to the floor where he lets him have a stiff fuck from behind. Mitch's ripped body pulses each time Adam rams his dick into his hole. Moving back to the chair, Mitch lays on his back and blows a big load while Adam fucks his hole. Some cum swapping puts the perfect end on this hot scene.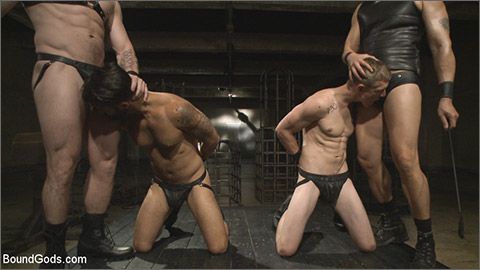 BUKKAKE GALORE – BOUND GODS LIVE SHOW
This special Bound Gods Event hosted by Van Darkholme and Trenton Ducati is an anything goes extravaganza of brutal sex, and extreme torment. The sexy straight fuck slut Zane Anders teams up with with bearded sub Adam Ramzi as they take on special torments created by their ruthless masters. Van and Trenton teach their knew slaves how to be proper subs before tying them together on a wedge and covering their bodies in clothespins. The dominant duo then unleash the double flogging across the bodies of their helpless slaves. The slaves are given a short chance to rest as Van and Trenton tie them up and suspend them in the air, so they may receive Trenton's massive cock. The true masters are the fans though, as they vote to have Trenton mercilessly flogged by Van. The final challenge gives the viewers all the power, as they decide who among the masters and slaves will take the full blast of a bukkake.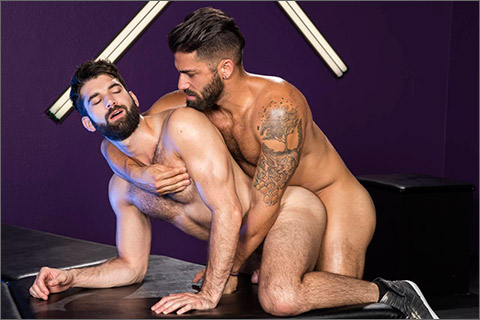 BOUT TO BUST: Adam Ramzi fucks Tegan Zayne
Intense kissing erupts between Adam Ramzi and Tegan Zayne. Their hands grope each other's naked bodies and hard cocks, and their tongues explore each other's mouths. The connection between these two hairy studs fills each with a craving for more. Falling to his knees, Tegan engulfs Adam's cock with his mouth, swallowing it to the base. After servicing Adam's cock, Tegan offers up his ass to Adam's lips. Spreading Tegan's cheeks, Adam buries his beardy face in Tegan's hairy hole. Adam mounts Tegan from behind…doggy style, thrusting powerfully into Tegan's meaty ass. Tegan looks Adam right in the eye as they're fucking, signaling the strength of their male bond. Rolling onto his back, Tegan raises his leg in the air to afford Adam the perfect angle of penetration. Tegan strokes himself off while being fucked, and jets his load onto his washboard abs. Adam gives Tegan a creamy facial, shooting ropes of cum into Tegan's thick beard.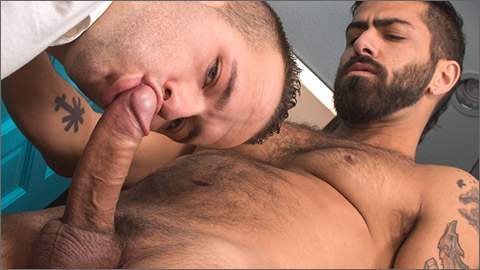 CAUKE FOR PRESIDENT: Adam Ramzi fucks Luke Adams
"I'll do anything for the senator," says volunteer Luke Adams, going door to door looking for votes. He's greeted by Adam Ramzi wearing nothing but a towel, his throbber soon catching Adams' attention. "Suck it," says Ramzi, who face fucks the stud. The verbal alpha sucks the smooth stud back, the steel shaft deep inside the tattooed hunk's bearded lips. Ramzi eats out Adams' smooth hole, then plows him from behind. Adams sits on the top, who pumps him from below ("So deep in your ass! Good boy…ride it!"). Adams' steel shaft bounces as he rides, the two passionately kissing before the bottom squirts. Ramzi licks the bottom's load up, then squirts on his face. "Can I count on your vote", says Luke looking up with cum dripping form his chin. "Oh, sorry I'm from Canada, I can't vote", says Adam as he licks his cum from Luke's chin.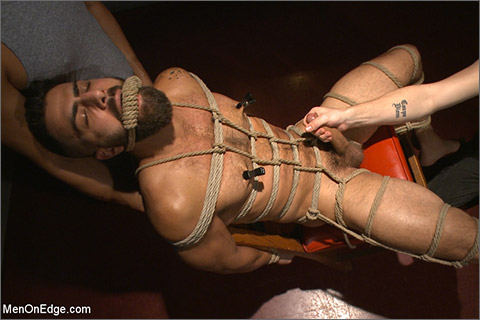 ADAM RAMZI'S HOME INVADED AND COCK EDGED
Adam Ramzi is ready for a quiet night in his own home, but Sebastian hasn't forgotten him from the gym and is lurking outside. Sebastian watches as Adam undresses and jerks himself off. When he falls asleep Sebastian and Van sneak in. Adam awakens bound to a chair and at the mercy of Sebastian. He's edged repeatedly with a gag and begs to cum as Sebastian blows him. Hogtied on the bed he gets a dildo in his ass and the pressure on his prostate drives him crazy. After a full night of edging and tickling the hot stud Sebastian finally lets him blow his load and polishes his cockhead.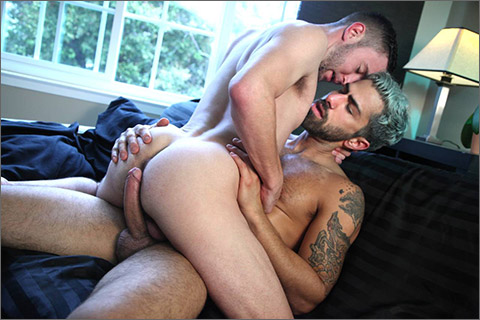 HOOKER STORIES 3 – NEXT TIME, I'M PAYIN': Adam Ramzi fucks Colt Rivers
Adam Ramzi gives him a call. Colt shows up at Adam's apartment and is shocked by his stunning good looks. Colt can't help himself and breaks one of the cardinal rules of escorting by asking Adam why he's paying for sex. Adam explains this is his first time; he's been busy with school, but also reveals that he's considering escorting himself. His training session begins when Colt strips them both out of their clothes and expertly goes down on Adam's fat cock. Adam flips him over and tongue-fucks Colt's fat bubble-butt, then shoves his rod deep in the hooker's ass. They continue to fuck in a wild reverse cowboy and end up missionary with Adam jerking Colt off until he cums. Adam feeds Colt his load and hands him a handful of $100 bills, winning the approval of Colt who says next time he's paying!
VIDEO ON-DEMAND: Adam Ramzi @ AEBN SMUTJUNKIES THEATER
NOW STREAMING: Adam Ramzi @ NAKEDSWORD