Ron Lloyd LegendMen Body Image Productions Model & Performer, Adam Masterson
Known Aliases:
Years Active: 2006 – 2007
MEN MAGAZINE INFO:
Age: 26 (2005)
Hair: Brown
Eyes: Brown
Height: 5′ 8"
Weight: 155 lbs.
Cock: 9′ x 5" low hanging balls, huge long distance shooter
RON LLOYD'S COMMENTS:
This is Adam's first time doing a professional shoot. I had not intended on doing video with him initially, but after doing the stills on the first day, he was a perfect choice for video. Totally comfortable with his sexuality (straight) and totally understands why men would find him a turn-on. In the video, he's into showing his ass and shoots one of the biggest and best loads I've ever seen, in person or on film.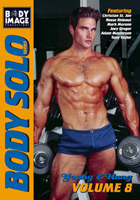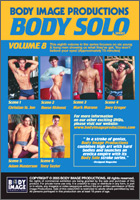 BODY IMAGE: SOLO SERIES – VOLUME 8
Body Image Productions announces the release of Volume 8 in the Body Solo Series from creator/director Ron Lloyd. Body Solo Series 8 showcases a collection of six "young & hung" guys including exclusive cover-stud Christian St. Jon workin' it out in the gym and locker room. Christian is flanked with four additional newcomers to the Body Image video series, along with the return of hairy Men Magazine cover man Joey Gregor. One look at this group of guys and you'll see why we are calling it "young & hung." Warning: This DVD includes one of the biggest cum shots ever captured on video and one model breaking in his ass with a dildo!

FRESHMEN  March 2008
INCHES  May 2006, June 2007, July 2007
INCHES: BEST OF INCHES  2007, 2008