Slender Blond William Higgins Czech Gay Porn Star, Adam Egner
Known Aliases / aka: Jay Sheen, Casey Flip, Pavel / Czech Hunter 300
Years Active: 2017 – 2018
WILLIAM HIGGINS INFO:
Model Name: Adam Egner
Age: 19
Home Town: Prague
Height: 178cm/5'10"
Weight: 60kg/132lb
Foot Size: EU42/US8.5/UK8
Penis Size: 16cm/6.3″
Profession/Student of: University student
Hobbies: Sport
Favorite Sports: Cycling
Active Sports: Swimming
Movie/Music/Sport Stars: Katy Perry
Visited Countries: Germany
Want to Visit Countries: USA
Dream of My Life: I do not know.
Zodiac Sign: Cancer (June 21 – July 22)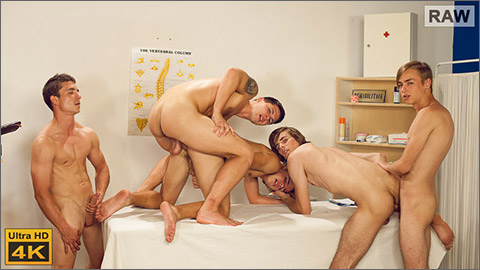 WANK PARTY #88
Wank Party #88 stars Tomas Befger, Miro Dalek, Kanil Banek, Adam Egner and Karel Omanak. This first part we find Kamil and Tomas in charge of a medical examinations. Miro, Adam and Karel arrive in the office at the same time and they are asked a few questions at first. Then their exam begins, with all of them being checked at the same time. Mouths are checked and then the three guys remove their teeshirts to have their chests cheked too. Both Kamil and Tomas listen to the chests, Then Kamil does a test on Karel's eyes and moves on to do Adam and Miro too. Next the guys are told to remove their jeans, and none of them are wearing underwear, so cocks are on show. Karel's cock is hard as soon as his jeans come down. Kamil examines that cock as Tomas checks Miro's. Karel's cock is softer as it is being checked. His balls are examined to. Miro's dick seems to swell as Tomas checks it. Then Kamil moves to Adam to examine his dick too. All seems to be ok and Kamil explains that they have to have their prostates checked too. So the guy kneel on the table, presenting there asses. First Kamil's oiled fingers lube Karel's hole then he pushes a finger into the tight hole as he feels the balls too. His finger goes deep into Karel's hole to check properly. Then he moves over to Miro, whos balls dangle low between his legs, and slides a finger deep into his hole. He checks the balls too and works his finger into the hole and Miro jerks as he feels it. The three guys then turn over and sit on the table. They have to wank their cock and soon all of them are rock hard. With the cocks all hard the doctors examine them, Kamil feels Karel'scock and wanks it as Tommas does the same to Miro. Adam keeps wanking his own cock as he watches the guys being wanked. Miro is enjoying the feeling and his hand reaches for Tomas who leans over and begins to kiss him. Kamil rubs himself through his pants as he continues to wank Karel. Then he kisses Karel as Tomas bends to takes Miro's cock in his mouth. Adam is emboldened by what he sees and reaches to rub Karel's leg and then to wank Kamil's cock. Miro reaches for Adam's cock and wanks it. Then it is all action as Kamil dick pokes out in front of him as he sucks Karel, who is bent over to suck Adam's cock and Tomas continues to suck Miro. Adam then draws Tomas' attention and they kiss as Tomas wanks on the stiff cock. Karel and Kamil kiss as they wank each other and Miro reaches to rub Tomas ass. Kamil moves up so that Karel can suck him some more while Tomas takes Adam's dick into his mouth. Adam leans over and sucks on Kamil's cock, taking turns with Karel. Adam turns to his other side to suck on Miro's cock. Then Karel and Tomas are on their knes sharing Miro's cock as Kamil and Adam rim the exposed asses. Kamil fingers Karel's tight hole as Adam continues to tongue Tomas'. Setting everything up nicely for part two.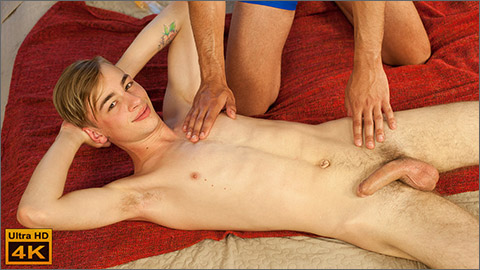 MASSAGE: ADAM EGNER
Adam Egner is a very cute guy. He looks so good as he lays on the bed waiting for his massage. Petr Zuska is the masseur and he soon gets to work, oiling Adam's sexy body and massaging the back and the shoulders. Petr's hands work all over the back and down to Adam's underwear. The hands slide into the underwear and onto Adam's sexy ass. Then that downy-haired ass is bared and the hands can really work on it. The cheeks are parted to expose Adam's tight hole. Moving down the legs to the feet Peter continues to massage. Then he moves back up to the ass and Adams legs are parted which gives a view of his balls and his burgeoning cock. Petr slips a finger into that tight hole and works it gently in and out. Adam moves onto his knees, raising that sexy ass and Petr continues to finger the hot hole as he reaches underneath to wank on the hard cock. He then uses a dildo in Adam's ass, fucking it nice and deep. He turns Adam over to lay on his back with his legs in the air. The finger goes back into the sexy ass as Petr wanks on the stiff cock until Adam cums after a very nice massage.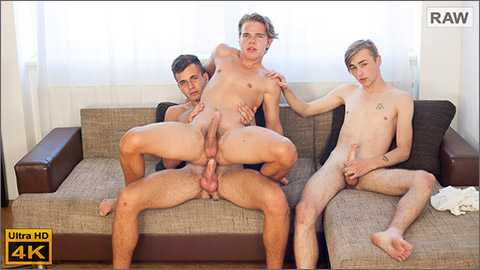 AIRPORT SECURITY: ADAM EGNER & KAREL OMANAK & NIKOLA DONOVAL
We have three very hot straight guys in our latest Airport Security. Nikola Donoval is in charge of secondary inspections and he brings in Adam Egner and Karel Omanak. They are handcuffed together and stand as Nikola checks them out. He tells Adam to lower his pants and soon has him with the pants around his ankles, his dick on show. Then Karel has to do the same. He decides that he must be very thorough in his inspection and starts to feel all over Adam's body. Then he does the same with Karel too. They guys complain that it all seems weird, but Nikola takes no notice. He pushes them down onto their knees and then drops his pants to reveal that his cock is rock hard. He shoves that big cock into Karel's mouth for sucking. Then he does the same to Adam. Alternating between the two Nikola enjoys having that throbbing cock sucked. Then he pulls their heads together so they can both lick the shaft of that hard cock. More sucking ensues until Nikola decides to take things further. Removing the handcuffs he bends Karel over and shoves his big dick deep into the waiting ass. Karel moans as that hard cock works his tight hole. Nikola fucks that ass and gives it a few spanks along the way. As Karel takes that cock he begins to lick Adam's hairy balls too. Then he wanks and sucks on Adam's big cock too. Nikola is generous and likes to share, so soon we see Karel sitting down on Adam's rock hard cock and riding it. He rides up and down on that dick as he also sucks on Nikola's. Adam reaches round and wanks Karel's cock too. Then it is all change as Nikola sits for Karel to ride his massive cock. He wanks himself as he slides his hot ass up and down on the big cock. Adam wanks himself as he watches them fucking. Karel keeps wanking his own cock as he slides up and down on Nikola's. Soon Karel is dumping his hot cum as he works his ass on Nikola's dick. Nikola thrusts is cock up into that hot ass, fucking it hard and fast. Then Karel is on his knees, being fucked from behind by Adam. Adam fucks hard and fast and then pulls out to shoot his hot cum al over Karel's ass and back. Nikola's dick slides back into Karel's hole and he fucks him some more. He spanks Karel's ass as he fucks it. Soon he is ready too and he pulls out to dump a huge, creamy, load over that sexy ass.
CZECH HUNTER
TWINKS IN SHORTS
STAXUS
EAST BOYS
CLICK HERE TO GO TO HIS WILLIAM HIGGINS BIO PAGE
CLICK HERE TO GO TO HIS STR8HELL BIO PAGE