ChaosMen Amateur Gay Porn Guy, West
Known Aliases: Chris Finch at Bentley Race
Years Active: 2015 – 2016
BRIAN OCKERT / CHAOS MEN INFO:
Start Age: 21
Debuted: July 13, 2015
Height: 6′
Weight: 175 lbs
Cock: 6″ Cut
When Aubrey came in to do his solo, his boyfriend drove him over. When he came in, I quickly asked him why he was not wanting to do some adult video, to which he replied, "I was hoping you'd ask!"
   We waited a couple weeks for his pubes to come back a bit more. For those of you who get mad at me about the pubic shaving, often scolding me that NO ONE is shaving their pubes anymore, well I beg to differ. Gay or Straight, I constantly have to wait for them to grow back, and even deduct pay if they show up without them.
   West didn't have to wait too long as they were not aggressively trimmed. He was super eager to please you all, and was excited to start playing on camera as soon as possible.
   He also arrived ready to go. He was not nervous at all, and was all set to bust a nut.
   West has an amazing smile, and I would say it is his secret weapon when out in public. He is of Black Irish decent, so his hair is a deep black, and his teeth practically glow in his dark features.
   His cock is a solid six, and he has great twisty jerk-off technique that allows us to see him stroke his cock.
   West is a versatile Top and as a Top he is actually used to cumming in an upright position. He strokes his cock up on his knees until he shots a massive load all over the bed.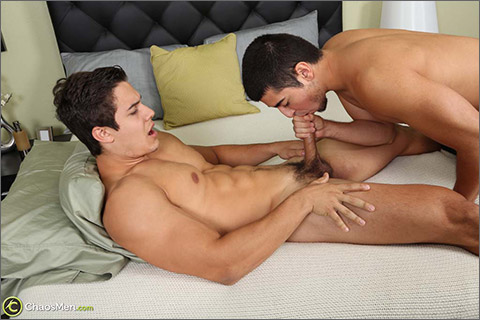 SERVICED: ADAM CUB & WEST
I really couldn't tell if Adam was nervous about getting head from a guy for the first time. He is very professional, calm, and had his mind up that he could do this. After doing cam shows for guys, he knew he would eventually level up to full-on porn.
   I had the TV on for him to start with, but after West got in there and got his cock hard, he spent most of his time with his head thrown back in ecstasy, or watching his dick get sucked, with an occasional glance at the porn playing.
   The most noticeable thing about this serviced videos, is it really looks like Adam is being electrocuted throughout this video! West learned quickly to focus on his cock head, and that kept Adam on the edge of cumming. Adam is literally vibrating throughout this video!
   Occasionally West would slow it down, fearing he might make him bust too soon.
   West tries to get some rimming in, but you can tell it was tickling Adam too much. He sure does try to stay still, but he can't help but jump away. Whiskers are tickly!
   The cum shot is crazy! Adam jerks around with giant spasms. West loses his grip but got back on top of it with his mouth and jerks the rest of his load out. Droplets of cum flying everywhere, with West sucking down most of it.
   Adam conquered getting head, and now say he will Top a guy. He isn't ready to suck back so will give him one pass. But I really want to see this hot muscle stud fucking the heck out of a dude!
CLICK HERE TO GO TO HIS CHAOSMEN BIO PAGE