Muscle Power Bottom American Gay Porn Star , Trenton Ducati
Years Active: 2011 – 2017
TWITTER @TrentonDucati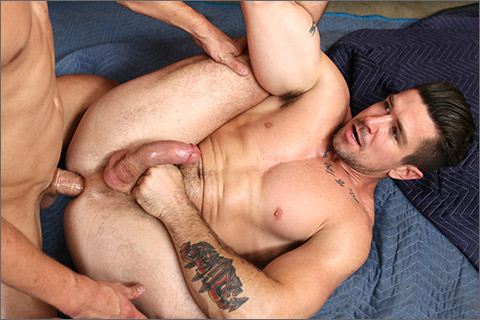 GREASERS: Trenton Ducati & JJ Knight flip-fuck
It's the clash of the bulls as superstars JJ Knight and Trenton Ducati go head-to-head in this flip-flop fucking, cum eating Greaser battle. These two horse hung studs try to outdo each other in a battle of sexual wits. Who will be the new Greaser leader and who will be left in the dust? All we know is you'll be shooting some grease of your own when you take on the Greasers!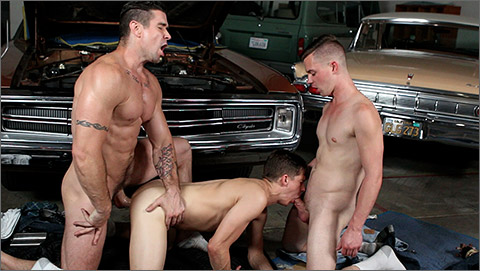 GREASERS: Kyler Ash & Kory Houston flip-fuck with help from Trenton Ducati
Horned up grease monkeys Kyler Ash and Kory Houston are hitting the hooch hard and soon they turn their attention to each other's hard cocks. Right in the middle of the throat-fucking, ass-pounding action the young greasers are joined by boss daddy Trenton Ducati who shows these punks the ins and outs of a hot flip-flop-fuck three way!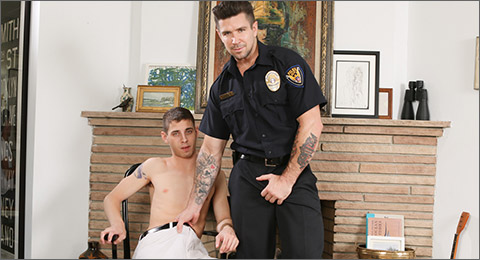 PAYING YOUR DUES
Sam is in trouble with the law and this time Officer Ducati is going to make him pay his dues. Sam has been busted beating off in the storage room again and his friend has ratted him out to cover his own ass. Officer Ducati grills him with questions until he finally gives in and that's when Trenton dicks him down with his hard cop cock. Sam will do anything to get out of this and by the looks of it he is doing just that. Officer Ducati is calling the shots as his boy deep throats his hard dick. Sam's big cock needs attention also and Trenton is making sure he wraps his mouth around it to feel it throb in his mouth. Officer Ducati bends Sam over the chair to spread his ass to get his tongue deep inside his hole and ready to be fucked. Officer Ducati pushes his hard cop dick into Sam and begins to fuck him hard and fast. He fucks him in a few positions but makes his offender bust a nut while lying on his back. Trenton isn't letting him get away that easy as he releases his built up load all over this young offender.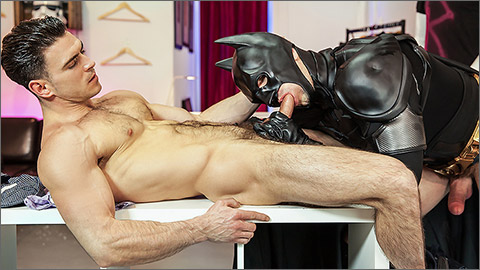 PART 2: Paddy O'Brian fucks Trenton Ducati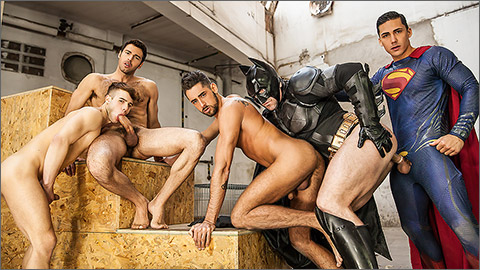 PART 3: Allen King, Dario Beck, Massimo Piano, Topher Di Maggio, Trenton Ducati
The series finale has Superman and Batman joining forces to rescue three cock hungry studs. Watch as Superman and Batman cum together with Dario Beck, Massimo Piano, and Allen King, in this extraordinary orgy finale.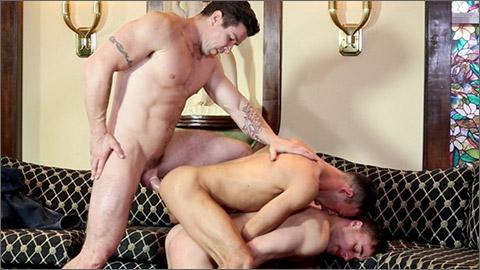 DADDY'S BOYS
We all like a daddy and Samuel Stone and I always been attracted from older guys. We wanted to tease and bottom for Trenton Ducati for years and our fantasy came true that day. Lounging on the couch while Trenton was drinking his morning coffee we started kissing and taking off our clothes to turn him on. After we got his dick hard he took his massive manhood for us to suck on it. Taking its time to play with our holes to make sure they were ready for him he licked us wet for his cock to fuck us hard. Im sure fans will be happy with this hot action cause Trenton made sure we were both satisfied and the pounding went on and on. Another hot fantasy realized in sunny vegas.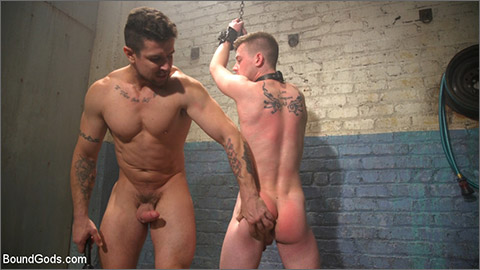 PERVERTED BUTCHER TORMENTS AND ABUSES HIS HANDSOME CAPTIVE
Kyler Ash awakens to find himself tied to a meat hook in Trenton Ducati's lair. Trenton comes towards his new sex slave to see what kind of meat he's packing. Trenton lets loose Kyler's thick cock, and slides it down his throat. Kyler sways in the air, begging to cum. Trenton instead takes Kyler off the meathook, and slams him onto a pile of meat. Trenton pulls out his throbbing dick, and rams it up Kyler's tight hole. Trenton leaves his mew meat locked in a cage for a while, before taking him out for a quick walk using a chain leash and zapper as incentive. Trenton leads his pet over to the meat cleansing station, where he makes Kyler lick his cock clean before chaining him to the ceiling and brutally flogging him. Trenton's flogger freshly tenderizes Kyler. Kyler is packed in a Maxcita sleep sack, while electricity is sent through his cock and nipples. The electric current hardens Kyler's cock while the rest of his body tingles with anticipation. Trenton decides it is time to open up Kyler's asshole, and sticks an electrified butt plug in to soften the little hole up. Kyler's ass is finally ready for Trenton's big cock. Trenton fucks the cum out of Kyler, and then pulls out his cock, and showers his hot load all over Kyler's face.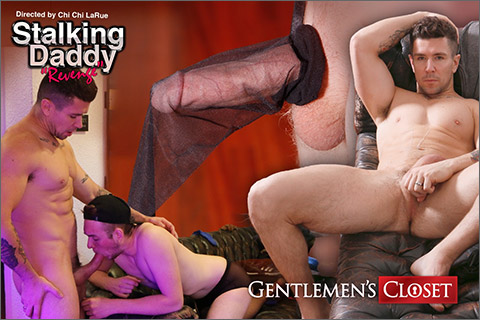 STALKING DADDY "REVENGE"
Always wanting more obsessed Trenton continues man handling the kinky boy. Dressed in his nylons and garter belt the boy is thrust down on Trentons bulging cock. Trenton fucks the boys mouth and spanks the at the same time. Fully hard now Trenton flips the prey around and forces his giant cock in the kinkster. The rhythm is fast and the moans are load the only thing louder is the music playing in the club down the stairs. Sweating Trenton finishes massaging his cock with the boys fuck hole and joins him on the couch where he makes him smell sweaty socks. The two fuckers jack off and Trenton shoots a warm load and leaves the boy to re pack his back pack.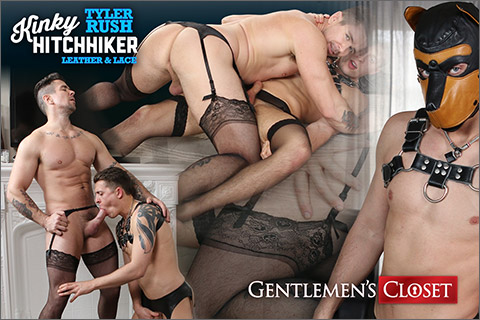 KINKY HITCHHIKER "LEATHER & LACE"
Dom Ducati reveals his secret fetish under his tight leathers. Tyler Rush his captured servant is now eager to please. Rubbing his face on Trentons hard cock through the leather. Ducati then un zips his meat and shoves it in the willing mouth. The forceful oral and and spanking is intense. Peeling down the leather Rush reveals Ducatis garter and slowly reveals his nylons under the leather pants. The Dom forces the boy on his back and starts to worship his feet. Spitting and licking Ducati is enjoying this. Rush is hard and feeds his feet to his master. Trentons giant thighs stretching the leggings to capacity. You can see all of him through the sheer material. After worshipping the feet of the servant Trenton forces his cock back in his mouth. After some grinding and long thrusts the dominant man is set to explode. Pumping and pumping he finally shoots in the mouth of the pussy boy.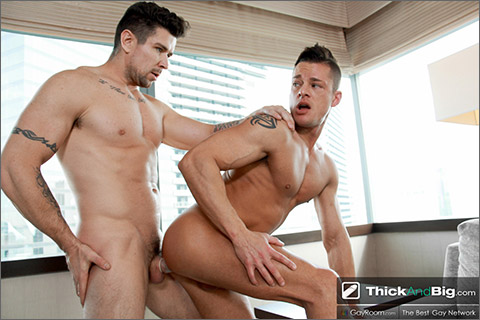 CHEATING TRENTON
Will taking a break from his wife, Trenton calls his FB Rex over for some thick muscle cock.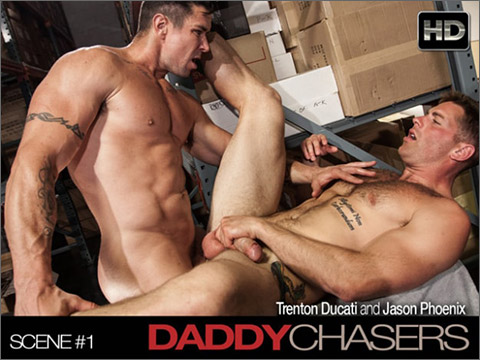 DADDY CHASERS: Jason Phoenix & Trenton Ducati flip-fuck
Jason Phoenix gets called in to supervise a warehouse while the boss is off running other errands. What the boss doesn't know is that warehouse worker Trenton Ducati is packing much more than boxes for his boss Jason to inspect. This scene finishes off with a dildo machine, what more can we say?
NAKEDSWORD
NASTY DADDY
GENTLEMEN'S CLOSET
JONES EXPOSED
TITAN MEDIA
HOT HOUSE
FALCON STUDIOS
CHANNEL 1 / RASCAL
ICONMALE
PRIDE STUDIOS
GAY ROOM
DOMINIC FORD
JAKE CRUISE'S COCK SURE MEN
KINK MEN
KINK.COM / BOUND GODS