Handsome Hairy Hunk William Higgins Czech Gay Porn Star, Tomas Salek
Known Aliases / aka: Sam Cuthan, Czech Hunter 334
Years Active: 2017 – 2018
WILLIAM HIGGINS INFO:
Model Name: Tomas Salek
Age: 24
Home Town: Turnov
Height: 173cm/5'8″
Weight: 69kg/151.8lb
Foot Size: EU42/US8.5/UK8
Penis Size: 16cm/6.3″
Profession/Student of: University student
Hobbies: Sport
Favorite Sports: Basketball
Active Sports: Soccer
Movie/Music/Sport Stars: John Corbett
Visited Countries: Poland
Want to Visit Countries: UK
Dream of My Life: I do not know.
Zodiac Sign: Virgo (August 23 – September 22)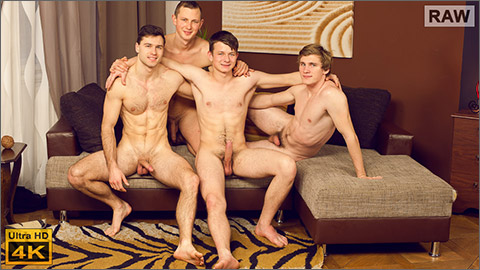 WANK PARTY #92
Wank Party #92 features 4 hot str8 guys, Laco Meido, Dan Holan, Tomas Salek and Franta Tucny. In this first part we see Tomas adjusting his hair when he is joined by Franta to offers to help. Tomas then does the same to Franta. They begin to kiss as well, letting their hand run over each other. Tomas pushes Franta's jean down a little, reaching inside. Franta opens Tomas jeans and pulls out his stiff cock. Both cocks are soon out and are rock hard as the wank each other while still kissing. Then Tomas leans against the wardrobe as Franta drops to his knees to suck on the stiff cock. Tomas is rock hard as he mouth works on his dick. Franta licks and sucks on that cock as Tomas thrusts his hips. He pushes Franta's head down on the cock as they are joined by Dan and Laco. Laco kisses Tomas as Dan does the same with Franta. Laco drops to his knees and sucks on Tomas' dick as Dan takes Franta's in his mouth too. Both heads bob up and down on the rampant cocks. Tomas and Franta kiss as they enjoy the feeling of the hot mouths on their cocks. Laco then stands and kisses Tomas as Dan and Franta enjoy his cock. Franta then sucks on Tomas again. Laco's huge erection enjoys a lot of attention from both guys and Tomas stays rock hard too as Franta; mouth goes back down on it. Tomas moves to the sofa and is joined by Dan. Dan raises his legs for Laco to rim his hot hot. Tomas' legs are up too as Franta sucks his cock some more. Laco keeps working on Dan's hole, slipping his finger inside. Everythng is set up well for a very hot part two.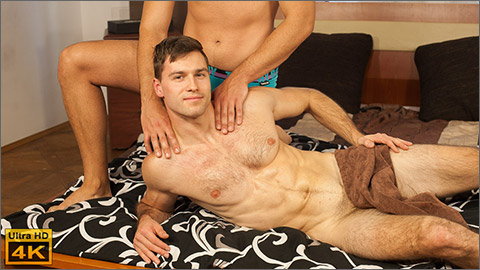 MASSAGE: TOMAS SALEK
Tomas Salek is such a handsome guy, and str8 too. He came in for a massage and we watch as he strips to his underwear and lays on the bed. The masseur arrives and gets to work, using oil, massaging Tomas' back and shoulders. The oily hand glide over the shoulders and onto the neck. They work down the back too. Then Tomas' underwear is pushed off his sexy ass so the hands can massage it as well. With the underwear off Tomas' legs are spread wider and the hands work on that hot ass. The masseur moves down to massage the legs and feet, paying particular attention to the feet.Then it is back up to that sexy ass, with the legs parted again. The hands spread the cheeks to show Tomas' hairy crack and tight hole. His cock is back between his legs, pressed down by his balls as the hands keep working on the hot ass. Then a hand reaches for the cock as well. Tomas moves onto his knees and his tight hole is shown perfectly as a hand reaches for the cock and wanks it back between the thighs. The wanking continues as that hot ass is rubbed all over too. A finger slips into the hot, tight, hole as well as the wanking speeds up. The finger gently fucks the hole as Tomas' cock throbs in the hand. With the finger deep in his hole Tomas' cock release the hot cum onto the bed, with some hanging on his leg. His cock is milked dry then Tomas turns over and lays on his back. His hairy chest is rubbed all over as he relaxes after a very hot massage.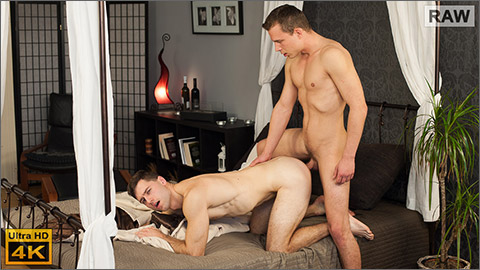 CHERRY BUSTING: HUGO ANTONIN & TOMAS SALEK
Tomas Salek, the most handsome and sexy of str8 guys gets his cherry busted by another hot str8 guy, Hugo Antonin. We join them as they sit on the bed with Hugo asking questions about Tomas sex life and experience. He gently persuades Tomas to try a kiss and, enjoying it, Tomas decides they can go a little further. They kiss again and Tomas allows his hand to be pressed into Hugo's groin. Hugo removes Tomas' tee shirt, revealing his hot chest. He kisses the chest and then removes his own tee shirt. They continue kissing and groping each other. Hugo opens his jeans and releases his throbbing cock. Tomas takes hold of the cock and wanks it, then leans forward to take it in his mouth. He sucks on Hugo's dick so well for a novice, closing him mouth tight around it. He sucks the dick for a while and then Hugo retuns the favour, taking Tomas' rock hard cock in his mouth. His head bobs on the stiff dick with Tomas pushing him down on it. Cupping the balls Hugo keeps sucking Tomas cock. Tomas enjoys the feeling of a mouth on his dick and takes off his jeans, spreading his legs wide. Tomas goes between the legs to continue sucking on the big cock. Then Hugo wants to fuck Tomas who is not sure he is ready. Getting naked Hugo leans over and kisses Tomas who lays back with his legs in the air. Hugo's rampant cock slides into the virgin hole, going all the way in. Tomas moans as he feels the cock fucking in and out of his tight hole. He takes it all the way as Hugo continues to fuck. Tomas takes hold of his own cock and pulls on it as Hugo keeps fucking that hot hole. Tomas' cock gets even harder in his hand as he wanks and he shoots his hot cream onto his belly as Hugo keeps fucking his ass. Then Tomas turns over, onto his knees for Hugo to fuck him some more. Hugo pounds away at the beautiful, tight, ass. The hole is stretched wide and fucked deep as Hugo pulls out and shoves his dick back in again. His fucking gets harder and faster as the cum builds up in his balls. Tomas takes that dick so well and soon Hugo pulls out and dumps his creamy cum onto that sexy ass.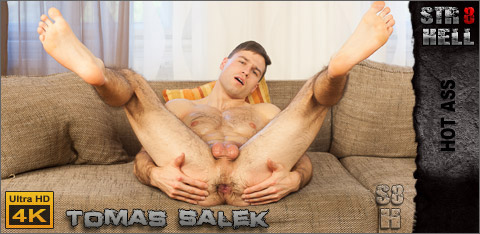 HOT ASS: TOMAS SALEK
Our hot, handsome and very sexy str8 guy recently had his cherry busted, now we get to enjoy more of his hot ass. He looks great as he lays on the sofa pulling his dick in his underwear. That hot body looks so good as he runs his hands over it while wanking himself. Tomas is soon joined by a helping hand and has oil rubbed all over his sexy chest and abs. Then the hands take hold of Tomas' cock and start wanking it. His underwear is removed too and his dick continues to be wanked. His tight balls are cupped too. Tomas keeps feeling all over his sexy body as he is wanked. Then he moves, raising his legs into the air to show off his hairy hole. Oil is dripped and rubbed all over that sexy ass. The cheeks are spread to show that hole even better. Soon a finger is sliding in and out of the hot hole, going nice and deep. Then two fingers are used to stretch the hole nicely. They go all the way in, up to the knuckles. Tomas takes it so well and soon feels a vibrator being shoved into him. The toy fucks his ass deep and hard, pulling out and then going in again. Tomas turns over, onto his knees and gets a nice, thick, dildo shoved deep into his hot hole. He takes that very well and then it is replaced by the vibrator again which fucks him hard. Tomas then lays on his back and wanks his cock until he delivers his hot cum, dumping it onto his belly.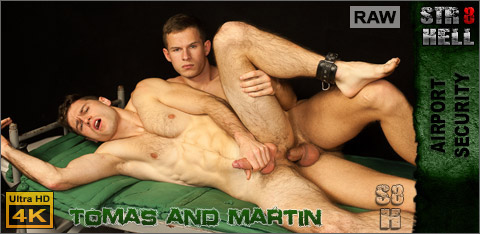 AIRPORT SECURITY: MARTIN HOVOR & TOMAS SALEK
Hot str8 guy Martin Hovor is in charge of Airport Security and his has himself a very sexy prisoner. Sexy and good looking str9 guy Tomas Salek is shackled and gagged as Martin comes in. Martin soon has his hands running all over Tomas hot body, groping him too. He has accused Tomas of smuggling and is intent on punishing him. He rips off Tomas' underwear, grabbing his cock and balls. He wanks Tomas' cock making it very hard. Then he turns him around and uses a crop on that sexy ass. He spanks it with his hand too. Then Tomas is turned again and his cock is wanked some more. Martin drops to his knees and takes the stiff dick in his mouth for some sucking. He sucks and slaps Tomas throbbing cock, wanking it hard too. Then he spanks on his ass some more too. Martin opens his shirt and drops his pants. That reveals his big, hard cock. He pushes the ungagged Tomas to his knees and shoves his dick into his mouth. Tomas is soon sucking hard on that big, stiff, cock. But it doesn't end there, he is bend over and feels Martin's big pole entering his tight ass. Martin fucks that ass deep and hard, stretching it wide. Tomas takes every inch as Martin pounds away at his hole. Martin moves Tomas onto the bed and spoons with him banging his cock deep into the hole. Tomas wanks himself as Martin's dick fucks him so hard. Tomas is soon at the point of no return and dumps his creamy cum onto the bed. Martin keeps up his fucking as Tomas milks his dick dry. His fucking gets even harder and the Martin pulls out and shoots his creamy cum too. Then he leaves Tomas laying on the bed.
WILLIAM HIGGINS
STR8HELL
BADPUPPY
CLICK HERE TO GO TO HIS WILLIAM HIGGINS BIO PAGE
CLICK HERE TO GO TO HIS STR8HELL BIO PAGE