Lucas Entertainment Argentinian Gay Porn Star, Tomas Lopez
Known Aliases:
Years Active: 2014 – 2015
Tomas Lopez Signs With Lucas Entertainment As A New Exclusive Model
Tomas Lopez has joined Lucas Entertainment as the studio's newest exclusive model. Tomas is in a relationship with Fernando Torres, a Lucas Entertainment discovery and exclusive who debuted in the 2013 movie AUDITIONS 49: CONCRETE JUNGLE, and has gone on to star in 10 scenes with the studio.
   Fernando contacted the studio when he started dating Tomas Lopez, which quickly led to an interview. Within five minutes it was obvious he had to be cast. He does, after all, have the complete package: a beautiful face, body, ass, and cock. He and Fernando were booked for the recent 2014 Berlin shoot without hesitation.
   Tomas did not disappoint. He filmed four scenes throughout the shoot, beginning with Fernando and graduating to a four-way gangbang featuring exclusive model Joey Pele, Rafael Carreras (whom Tomas has been a longtime fan of), and Fernando. It was the perfect combination, as Tomas had one request upon his arrival in Berlin: he only wanted to get fucked by big dicks, and preferably by multiple guys at one time. And when we say Tomas could not get enough, we really mean he could not get enough… Tomas took raw uncut cock for well over an hour and still wanted more! And wasting cum was not an option — he insisted it either went in his mouth or ass.
   Tomas Lopez and Fernando Torres also filmed a water sports scene together where they showed off their filthier sides. They didn't just piss on each other — Tomas swallowed mouthfuls without complaint!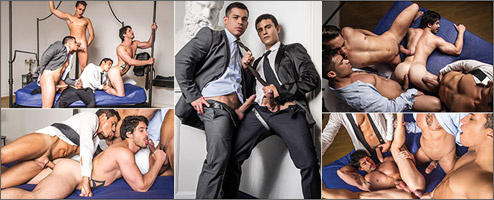 JOEY PELE, FERNANDO TORRES, AND RAFAEL CARRERAS BANG TOMAS LOPEZ RAW
What's better than this past Friday's scene featuring Joey Pele fucking Tomas Lopez in his ass bareback with his fat uncut 8.5-inch cock? Watching Joey Pele fuck Tomas Lopez while Fernando Torres and Rafael Carreras wait to take their turns on him, too. And I promise that they, too, get their turn inside Tomas! This scene isn't a foursome — it's a miniature gang-bang, and Tomas is the sole and central receiver for all of the hard and raw uncut cocks! Oh, and for all of the fans of ass-to-mouth out there, check out 21:36 — Joey sucks on Rafael's cock right out he pulls out from Tomas ass when he finishes fucking the stud raw!
   and others