Blond American Jock Gay Porn Star, Tom Faulk
Years Active: 2012 – 2018
TWITTER @TomFaulkXXX
MEN.COM INFO:
Hair Color: Blonde
Eye Color: Green
Dick Size: 7″ cut
Height: 5'11"
Weight: 180
Sexual Positions: Versatile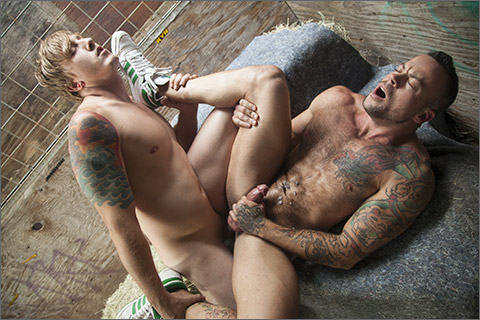 MXXX THE HARDEST RIDE: Tom Faulk fucks Sean Duran
There's nothing better than Texas BBQ, especially when it's served up by the motocross hunks out at Tom Faulk's place. Sean Duran arrives with his stripper girlfriend Ahslee (Axle Rose) and things start to go a little crazy. Shots of tequila lead to burnouts on the patio and an impromptu strip show that gives Tom an idea. He bets Sean he can fuck his girlfriend harder than he can and all three head to the moto-barn. Sean is all in for a tag-team but Ashlee flips the script… she wants to watch them get it on. Tom and Sean jokingly accept the challenge but it's clear a little peck on the lips isn't what Ashlee has in mind. Reluctantly they start to make out and jerk each other off. Horned up, Sean fucks Tom's face then gets on his knees to suck his buddy's dick. With his cock wet and hard Tom decides to give Ashlee what she really wants and slams his rock hard meat deep in Sean's muscular ass. They fuck hard until both guys blow their loads, leaving them both drained and a bit confused. What the fuck just happened?!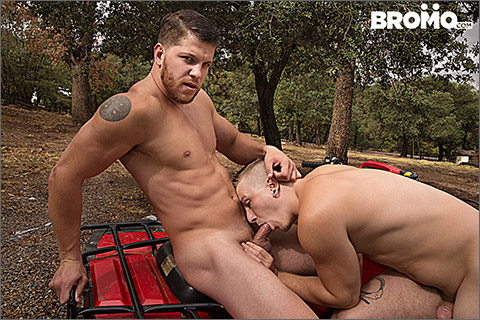 DIRTY RIDER 2: Ashton McKay fucks Tom Faulk
Bromo's celebrated series Dirty Rider is back to deliver even better goods with its second installment. Bringing us a new lineup of horny guys starting with Ashton McKay and Tom Faulk. The guys take a ride in the great outdoors and take a break to properly fuck each other raw over their ATV.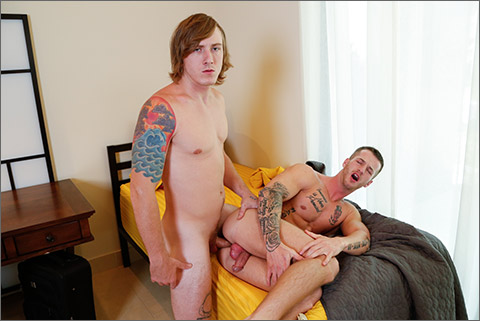 STR8 BAIT HOSTEL – MYSTERIOUS ENCOUNTER: Tom Faulk fucks Quentin Gainz
With very few rooms available at the hostel, travellers Quentin Gainz and Tom Faulk are forced to share a room, even though they are total strangers. Madam Hostel has already set them up to ensure that they get acquainted with a little trickery, and as the guys get settled into their room, the Madam's plan begins to take shape. Both guys find notes under their pillows. Tom's note reaffirms his suspicions that Quentin is interested in his cock, and to his credit, Quentin's note appears to be from Tom inviting him to do just that, so when Tom falls asleep, Quentin's curiosity gets the best of him and he takes a peek under the covers, spying on Tom's nice cock resting up against his leg. Quentin takes it in his hand and slowly massages it. Tom stirs but doesn't wake, and his cock swells up semi-hard. Quentin moves his head closer to have a taste just as Tom wakes up. Petrified, Quentin freezes, and Tom asks him what he's doing. Assessing the situation, Tom realizes what's happening and taunts Quentin, asking him if he wants this cock. Quentin nods in the affirmative and Tom tells him to get started. Quentin wastes no time getting to it, downing Tom's cock in one gulp, as Tom gags him. Sitting up, Tom gets into it as Quentin strokes himself while sucking on Tom's balls. Tom rocks Quentin back up against the wall propped up on a desk as he eats Quentin's ass before sliding his cock inside his stranger roomie. Quentin takes the dick like a pro, as Tom gives him every inch of his giant cock. Tom folds Quentin over onto his side as he continues to pound away, coming close to bursting as Quentin loses his nut all over himself, before Tom blasts him with his load. Smiling in the aftermath, the guys realize that they've been set up, though neither seems to really mind, after the fact.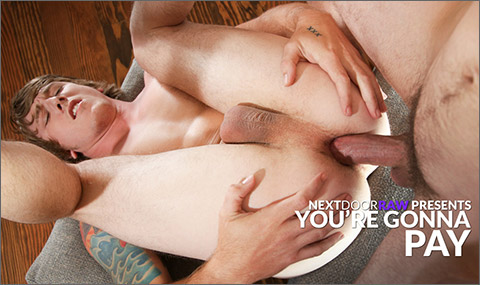 YOU'RE GONNA PAY
River Elliott thought he and Tom Faulk had a deal, but things aren't quite working out. Here to collect his money while Tom tries to back out, River's determined to make good on the debt one way or another. So when Tom tells River to go fuck himself, River laughs. 'Funny you would put it like that,' he says, shoving Tom down onto his couch as he pulls his cock out. Tom seems confused about all of it until River slaps him across the face a few times with his dick, and then Tom starts to understand. Before he can protest, River has his cock shoved halfway down Tom's throat, fucking his face as Tom realizes he should have just paid up. Too late. River has Tom turned over and he's wetting Tom's asshole for his meat-stick, grabbing Tom by his jock as he shoves his raw cock inside, punishing Tom with his rock hard dick as he pounds him from behind. Tom relents and decides to just go with it as River raw dogs him even harder, pile driving him on the floor as Tom strokes himself off. Tom loses his load all down his chest as River pulls out and blasts Tom with his jizz, slapping his cum-drenched hole with his cock as Tom wonders if there's any way for the two of them to do some more business in the future.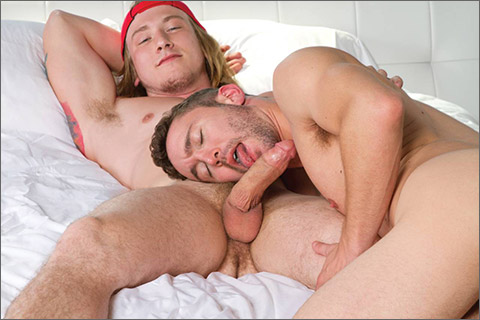 SEX PAD: Tom Faulk fucks Colt Rivers
Colt Rivers brings skater-hunk Tom Faulk to the Sex Pad for a hot fuck. Tom has scruffy facial hair, a shaggy blond mane that cascades to his shoulders and pubes that match his flowing locks. Tom is completely content in letting Colt pig out on his juicy cock. Colt, who's smooth and athletic, swallows the whole fat cylinder expertly. Coming up for air, he lies full-length on Tom, grinding hips to hips and lets Tom suck the cock juices off his tongue. Then, Colt flips Tom onto his belly and attacks his hole with the same oral intensity. The hairiness of Tom's crack contrasts with his smooth chest and back. Colt may be in charge, but Tom's the top, and Colt makes sure his hole gets the pounding he wants. They fuck in doggie variations until Colt collapses face-down on the bed. He saves enough energy to flip over for the home stretch, planting the soles of his feet on the sides of Tom's waist and blasting a load across his abs. Tom says, "I feel your ass grip my cock'" as he pulls out and shoots his creamy load all over Colt's face, shoving his cock in Colt's mouth for the final drops.
BROMO
NEXT DOOR RAW
NEXT DOOR STUDIOS
MEN.COM
COLLEGE DUDES
CLICK HERE TO GO TO HIS MEN.COM BIO PAGE
CLICK HERE TO GO TO HIS NEXT DOOR STUDIOS DETAILS