Handsome Hairy Hung Uncut Gay Porn Star, Spencer Whitman
Known Aliases: Spencer (Corbin Fisher)
Years Active: 2006 – 2016
TWITTER @SpencerWhitman
RENT MEN: SpencerWhitman
CORBIN FISHER INFO:
Model: Spencer
Age: 18
Added: Sep 19, 2006
Waist: 28
Shoe Size: 10
Height: 5'10"
Weight: 167
Build: Muscular
Cock: 8″ Uncut
Spencer has a combination of characteristics that make him just sexy as all hell. I really dig it when a guy has his features – a cute, boyish face, contrasted, yet completely complimented, by a muscular and hairy chest, with buff arms, muscular legs, and a big and thick, uncut cock! For those of you out there who love our hairy chested studs here at CF, you're really going to like Spencer. And for those of you who've been itching for more uncut studs, you're likewise going to love Spencer! And if you like hairy chests AND uncut cocks… well… you're pretty set! 🙂
Spencer mentioned having been quite the workout freak all through middle and early high school. He said he used to be even bigger than he is now, but had decided he was starting to look just too buffed and wanted to tone it down a bit so as to not go overboard on the muscle. I'm pretty glad he made that decision, as his size now is practically perfect. Not only does he have great pecs, but he also has an amazingly flat stomach – again, all enhanced by that hot and hairy chest!
This young man is certainly armed with some great genes, as you'll see when he whips that cock out and shows off a big, meaty dick. Face…body… cock… Spencer's got it all!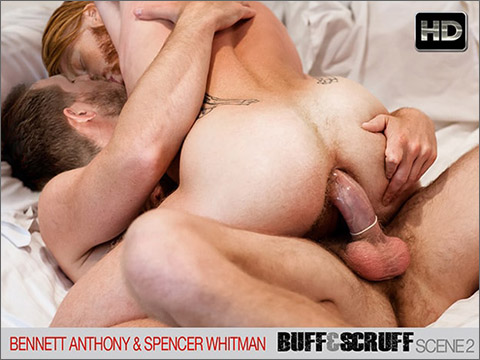 BUFF & SCRUFF: Spencer Whitman fucks Bennett Anthony
Spencer Whitman makes the move on Bennett Anthony, casual sex has never looked better!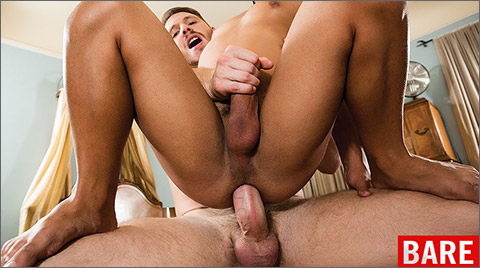 BAREBACK BOYFRIEND SWAP: Spencer Whitman Pounds Rafael Lords Bareback
A third is sometimes fun, but every once and awhile you want to experience someone new without your other half tagging along. That's how Rafael Lords is feeling, and Spencer Whitman is more than happy to help him out with the desire. He enjoys the experience: check out his face at 13:55 as he reaches for the headboard. And the torso shot that follows right after is just as visually captivating — you can't miss Spencer Whitman's gorgeous furry chest at 14:05.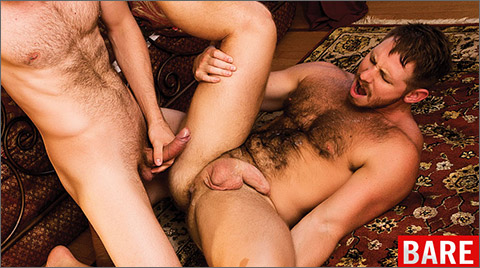 BAREBACK BOYFRIEND SWAP: Evan Lance Gives Spencer Whitman His Raw Load
Spencer Whitman returns home to his boyfriend Evan Lance after he and Rafael Lords fucked each other's brains out. Spencer can get it up and come easily easily, and he's feeling some guilt over his adultery… that's why he wakes up the napping Evan and gets his cock hard. Sure, Spencer does fuck Evan, but Spencer ultimately loves it when his man breeds his hole. If you check out 31:05 you'll see Evan playing with his nipples while he works up a load for Spencer!
CHANNEL 1 / RASCAL
LUCAS ENTERTAINMENT
ALL WORLDS VIDEO
CORBIN FISHER / AMATEUR COLLEGE SEX
SUITE 703: MEN HARD AT WORK
CLICK HERE TO GO TO HIS LUCAS ENTERTAINMENT DETAILS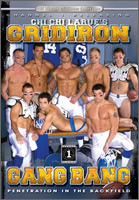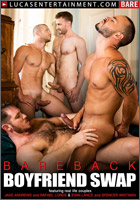 GRIDIRON GANG BANG
BAREBACK BOYFRIEND SWAP
STRAIGHT EDGE: VOLUME 6
STRAIGHT EDGE: VOLUME 7
SO BLOND IT HURTS
NASH LAWLER FUCKS SPENCER WHITMAN
SPENCER WHITMAN & TRENT LOCKE
DREW CUTLER FUCKS SPENCER WHITMAN
SPENCER
BLOWING NICK
FUCKING SPENCER
SPENCER FUCKS CALEB
BEN FUCKS SPENCER
CADE FUCKS SPENCER
ANYTHING GOES