Canadian CockyBoys Gay Porn Star, Sonny Stewart
Years Active: 2010 – 2015
COCKYBOYS INFO:
Sonny Stewart does a lot of freaky stuff, which is why we like him so much. He loves to fuck in groups for one thing, and told us a little story about getting plowed by two guys in a hotel room shower. And they were straight guys, nonetheless, which made Sonny flash a big smile for us. With two naked straight guys around him, he said he had "no choice" but to whip his cock out in the moment and get down to business.
   Of course we had to let Sonny re-enact the hot shower scene for us, and he had no problem getting naked for us. We loved his tattoos, which looked really fucking hot every time he flexed his muscles for us and the water dripped down his tight chest and abs. The tightest of his muscles were his round butt cheeks, though, which he masterfully slipped his hand between before finger fucking himself.
   Even though his name is Sonny, don't think this CockyBoy isn't fond of showers… especially the kind that squirt out from his cock.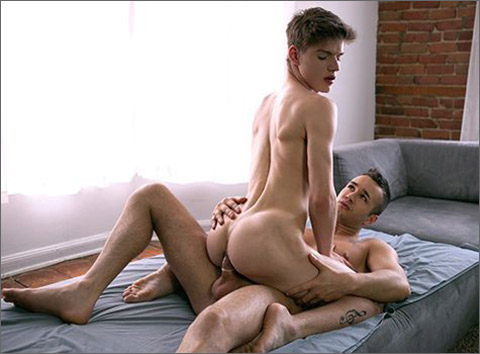 SONNY STEWART FUCKS LEV IVANKOV
If you liked the scene with Lev with Nick Sterling, then check out Lev's bottoming debut in this bonus update from Videoboys!
   As soon as Lev Ivankov appeared on the site, it was amazing how many of our Videoboys models, even ones we hadn't heard from in a long time, came out of the woodwork to ask to be in a duo with this boy. Everyone wanted their shot at Lev. But ultimately it had to be Lev's choice who would be his first partner. He wanted a sporty guy, a masculine guy, someone who would fuck him hard and feed him cum. He wanted a guy that was a couple of years older, confident and just a little bit rough.
   Sonny Stewart was exactly what Lev had in mind. And lucky for us the minute Sonny saw Lev's picture he gave us an enthusiastic yes before we could even ask the question. Sonny isn't usually into younger guys but Lev's beautiful face and incredible body just left Sonny drooling.
   From the moment they met, until the last drop of cum was spilled, the whole duo went down almost exactly as each of them had dreamed it would. Sonny had the most gorgeous twink of his life to toss around, fuck and feed. Lev got dominated just the way he has always wanted, with the hardest pounding of his life. But as much as his ass was begging for pleasure, it was Lev's oral fixation that he insisted on satisfying. After all the sucking and fucking what Liev really wanted and what Sonny graciously provided was a mouthful of cum.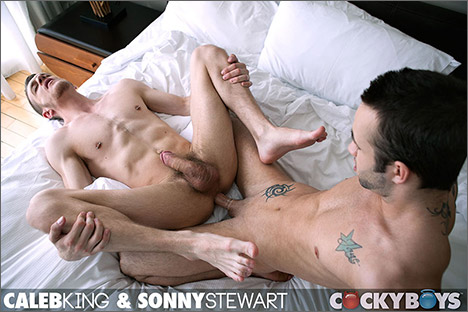 SONNY STEWART FUCKS CALEB KING!
We knew Sonny Stewart and Caleb King were going to have a lot of chemistry together, but never imagined their fucking would be so intense. They're both bad boys with just the right amount of differences — Sonny has dark brown hair while Caleb is blond; Sonny is inked up while Caleb is pierced; Sonny's cut while Caleb has a big uncut cock.
   So they were a really hot pairing. Sonny loved getting Caleb in the mood by blowing him, and Caleb couldn't stop rimming Sonny's perfect ass. But in the end, it was Caleb who really wanted to get fucked and he proved to be a very vocal bottom. Sonny plowed Caleb in missionary, doggy style, and then finally Caleb got on top of him and went for a ride.
   It was pretty surprising to see Caleb turn into such an aggressive big-dicked bottom, but that just made it all the more hot. After Sonny power-fucked Caleb and Caleb was almost out of breath, Caleb gave very little warning before unloading all over Sonny's torso. Sonny blew his load a short while later, and Caleb thanked him by lapping it all up with his tongue.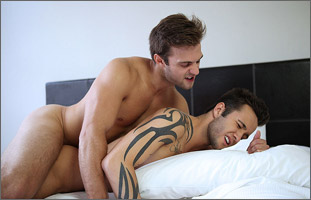 GABRIEL CLARK PUMMELS SONNY STEWART
SONNY STEWART FUCKS LEV IVANKOV
SONNY STEWART FUCKS CALEB KING!
CHRIS HARDER & SONNY STEWART FLIP-FUCK
KEVIN CARSON & SONNY STEWART
SONNY STEWART & MARCO GAGNON FUCK
SONNY STEWART SQUIRTZ SOLO
SONNY & MARCO: NO ORDINARY FUCK
JAKE BASS & SONNY STEWART – APOCALYPTIC SEX
SONNY STEWART: STRIPPER BOY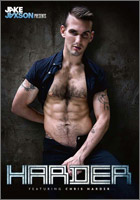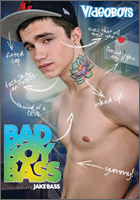 COCKYBOYS
VIDEOBOYS
MEN OF MONTREAL
CLICK HERE TO GO TO HIS COCKYBOYS DETAILS