Handsome Smooth American Gay Porn Star, Seth Santoro / Seth Treston
Years Active: 2013 – 2018
TWITTER @SethSantoroXXX
Started originally as Seth Treston,
until he became married to BILLY SANTORO in 2014.
LUCAS ENTERTAINMENT INFO:
Height: 5'11
Weight: 185 lbs
Dick Size: 7″
Position: Bottom/Versatile
Seth Treston is a Washington boy in and out: he was born in Olympia and currently lives in Seattle with his boyfriend, Billy Santoro. Seth likes his men tall, dark, and handsome, which explains exactly why he and Billy fell for each other! Seth has a hidden talent for both singing and servicing cock: he's mainly a bottom that loves to please his top, but as he says, "who doesn't like fucking a hot piece of ass every now and then." Seth started a side career as a porn star because he loves having sex with lots of different guys, so why not get paid for it? He once had sex in a public park and his dream fuck is Rafael Alencar!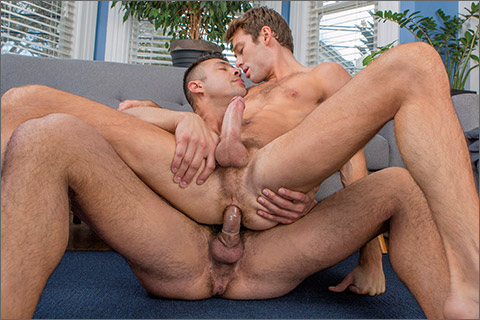 MAX IN THE CITY: Seth Santoro & Max Adonis flip-fuck
Max Adonis moves to San Francisco. Upon his arrival, first on Max's list is visiting his buddy, Seth Santoro, who he hasn't seen since they went to high school together 10 years ago. As they reminisce about what might have been, their hands wander, and one thing leads to another. They start making out and soon their clothes are in a pile on the floor as Seth takes the lead to suck on Max's hard cock. Seth sucks Max like it's the last dick he'll ever get to swallow and greedily gobbles it down his throat. Max needs to satisfy his own 10-year-old curiosity when he takes his turn sucking Seth's big hairy cock. All the sucking gets Max hard as a rock and soon his face is buried in Seth's hole. He laps it up with his tongue and gets Seth nice and open before the hunk is begging to get stuffed. Max happily helps Seth with what he needs and slides his swollen cock deep into the stud's willing ass. Max pumps away from behind until he decides he wants to take Seth's meat for a spin. He hops on and rides his friend deep as his own dick flops up and down. Seth's cock feels amazing deep inside of Max backside. Switching it up, Max gets on his back and cums hard as Seth continues to pound him. Seeing his buddy blast a creamy load is all it takes for Seth to let loose and blow his load all over Max's cum-covered body.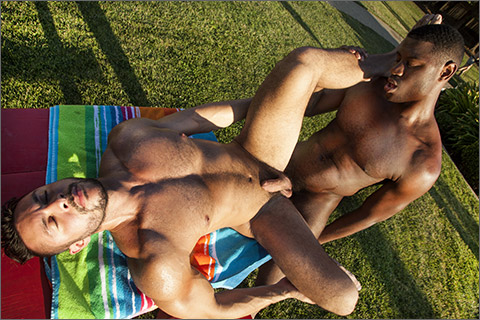 POOL MATES: Adonis Couverture fucks Seth Santoro
It's high noon and Seth Santoro is hungry for cock. Luckily Adonis Couverture's big uncut dick is on the menu. Seth works him into a frenzy with his hot mouth paying special attention to Adonis' meaty balls. Adonis returns the favor but when he gets a taste of Seth's legendary ass he pulls him out of the pool and fucks him doggy style on a nearby bench. The two studs gleam as Adonis fucks a load out of Seth in the setting sun.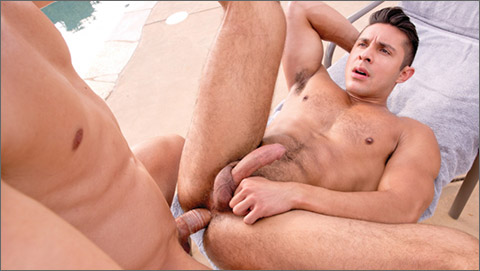 INTO THE BLUE: JJ Knight fucks Seth Santoro
Underneath a bright clear sky, with palm fronds swaying in the breeze, Seth Santoro dives into the cool, blue waters of the swimming pool. His swimsuit shows off his smooth, toned body. JJ Knight lounges nearby, watching intently as Seth swims his laps. A bulge grows in JJ's bathing suit that can't be contained: he whips out his hard cock and strokes it slowly, enticingly, waiting for Seth to notice. Slowly, Seth emerges from the pool, his own suit displaying the unmistakable outline of his boner. He walks toward JJ, bends forward, and wraps his lips around the sensitive tip of JJ's cock head. As the sun shines on JJ's abs, Seth works his way down JJ's immense shaft, lubing it up with his spit. They strip and share a kiss before Seth turns around for JJ to rim his tight hole. Bending forward, Seth pushes his hairy ass into JJ's face while sucking on JJ's massive cock. Spinning around to face JJ, Seth sits down on JJ's meat. As JJ's cock stretches and fills Seth's hole, JJ begins thrusting up from below, pressing deep into Seth's most sensitive spots. Standing up, JJ fucks Seth from behind. As Seth braces himself against the lounge chair, JJ picks up speed, ramming his enormous meat into Seth's tight hole. Seth rolls on his back and raises his right leg to the sky, allowing JJ's cock to penetrate deeper than ever. The sensation brings Seth to orgasm: jerking his cock, he shoots a massive, thick load across his furry stomach. JJ reaches for his cock and pumps out stream after stream of hot white cum right into Seth's face. Drenched in cum, Seth pulls JJ close and exchanges a tender, creamy kiss.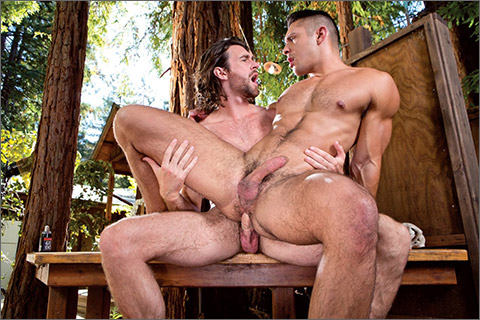 PITCHING TENTS: Woody Fox & Seth Santoro
Muscle stud Woody Fox hits the outdoor showers at the campgrounds. Hidden beneath enormous redwoods, the area offers up some instant excitement when Woody spies Seth Santoro naked under the water. Slowly stripping down, Woody casts subtle glances towards Seth, and Seth looks over his shoulder to return eye contact. As Woody turns on the water in the next shower stall, he turns around to show off his swelling cock. Working the soap into a thick lather, Seth scrubs his muscular butt, then invites Woody to help wash his back. As Woody walks up from behind, his massive boner thrusts into Seth's ass cheeks. With the water running over their bulging muscles, Seth and Woody turn to each other and kiss passionately. Sinking to his knees, Seth inhales Woody's enormous uncut cock. The oral service works Woody up to the point where he's eager to get a taste of Seth's tight hole. Spreading Seth's meaty ass, Woody dives in tongue first for an epic rim job that has Seth eager for more. Moving to a nearby bench, Woody alternates between rimming Seth's ass and sucking his thick cock. Legs in the air, Seth eagerly awaits Woody's massive tool inside of him, and Woody delivers. With powerful thrusting, Woody dominates Seth's tight hole. Turning around and bracing himself against the shower wall, Seth takes Woody's cock doggy style. When Woody sits down on the bench, Seth lowers himself down on Woody's meat and uses his powerful legs to ride it up and down. Woody starts to thrust up from beneath Seth, which makes Seth's hard cock shoot a massive load! Kneeling down, Seth opens his mouth and catches Woody's load in his mouth.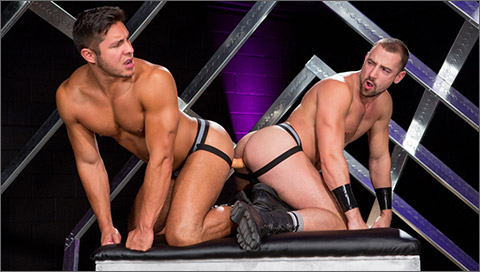 ERECTOR: Donnie Dean & Seth Santoro double dildo
Ass to ass! In matching jockstraps, Donnie Dean and Seth Santoro press their cheeks together as they enjoy a double headed dildo together! Backs arched and muscles bulging, they cast each other knowing glances over their shoulders. Donnie reaches back to slap Seth's ass, and Seth retorts with a smack of his own. When they've done all they can with the dildo, they break apart momentarily, only to reconnect in a steamy 69 position. They expertly use their tongue to swap passionate blowjobs, and when his cock is slicked and lubed, Donnie plows his cock into Seth's eager hole. The expressions of sexual pleasure on Seth's face are so tempting, that Donnie climbs on top to ride Seth's big, hard cock! Donnie samples both positions again before rolling over and letting Seth sit down on his big cock. Seth jerks out his load while riding Donnie's cock, then kneels down to lap up Donnie's cum when it explodes.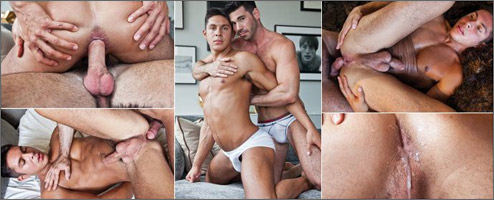 PREMIERE BAREBACK SEX STARRING EXCLUSIVE SETH TRESTON AND BILLY SANTORO
Lucas Entertainment Exclusive Seth Treston and his boyfriend Billy Santoro flew all the way from Seattle to New York City to demonstrate exactly what they're made of as porn stars. And that's by breaking Lucas Entertainment's mold and having anal sex together without condoms for the first time in the studio's history! Housed in a beautiful Manhattan apartment, Billy and Seth walk around in their underwear, enticing each other into a soft and passionate session of kissing. After his lips are wet, Seth falls to his knees and starts sucking on Billy's thick cock. Billy can never get enough of Seth's ass, so the couple moves to the sofa where Seth teases Billy's cock with some gyration — and Billy teases Seth's hole with some wet rimming. Billy sticks his fingers inside Seth, prompting him to grab his boyfriend's cock with these words on his lips: "I want it." If he wants it, he shall have it — raw. Billy penetrates Seth skin-on-skin, and with all of the top's moaning, it's evident how incredible the bareback feeling is. After awhile Seth doesn't ride Billy as hard as he'd like. "You're teasing me," he says, which leads him to stick his dick inside Seth deep and pound him hard! The couple doesn't shy away from sex positions: they try them all out in their raw bareback sex romp. Billy Santoro pumps Seth Treston long and hard, and when he can't hold on anymore, he releases his load deep inside Seth's ass. Afterward, Billy grabs Seth and demands that he push the cum out, which he licks right out of the bottom's puckering hole! When the two are spent they whisper to one another, "I love you."
FALCON STUDIOS
NAKEDSWORD
LUCAS ENTERTAINMENT
HOT HOUSE
ICONMALE
JAKE CRUISE'S COCK SURE MEN
COCKYBOYS
ALL AMERICAN HEROES
NEXT DOOR STUDIOS
KINK.COM / BOUND GODS
KINK.COM / BOUND IN PUBLIC
KINK.COM / MEN ON EDGE
KINK.COM / NAKED KOMBAT
CLICK HERE TO GO TO HIS LUCAS ENTERTAINMENT DETAILS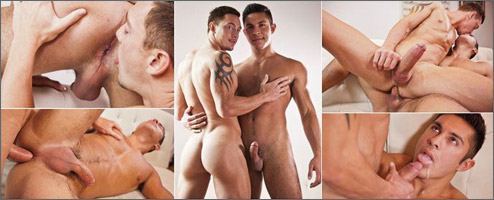 RAW BAREBACK FLIP-FUCKING FEATURING MICHAEL LACHLAN AND SETH TRESTON
PREMIERE BAREBACK SEX STARRING EXCLUSIVE SETH TRESTON AND BILLY SANTORO
VEGAS HUSTLE
SO YOU THINK YOU CAN FUCK! – SEASON 5
SEXUAL TENSION
ONLY BY MARRIAGE
MARRIAGE CANCELLER
BREATH YOU IN
PERFORMANCE REVIEW – PART 3
FRESHLY GROUND
GABRIEL CLARK FUCKS SETH SANTORO!
MARCO GAGNON FUCKS SETH SANTORO
COLBY KELLER FUCKS SETH SANTORO!
SETH SANTORO FUCKS DUNCAN BLACK
RUNAWAY – PART 3
GODFATHER – PART 1
THE LISTENER – PART 3
RUNAWAY – PART 4
GODFATHER – PART 4
FREAKY FRIDAY – PART 2
FREAKY FRIDAY – PART 1
AN EYE FOR A GUY
BATTER UP
CREEPING WITH COLT
NEW MUSCLED INMATE AT THE MERCY OF OFFICER CONNOR MAGUIRE
KICK ASS BONDAGE POSITIION – SHOCKSPOT FUCKED – RELENTLESSLY EDGED
BROCK AVERY & JESSIE COLTER vs BILLY & SETH SANTORO – LIVE MATCH
BROCK "THE BIG SHOW" AVERY vs SETH "THE TSUNAMI" SANTORO
KIP "THE GIANT" JOHNSON vs SETH "THE TSUNAMI" SANTORO
THERE'S NO MERCY IN FUCKING!
WHEN IN ROME, TORTURE AND GANG BANG!
MUSCLED HUNK TORMENTED & GANG BANGED IN A STAIRWELL FULL OF HORNY MEN
PUNISH THE ESCAPED GLADIATOR FOR HIS CRIMES AGAINST ROME!!!
SETH SANTORO – BEATEN, FUCKED AND BEATEN AGAIN
PRIVATE SETH FUCKS SERGEANT MILES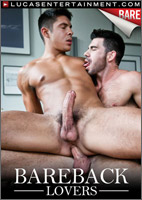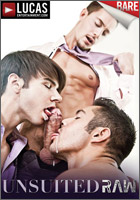 ERECTOR
BAREBACK LOVERS
GENTLEMEN 9: CLOSING THE DEAL
LOVE & DEVOTION
EXCLUSIVE FUCKERS
MICHAEL LUCAS' BAREBACK PREMIERE
GENTLEMEN 11: UNSUITED RAW GENTLEMEN
MASCULINE EMBRACE
FORGIVE ME FATHER