Hunky American Gay Porn SuperStar, Billy Santoro
Known Aliases: Santoro
Years Active: 2012 – 2017
TWITTER @BillySantoroXXX
MEN.COM INFO:
Hair Color: Black
Sign: Capricorn
Eye Color: Brown
Dick Size: 6.5″ cut
Height: 6'0″
Weight: 185
Sexual Positions: Versatile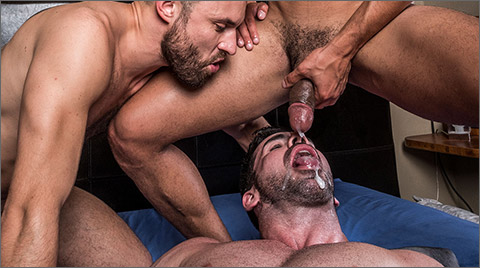 MUST SEED TV: DINE ASS-TY | Drae Axtell, James Castle, Billy Santoro
It's a parody, it's a reboot — it's a reboot-parody! It's Must Seed TV! Lubricant tycoon Drake Barrrington (Billy Santoro) has it all: a life of luxury, decadence, and debauchery. It's a life he's ready to share with his soon-to-be husband, Kristoffer Jennings (Drae Axtell) — but just when life seems to be a wet dream come true — ENTER ALEX! Alex Barrington (James Castle), Drake's hot-tempered first husband, returns to makes things as sticky and slippery as the lube magnate could imagine. These three are ready to dine on drama, and on ass.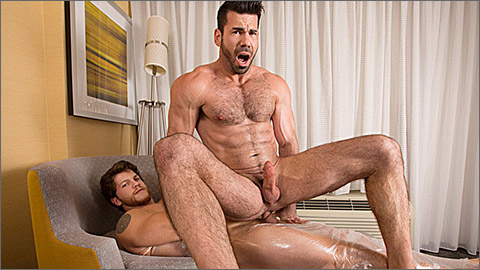 RAW TENSION: Ashton McKay, Billy Santoro

WET HARD COCK
Hot muscle twinks just get done washing the cum off their dicks and are ready for more.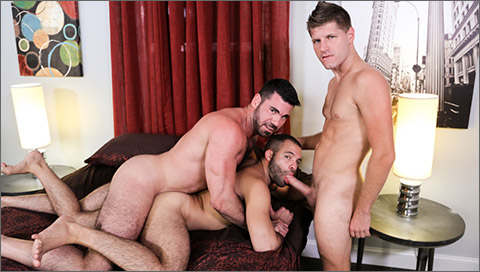 TOMORROW
Peter has fled to his good friends house Billy who was kind of enough to take him in after the break up with Alessio. Billy conveys to Peter that he can stay as long as he wants and no rush. Peter arrived late so Billy and his BF Braxton are tired and have work in the morning. They tell Peter to relax and get some rest while they head back to their bedroom. Braxton already can't wait for Peter to leave but Billy tells him it's just temporary and to console him even more they begin to kiss and get into some sexy late night mischief. Peter who is restless and still dealing with the break up can hear the moaning pleasures coming out from the room. Peter begins to get horny as his cock is rock hard. He creeps up to the bedroom door while stroking his cock and he slowly pushes the door open and sees Billy fucking Braxton deep and hard. Stroking and watching Peter opens the door more and Billy waves him in. Peter walks right up to Braxton and slides his hard cock into his awaiting mouth. Now we have a nice steamy three-way going as all these sexy men suck rim and fuck their way to satisfaction.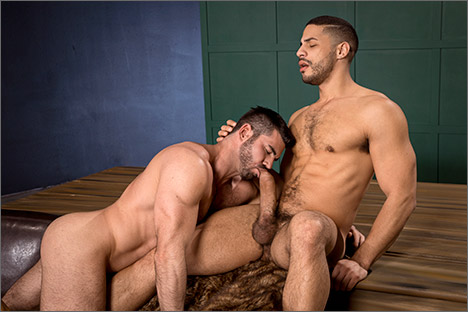 FUCK YEAH!: Tyce Jax fucks Billy Santoro
Lounging on the sofa, Tyce Jax sits back while Billy Santoro mouths his hairy nipples. Billy is quick to volunteer his mouth to warm up Tyce's massive, fat, uncut cock that will soon be deep his ass! Tyce's full foreskin gets loads of attention from a horned up Billy. The look on Billy's face as Tyce eats his ass makes you want to scream "Fuck Yeah!" Jumping on Tyce's cock, Billy takes complete control. Dripping with sweat as he rides Tyce's cock letting it stretch his hole to the max. Billy loves the feeling of a big uncut dick deep inside him, and Tyce wants to get it as deep as possible. Positioning Billy on his back for maximum penetration, Tyce relentlessly gives it to him, plowing deep with no mercy. Stroking his cock while Tyce pounds away, Billy shoots his cum all across his hairy chest. As Tyce aims for Billy's mouth and expels his load, Billy shoots a bonus shot that's even bigger than the first!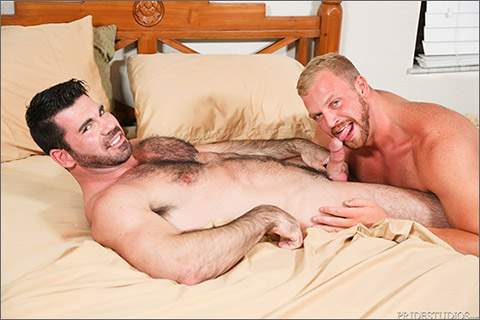 TIMBERWOOD ESCAPE
Billy is off on a long needed vacation to a cabin he rented deep in the woods. He thought it would be a great idea to get away from city life and all the daily drama but he finds himself lost on the road not being able to read a map as well as he thought and eventually makes it to the cabin where he finds out that it is pretty much a dump. He has no internet no nothing and begins to doubt himself. This could have been the worst idea Billy has ever acted on until a strong, tall hunk of a man shows up one day. Josh lives not far away from Billy and can see that he is a city slicker with no clue how to go about daily life out in country. He offers some friendly advice and lets him know that he can come by anytime he wants. Bugs are frequent, the heat is insane and the humidity is driving Billy crazy. He goes to meet up with Josh to see if he can help him with cutting some wood for a fire later but Josh tells him the wood is soggy from the hot rains the other night and that he should wait another day before cutting it. Billy agrees and walks off into the dense country side. Minutes go by than hours as he realizes that he is lost and can't find his way out of the thick brush. He yells for help but nobody is around for miles and his frustration kicks in amidst the uncanny heat he is facing. It's becoming darker and darker so he finds a spot to lie down and uses an old palm tree flon to cover himself up with. Josh can't find Billy at his cabin and begins to worry that the city boy has lost his way so he goes out to find him and sees him passed out on the dense woodsy ground from possibly dehydration. He lifts him up and takes him back to his cabin where he undresses him and waits for him to wake up. Finally Billy wakes up confused but coherent and thanks Josh for saving him. Billy has wanted Josh since they first met and now is the best time to make his move. Billy moves in for the kiss and they both begin to caress and kiss all over each other's hot steamy bodies. It's a sultry man on man fantasy where Billy gets all he wants from the country boy and fucks him passionately. They both gaze into each other's eyes as they fondle, suck and worship one another's chiseled bodies. The intimate passion finally concludes with both sexy men releasing the built up cum residing in their balls all over Josh's chest. Looks like Billy might be cuming back to his cabin retreat for some more relaxation.
PRIDE STUDIOS
DOMINIC FORD
MEN.COM
CHAOS MEN
NEXT DOOR STUDIOS
HIGH PERFORMANCE MEN
KINK.COM / BOUND GODS
KINK.COM / BOUND IN PUBLIC
KINK.COM / MEN ON EDGE
KINK.COM / NAKED KOMBAT
KINK MEN
GAY ROOM
GAY ROOM / GAY CASTINGS
FALCON STUDIOS
RAGING STALLION
HOT HOUSE
LUCAS ENTERTAINMENT
CHANNEL 1 / RASCAL
ICONMALE
CLICK HERE TO GO TO HIS MEN.COM DETAILS
CLICK HERE TO GO TO HIS PRIDE STUDIOS DETAILS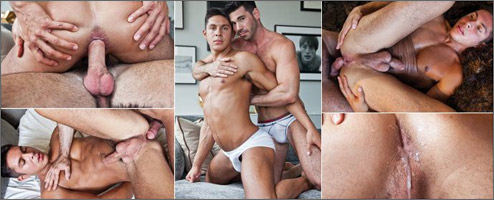 PREMIERE BAREBACK SEX STARRING EXCLUSIVE SETH TRESTON AND BILLY SANTORO
SO YOU THINK YOU CAN FUCK! – SEASON 5
THE UPPER HAND
INDECENT BAHAVIOUR
TOP & TAILS
BEAR FUN: BRAD KALVO FUCKS BILLY SANTORO
BOTTOM DIARIES – CHAPTER 3
RINSE CYCLE
BACKROOM TEASE
BACKROOM TEASE
A NEW ADDITION
BILLY SANTORO DILDO PLAY
FRESHLY GROUND
PERFORMANCE REVIEW – PART 1
TIMBERWOOD ESCAPE
PURE: SANTORO & VANDER
SOLO: SANTORO
DADDY'S CLUB – PART 1
GAYWATCH – PART 1
SEX TRAVELER – PART 1
PREDATOR – PART 3
HOUSEBOY – PART 2
NEIGHBORS – PART 3
NEIGHBORS – PART 1
TALK TO ME RIGHT
BOY RANCH – PART 3
DADDY'S CLUB – PART 5
PROVERBS OF PORN
AN OFFER HE CAN'T REFUSE
HOW TO HAVE SEX AT THE OFFICE
FILTHY TRICK
CRAZY ATTRACTION
JAIMIE DEL REY AUDITION
PEEPING FOR PENIS
BILLY SANTORO FUCKS MARK RIVERA
HOUSE DOM DIRK CABER AND A NEW MUSCLE GOD
MUSCLED STUD STRAPPED DOWN & HAS HIS COCK MILKED AT THE SPERM BANK
SUMMER SMACKDOWN LIVE FINALE
SUMMER SMACKDOWN TOURNAMENT QUARTER FINALS – MATCH TWO
NAKED KOMBAT'S SUMMER SMACKDOWN TOURNAMENT – ELIMINATION ROUND 4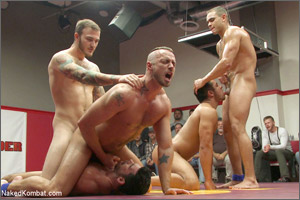 BROCK AVERY & JESSIE COLTER vs BILLY & SETH SANTORO – LIVE MATCH
BILLY SANTORO & SEBASTIAN KEYS vs DOUG ACRE & BROCK AVERY – LIVE MATCH
BILLY "BODYSLAM" SANTORO vs JIMMY "THE BULLDOZER" BULLET – OIL MATCH!
FIRST MATCH OF 2014! – TWO MUSCLED HUNKS FIGHT FOR SEXUAL DOMINATION!
MUSCLED DJ TIED TO THE TOILET & ASS FUCKED IN FRONT OF A HORNY CROWD
FUCK THE DJ!!!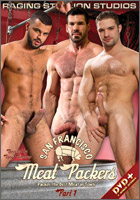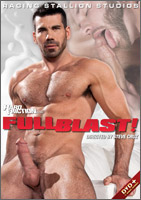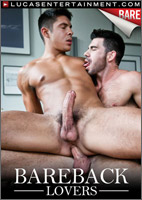 CLUSTERFUCK! 2
SAN FRANCISCO MEAT PACKERS – PART 1
SAN FRANCISCO MEAT PACKERS – PART 2
AUTO EROTIC – PART 1
BANG ON!
FUCK YEAH!
FULL BLAST!
ASS TO GRIND
STUNNERS (FEG-003)
TAHOE: KEEP ME WARM (FVP-253)
BEST BUDDIES (FVP-240)
TAHOE – COZY UP (FVP-252)
SENTENCED – DON'T GET CAUGHT – PART 1
MY DOCTOR ROCKS
BAREBACK LOVERS
MASCULINE EMBRACE
HARDER FASTER ROUGHER
BAREBACK FUCKING
FORGIVE ME FATHER 2
GAY MASSAGE HOUSE 2
FORBIDDEN ENCOUNTERS
PRISONER OF WAR