Bentley Race Aussie Mate Gay Porn Guy, Scott Tyler
Years Active: 2015
BENTLEY RACE COMMENTS / INFO:
I want to introduce you to my beautiful new mate Scott Tyler. The 20 year old has just moved down to Melbourne from Sydney and is enjoying making new mates here. And we're very glad he dropped me a line about doing some modelling. We love welcoming new visitors to Melbourne, especially the hot guys who like getting naked. Scott is posing in my new studio today wearing some soccer gear and stripping down to his jockstrap. I took an unusually large number of photos of his bum. Scott has got a beautiful round furry bum. It looks great in that jockstrap! He is also sporting a think uncut dick. It's rock hard as he stands above me without his jock on. I can tell that he was getting pretty excited so I stopped taking photos and grabbed the video camera to record him jacking off. I can tell already that Scott is going to be very popular among my mates. He is already excited about coming back for his first duo scene. You gotta love this beautiful Sydney boys.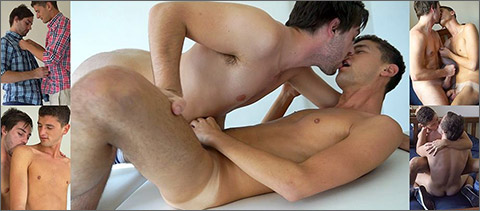 GET READY CHRIS. YOU'RE ABOUT TO GET FUCKED LIKE YOU'VE NEVER BEEN FUCKED BEFORE
With the photo session out of the way this scene between Scott and Chris became raunchy very quickly. Chris even suggested that they may not make it to the bed before they start fucking. The boys were already all over each other during the photo shoot. Chris couldn't wait to get Scott's cock up his bum. In this scene there's a lot of fucking. Chris takes it from every angle as Scott slams his arse. Scott has got some amazing stamina as he keeps going and going. Of course Chris is loving all the attention he is getting. Eventually Chris blows cum all over himself. He then gets down on his knees and helps his new mate get off. This is a must watch video. The action is incredibly hot.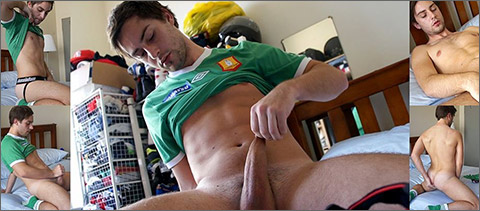 JACKING OFF WITH MY NEW MATE SCOTT TYLER
It was a pleasure editing Scott's first porn video for today's post. I think this is one of the hottest solo scenes I've filmed. Ex-Sydney stud Scott put on a very hot show on my bed after his photoshoot. This is a longer than usual solo video scene because I didn't want to leave anything out. Scott starts his scene with a lot of teasing in his jockstrap. His big furry bum looks great as he humps the bed. Eventually he pulls out his thick uncut dick. And I can tell that he loves playing with it as he teases it to full erection. Occasionally he stops to lube it up. He even tries some fleshlight fucking later in the scene. It's the fleshlight that eventually makes him blow cum across his belly. I think Scott looks amazing in this scene. As soon as I saw it I knew that I should invite him back for another shoot. I like Scott a lot and I can't wait to introduce him to my other mates.