American Gay Porn Star Falcon/RSS Exclusive, Ryan Rose
Known Aliases: Pierce (Sean Cody)
Years Active: 2011 – 2016
TWITTER @RyanRoseXXX
FAB SCOUT INFO:
Age (2003): 27
Hair Color: Brown
Eye Color: Blue
Height: 6′ 3″
Position: Bottom, Top, Versatile
Cut or Uncut: Cut
Available for: Club Appearances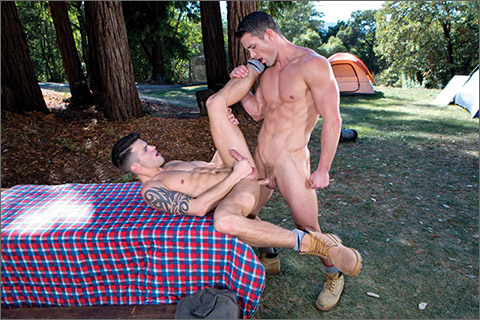 PITCHING TENTS: Ryan Rose & Casey Everett
Underneath the tall redwoods, Casey Everett is struggling to pitch his camping tent. Ryan Rose watches his struggle with amusement, which Casey finds very irritating. "You think this is funny?" Ryan walks over to lend a hand, but before they can finish, Casey gets distracted by the tent Ryan is pitching in his shorts. Moving into the shade of the redwoods, Casey leans down and gets a mouth full of Ryan's hard cock. With deep, wet gulps, Casey uses his saliva to slick up Ryan's cock and deliver an intense blow job. Ryan moves to investigate Casey's firm ass, lubing his hole with spit and slipping a finger inside. Ryan follows that up with his tongue, munching on Casey's tight ass until Casey is eager to get fucked. Ryan pounds his cock into Casey's hole and fucks him with athletic vigor, making sure he feels every thrust. Ryan's ripped body pulses rhythmically as he delivers his dick to Casey's tight ass. Rolling on his back, with Casey riding his dick, Ryan thrusts up from below. Casey turns around for reverse cowboy, his cock whipping back and forth as he fucks himself on Ryan's meat. Ryan picks Casey up and sets him on a picnic table, the perfect height for full-throttle fucking. With Ryan inside him, Casey strokes his cock until his hot, white load sprays across his stomach. Ryan grabs his cock and bust his nut, delivering his thick semen right on to Casey's cock and balls. As the sun starts to set, they share a passionate kiss in the beautiful scenery.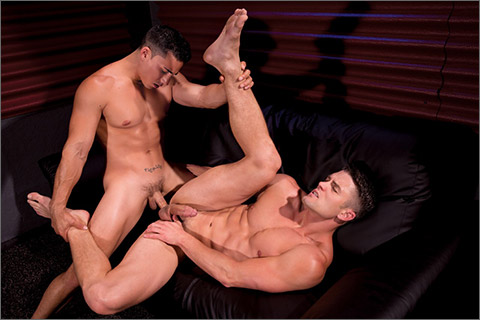 ABOUT LAST NIGHT: Ryan Rose & Topher DiMaggio
Ryan Rose hired go-go dancer Topher DiMaggio for his friend's bachelor party, and Topher's so good that Ryan can't keep his hands off him. Ryan is turnt up with Topher, and the action starts getting extra heavy! As the music bumps, Topher grinds his massive bulge against Ryan's ripped body, and Ryan figures why not go with it since he's footing the bill. Ryan leans back and enjoys the thrilling sensation of Topher's tongue running up and down his chest. Unleashing Ryan's cock from his white briefs, Topher goes down for a deepthroating blow job. Ryan thrusts excitedly as Topher wraps his thick lips around Ryan's tool. Pulling Topher close, Ryan returns the favor by impaling his face on Topher's hard tool. Eager to go all the way, Ryan turns around, giving Topher full access to his perfectly firm ass. Topher lubes Ryan up with a slick rim job, then moves in for a deep dicking. Mounting Ryan doggy style, Topher delivers a full-throttle pounding that hits Ryan in all the right places. Moving to the black leather couch, Topher sits down and Ryan moves into position to sit on Topher's meat. With Ryan's powerful legs suspending him in midair, Topher thrusts up into Ryan's hole. Rolling over and assuming missionary position, Topher drives home his meat as Ryan busts his nut. Pulling out, Topher jerks his cock until his white hot load explodes over Ryan's rippling abs.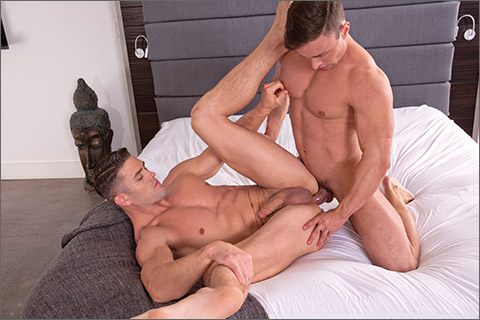 DEEP RELEASE (FVP-265): Ryan Rose & Alexander Volkov flip-fuck
Muscled Alexander Volkov arrives for his spa day, and Ryan Rose lets him in. Alexander strips down, revealing an incredible physique worthy of a Greek god. With massage oil, Ryan delivers deep tissue relief to Alexander's bulging muscles, but Alexander's huge, uncut cock demands attention as well. Stroking Alexander's cock with one hand, Ryan slips the fingers of his other hand into Alexander's' tight ass crack. Stripping off his uniform, Ryan's hard cock is irresistible to Alexander's cock-hungry mouth. Alexander rolls over on his back, allowing Ryan total oral access to his hard cock. Ryan rims inside Alexander's foreskin while playing with Alexander's nipple. Removing the headrest on the table, Ryan pulls Alexander foward and facefucks his throat. Ryan's huge, lengthy cock disappears in Alexander's mouth, and Ryan leans foward to 69 Alexander's cock. Moving to a king-size bed, Ryan puts his ass in the air for Alexander to get a taste. With his probing tongue, Alexander drives his saliva into Ryan's hole, then drives his cock in doggy style. Their gorgeous, smooth bodies show off every muscle as they writhe in erotic ecstasy. Trading roles, Alexander gives up his ass to Ryan's powerful rod. Picking up speed and intensity, Ryan delivers a pounding that leaves Alexander breathless, slamming his cock deep against Alexander's prostate. Flipping Alexander into missionary, Ryan's thrusting becomes so intense that a trail of precum drips from Alexander's rock hard cock. Reaching his climax, Ryan pulls Alexander close and blasts huge ropes of precum that arc across Alexander's face and into his mouth. Alexander closes his mouth around Ryan's still-shooting cock, and when he opens to suck Ryan's cock, huge waves of semen spill out. Leaning back on the bed, Ryan uses his tongue to stimulate Alexander's erect nipple, causing Alexander to unleash massive spurts of cum that splash all over his washboard abs.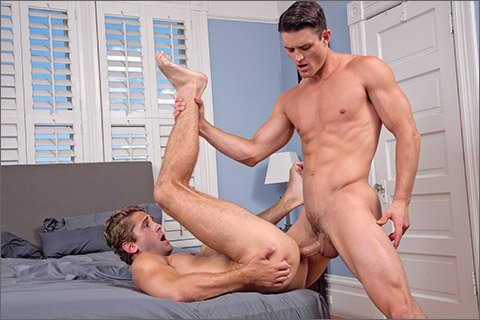 WILD WEEKEND PART 2: Ryan Rose fucks Wesley Woods
Wesley Woods has been pining for superstar underwear model Ryan Rose all weekend long, but the whole time it seemed like Ryan was more interested in Euro studs Ken Rodeo and Brute. After several hours of partying and reveling in the spectacle of San Francisco Pride, Wesley and Ryan suddenly bump into each other on the street, and something clicks. Ryan reaches out and pulls Wesley close for a kiss, and they quickly head back to the house to go all the way! They make out passionately, and their throbbing boners burst out of their tight briefs. Ryan falls backwards on the bed and Wesley eagerly deepthroats Ryan's huge, stiff cock. Ryan's incredible washboard abs flex as Wesley bathes Ryan's cock in spit. Rising up on his knees, Wesley enjoys expert oral pleasure as Ryan returns the favor. Before long, Wesley has his ass in the air with Ryan's face buried in his tasty ass. After teasing Wesley by rubbing his cock along Wesley's crack, Ryan finally slides his huge dick into Wesley's hole. Wesley's dick swings in the air as he rides Ryan reverse cowboy style. Ryan thrusts up from below, then puts Wesley on his side for intensely deep penetration. Pulling Wesley to the edge of the bed, Ryan stands and unleashes the full power of his pounding, delivering an intense fuck that brings Wesley to an immense orgasm. Pulling out, Ryan jerks his cock and blasts a massive, spurting load directly into Wesley's face. Afterwards, they go up to the roof and make out high above the Castro. Looking up from the street below, JJ sees his two best friends and cheers them on: "Yes! I knew it!" They all laugh as Wesley exclaims, "Oh my god, I love Pride!"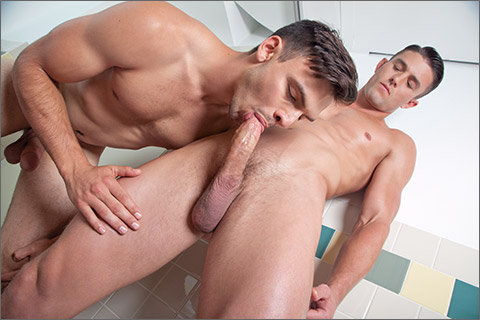 WILD WEEKEND: Ryan Rose & Jason Maddox
Roommates JJ Knight and Wesley Woods stroll through the Castro. All around them, San Francisco is gearing up for Pride. The guys are headed up to the river for a chill weekend getaway with some friends, including JJ's college roommate Ryan Rose, who's now the hottest male underwear model in the world! Over coffee, JJ tells Wesley about the one time he and Ryan got drunk and sucked each other's dicks in college. Meanwhile, as Ryan himself cruises the San Francisco Embarcadero, Jason Maddox cruises for cock on his phone. After sharing some sexy pics, Ryan and Jason meet up in a public restroom for spontaneous cock sucking. Jason uses his tongue to stimulate Ryan's sensitive mushroom head. Trading places, Ryan impales his face on Jason's meat. As Jason thrusts his hips, his big nuts bang against Ryan's chin. Switching once more, Jason deepthroats Ryan's cock with steady, intense strokes that bring Ryan to orgasm, shooting his milky load all over Jason's face. With Ryan's cum streaming down his cheeks, Jason jerks out his load onto the bathroom floor. They kiss, pull their clothes back on, and Ryan makes his way to meet up with his friends. JJ and Wesley return to their place to find JJ's cousin, Brute, waiting on their doorstep. He just arrived from London with his Austrian friend, Ken Rodeo. Ryan rolls up and the guys all trade introductions. Wesley is really excited to meet Ryan, but Ryan seems more interested in Brute and Ken. What will happen when they all get to the river?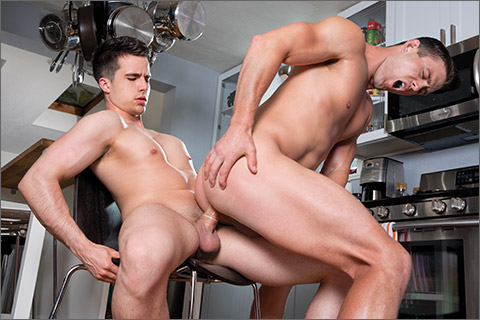 WILD WEEKEND: Brute Club fucks Ryan Rose
As Ryan Rose makes coffee in the kitchen, English hottie Brute makes his move for Ryan's morning wood. They start to kiss as Brute grasps Ryan's stiff cock. Pulling off Ryan's shorts, Brute takes a mouthful of Ryan's throbbing meat. Ryan's perfect body is on full display, and his washboard abs ripple. Stripping off Brute's clothes, Ryan uncovers the Euro stud's thick, uncut cock, and alternates between impressive deep throating and tonguing the inside of the foreskin. Ryan leans over a table and spreads his cheeks for Brute to tongue Ryan's tight hole. With Ryan's ass begging to get fucked, Brute thrusts his cock deep in Ryan, doggy style. Moving to a chair, Brute sits down and invites Ryan to ride his cock. With sweat starting to glisten on their skin, Ryan grinds his big cock into Brute's chest as he fucks himself on Brute's girthy meat. Turning around, Ryan jerks his cock while riding Brute's, spewing a giant load on the floor. Ryan gets on all fours and sticks his ass up in the air to be Brute's target, and Brute jerks out a massive load that splatters Ryan's ass with wet, white cum.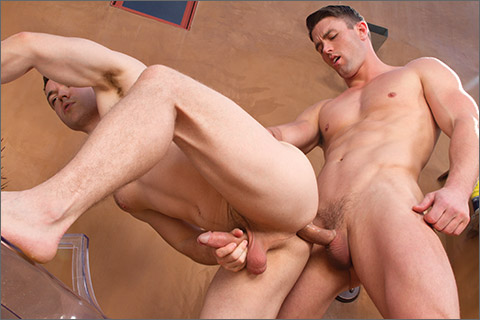 DESERT GETAWAY: Ryan Rose fucks Gabriel Cross
After a bit of flirting, spunky Gabriel Cross and hunky Ryan Rose decide to take a nice long hike through the breathtaking scenery of Joshua Tree. Gabriel takes some pictures, and Ryan, who loves showing off for the camera, immediately gets hard. They beat it back to the vacation house where they strip down and make out in the outdoor shower. Gabriel's muscled frame only reaches to Ryan's shoulders, but their cocks are equally hefty. They soap up and stroke each other's throbbing meat as they press their lips together. Gabriel gets down on his knees to work his oral prowess on Ryan's rod, lapping at the head with his tongue and swallowing deep down to Ryan's balls. Returning the favor, Ryan drenches Gabriel's cock with spit and deep throats the shaft. Bending over, Gabriel spreads his ass cheeks so Ryan can get in deep with his tongue. With some spit for lube, Ryan presses his cock into Gabriel's hole until he penetrates the hot ass. As Ryan ramps up his thrusting, Gabriel's thick meat swings in the air. Ryan sits back in a chair, his dick aimed at the open sky, and in an impressive display of power bottoming, Gabriel sits down on Ryan's meat while stroking his own enormous cock. With Ryan about to cum, Gabriel gets down on the floor and takes Ryan's load in his mouth. Leaning back, Gabriel releases creamy blasts that drench his massive thighs.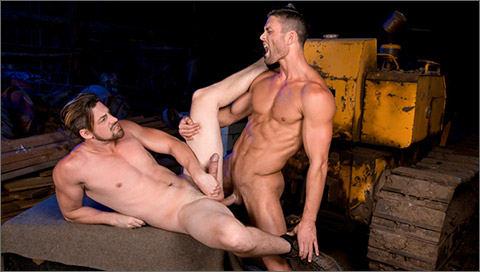 TOTAL EXPOSURE 2: Ryan Rose fucks Andrew Stark
Two stunning studs, Ryan Rose and Andrew Stark share a bottle of whiskey at sundown and sneak away to the barn for some privacy. After their final swigs, Ryan makes a move and locks lips and tongues with Andrew. Wasting no time, they rip each other's clothes off and Ryan hunkers down to swallow Andrews cock. After slobbering all over Andrew's cock, Ryan wipes his face with it, and taunts Andrew with his crack hanging out of the top of his jeans. Andrew knows he needs to possess Ryan's ass. Tongue, finger and cock in quick succession: Ryan's hole is skewered. But Andrew needs more. He needs to get fucked. Things heat up tremendously when Andrew lies on his back to let Ryan plow into him. Their smooth, ripped bodies collide in the dark quiet of the barn. They swap again, with Ryan now in a shoulder stand. When neither of them can hold back, they both release their loads in shooting bursts.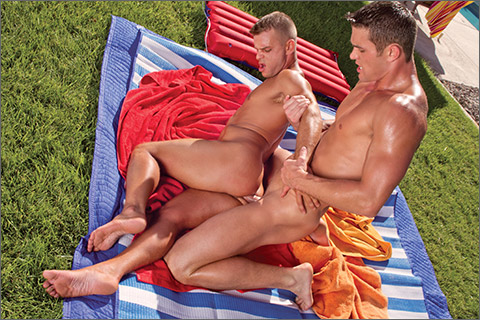 POOLSIDE 2: Ryan Rose fucks Rylan Knox
Rylan Knox is giving Ryan Rose a lap dance out by the pool, and Ryan's hands are already squeezing Rylan's taut ass beneath his swimsuit. Rylan turns around and swallows Ryan's massive member for an epic blowjob that has Ryan writhing in ecstasy. Turning Rylan around, Ryan goes down on Rylan's ass, and the sound of men in pursuit of total sexual pleasure fill the afternoon air. Falling to his knees on a blanket, Rylan arches his back deeply and dares Ryan to give him everything he's got. They start fucking, slapping flesh and clenching muscles adding to the sensory overload. Ryan slams him flat onto the blankets and pile-drives until he blows his wad, then uses his mouth to bring Rylan to orgasm, swallowing his load.

RIPPED: JP Dubois & Ryan Rose flip-fuck
Exceptional stud JP Dubois' sexy Scots accent can't be heard, because when he's not grunting and groaning, his mouth is filled with some part of Ryan Rose's 'Ripped' anatomy. JP has a buzzed head, full beard and mustache, and sparse chest hair. Ryan's smooth torso is as tan and ripped as ever, and it looks hard enough for bullets to ricochet off it. JP's is beefed up and he's got a rockin' chest too. The action takes place in a locker room, where the smell of sweat and jock straps is a powerful aphrodisiac. After lots of mutual muscle worship, JP sucks Ryan in deep gulps with lots of spit. Ryan slides a finger in and out of JP's tight ass, causing the blue mesh of JP's jock strap to swell. Ryan yanks out JP's cock, plays with the foreskin, and sucks it, running his tongue around the balls, across the taint and up to JP's hole. He stretches the hole with two fingers from each hand, reams it with his tongue, then fucks it. Then it's Ryan's turn to get his hole stretched when JP wants to top. Ryan's cum flies in all directions, and JP scoops it up and feeds it to both of them, adding his own load is a straight shot to Ryan's mouth.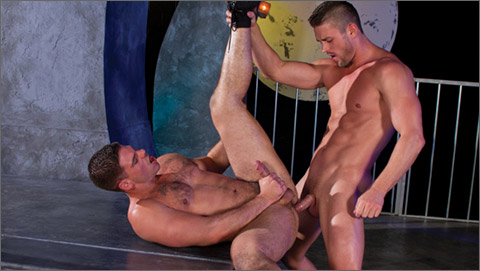 MAGNITUDE: Ryan Rose fucks Derek Atlas
The swollen jock straps of Derek Atlas and Ryan Rose offer proof that one hard on deserves another. Derek is furry, broad-shouldered and massively muscular. Ryan is smooth with a muscled athletic build and a distinct five o'clock shadow on his angular jawline. Their lips and torsos press together to ensure maximum contact where it counts: tongues, nipples, and cocks. Ryan's face slides down Derek's body to find a hard cock and fat balls released from their pouch and waiting. There's plenty of eye contact, touching, caressing and stroking, and there's something in those kisses, because they keep returning for more. In turns, each stud fucks the other's face and eats his ass until their holes shudder. Spit provides lube for finger entry. Derek is first to flip onto his back and spread his legs, abandoning his hole to a deep drilling. Ryan wants some of what he's giving Derek, so they swap positions, with Ryan giving Derek a lap dance that makes their balls tingle. Separating, they grab their cocks and let their hot juices boil over.
FALCON STUDIOS
RAGING STALLION
HOT HOUSE
NAKEDSWORD