FuckerMate Cute Gay Porno Latino, Ronny
Years Active: 2015
FUCKERMATE INFO:
Ronny is our latest discovery, this young latino guy has a tight ass and the most sensual body movements. He fucks with Latin rhythm. Ronny does not disappoint. Watch this space.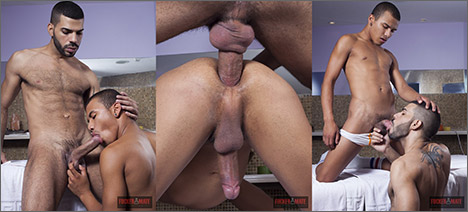 PORNO DEBUT: HUGO ARENAS & RONNY
We made it our mission to find new horny and beautiful guys for Fuckermate.com. this week we bring you the perfect Latino mate, he's only 19 years old and ready to play his name is Ronny. Imagine that this young guy is your masseuse. Hugo decided to call to Casanova Sauna and he was lucky to find Ronny ready and waiting. He was not expecting such a hot and intense encounter. Ronny may be young but he took every inch of Hugo's huge cock. This raw session is full of hard fucking, deep rimming, deepthroat suckling and of course plenty of cum. This is one trip to the sauna you do not want to miss.