Husky Handsome Muscular ChaosMen Amateur Gay Porn Star, Ronin / Rocke
Known Aliases: Rocke (Active Duty, Str8 Chaser), Mike Rathburne (Raw Castings), Rocke Rathburne (Men)
Years Active: 2016
BRIAN OCKERT / CHAOS MEN INFO:
Start Age: 25
Debuted: October 10, 2016
Height: 5'10"
Weight: 200 lbs
Cock: 8″ cut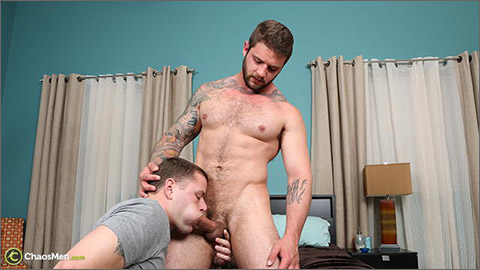 SERVICED: RANSOM & RONIN
Ronin actually spends very little time watching porn. Ok, so he does close his eyes and go into his happy place for the first couple minutes, but once he realized how good it felt, he got into the zone and stays present.
   It also helped that Ransom is a pro at servicing! Ronin has a big hairy daddy/cub vibe that made this a treat for him.
   We even got Ronin up on his knees, which I think shows-off his hot thick build. His cock looks amazing at this angle too!
   Ransom was bound and determined to pull a load out of him. He gets Ronin on his back and hammers his cock until his load spills out!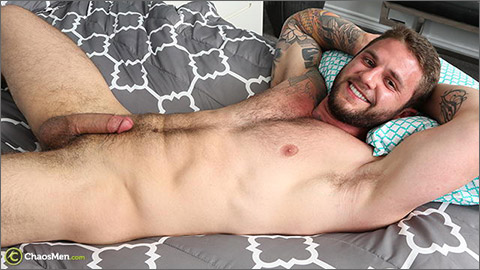 SOLO: RONIN
Ronin is a big beefy boy! To me, his build says hot daddy type, but he is a bit young for that moniker. Would he be considered a cub?
   He has a plump ass and a nice 8″ cock on his large frame.
   Ronin is a little wobbly here and there, and I think his cum shot took him by surprise. He was definitely not trying to cum, and was holding back, trying desperately to not nut. He got VERY quiet. Thankfully I had my cameras in place! He must have been super turned-on!
   Stay-tuned for more of this hunk of man meat!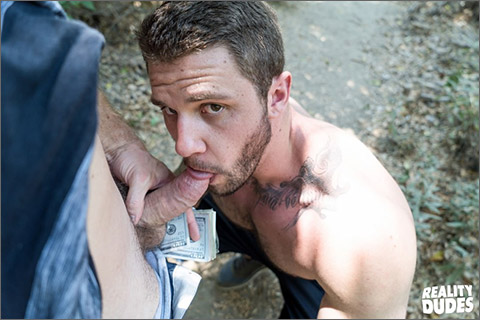 STR8 CHASER: ROCKE
Rocke is this seriously hot dude I stumbled upon in the woods. He's pretty chill and easy-going which made it easier for me to offer him a little payout in exchange for a peek at that impeccable body. With his bulging muscles covered in tattoos and the perfect amount of hair, I just couldn't wait to see more of him so I offered him more cash. He agreed and I got us a room where I got to try that perfect tight ass first hand, and it was all worth it.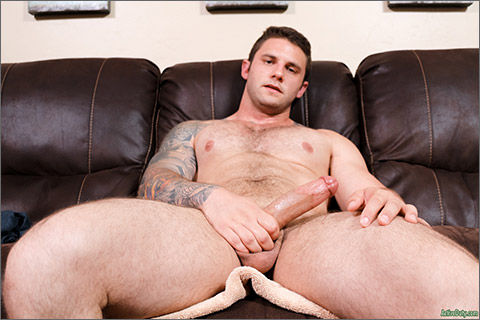 ROCKE
Meet Rocke (pronounced 'Rock')! He's braaaaand new and we got him! We haven't seen a fresh recruit like Rocke in a while and I was gettin' a bit hungry for big muscles and sleeve tattoos!
   Rocke is just delicious. I couldn't wait to see him shirtless, and of course, eventually totally naked, but I could just tell Rocke was gonna look absolutely amazing once he had all the goods on display. And indeed, my prediction was spot on. Rocke is bound by thick muscles all over his body and endowed with a seriously amazing dick!
   Once Rocke gets comfy enough to really work up a healthy, throbbing erection, Claude moves in close as Rocke enjoys his boner on the couch.
   Rocke stands up to show us the rest of the package. Claude gets in tight, right underneath to let us see just how tasty those balls are. Oh yes, I love the way Rocke strokes.
   Then it's back to the couch where Rocke takes a more reclined position. Now he's in a comfortable rhythm, jerking that oily beast and letting the ecstatic sensation take him to a sensuous realm. Claude gets up high to give us a great shot of Rocke's perfect physique.
   Finally, Rocke explodes with warm cum all over himself. Wow, it sure does look like he effectively restrained himself for QUITE a good while, just for us. I told ya he seemed like a sweetie!
CHAOS MEN
REALITY DUDES NETWORK
ACTIVE DUTY
CLICK HERE TO GO TO HIS CHAOSMEN BIO PAGE