Rough and Ready Tattooed Pierced American Gay Porn Star, Phenix Saint
Known Aliases: Phenix Dardin, Phoenix Dardin, Phoenix, Phenix, Ashton, Phoenix, Fenix
Years Active: 2005 – 2016
TWITTER @THEPHENIXSAINT
NEXT DOOR STUDIOS INFO (2008):
Phoenix is a 23 year old who enjoys skateboarding and spending as many hours as possible outdoors.
   When he's not outside, he's inside working at a local newspaper, proof reading articles before they hit print.
   You can tell Phoenix likes to stay in-shape. Sports keep him fit and he's very proud to show off his body.
   He currently has a girlfriend but he says a little extra never hurts. Like when he did a hardcore scene with Maile over on NextDoorHookups.
   He's a very laid-back and easy to get along with type of guy. We're sure he has no problem satisfying in the bedroom. Take a good gander at the size of his dick and the wicked piercing.
RANDY BLUE INFO (2006):
The mysterious and ever so sexy Phenix Dardin is back on Randy Blue for the third time and you know what they say about the third time… Phenix shows us what he can do with a dildo for the first time and frankly it's pretty fucking hot. Before we started the video I joked with Phenix about surprising him with a huge dildo to use. He laughed it but, I could still see there was some intimidation in his eyes. Phenix has never fucked himself before and although he was ready; he was nervous. He picked out his dildo and jokingly made out with it before we filmed- he was now ready. Almost immediately I could see Phenix starting to relax and just enjoy sliding his new dildo inside him. He started slow and then fast, back to slow again. He really worked his hole for the camera and I am sure you guys will enjoy it as much as I did. His head tilted back, his eyes shut as him moans grew louder. I wondered what he was thinking or imagining as he plunged the think rod inside him.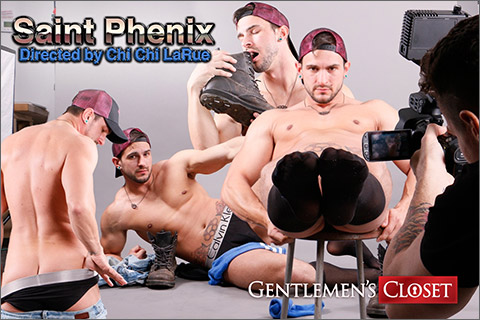 SAINT PHOENIX
Sexy mechanic Phenix Saint shows off for director Chi Chi LaRue. Eager to impress, Phenix flexes and poses for the camera working every angle. After the photoshoot the mechanic decides to show all. Starting with his sexy ass and pits .The Saint reveals he has a sheer sock fetish and begins to show us. Slowly working off his boots and smelling the sweat from within. The mechanic then peels his knee high gym sock off and reveals his real love underneath. Now stripped to sheer Saint Phenix works his throbbing cock for us and rubs it on the beautiful black sheer. Smelling and biting the green sock as he strokes his cock he escapes to his own planet. The senses on high alert and his juices flowing. Building and building the sexy man gets to the point of release and stops himself teasing us and then re starts the stroking and this time ends with his personal oil leaking out. This is definitely a SAINT I will pray to.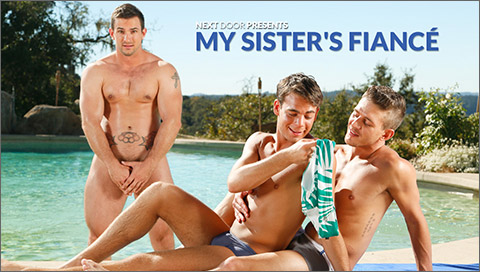 MY SISTER'S FIANCE
For Phenix Saint, life has been getting more and more crazy every day, as his wedding approaches. It's a good thing his future wife's family is so much fun and easy to get along with. His soon-to-be brother-in-law, Max Penn is always up to some kind of mischief, but Phenix loves spending time with him. And Max's boyfriend, Alexander Gustavo, is a perfect complement to Max. He's always encouraging Max to run some kind of clever scheme…often seduction is involved.
   On a sunny day, when Phenix's woman is stuck at work, Phenix decides to join Max and Alexander down by the pool for a little bonding time. They welcome him and cook up a plan as he sunbathes shirtless next to the pool. Max finally convinces Phenix to come in the pool, wearing a pair of Max's swim shorts, since Phenix didn't bring over a pair. Saying they were small on him would be a huge understatement.
   As the three casually toss around a volleyball and make wisecracks at each other, Max announces he'll be right back. He walks out of the pool slowly so Phenix gets a good look. Then, to Phenix's astonishment, Max pulls his shorts down and gives both guys a good show of his tight asshole! Alexander laughs at Phenix's nervous reaction. When Max gets back in the pool, he tries to get Phenix to take off his shorts too, but Phenix does NOT see this as appropriate. Max takes matters into his own hands and submerges, swims over to Phenix, pulls his shorts off and quickly gives Phenix's cock a little suckle.
   It all happened too fast for Phenix to realize what had happened. Max then jumps out of the pool and motions for Phenix to follow him behind the pool house. Phenix jumps out, naked and confused and goes after Max. Max grabs his arm and pulls him behind the house where they seem to be alone. There, Max convinces Phenix to let him suck his dick! It took a little convincing, but Max takes advantage of the opportunity to the full extent. And Alexander takes a prime position for watching, hidden behind a support beam, jerking his hard meat.
   After a few minutes, Max brings Phenix back poolside and Alexander joins them. Phenix figures that this has already become so out of control, he should at least finish off the whole encounter with a nice cum blast. Max continues to slurp Phenix's cock while Alexander licks Max's butthole. Then, Max lets Phenix experience his first ass. Phenix slides his fat boner into Max's sweet hole and fucks him good. Alexander stuffs Max's dick-hungry mouth on the other side.
   Join this wild pool party and see these guys really bond in the best way, just before they all become one big happy family-in-law!
GENTLEMEN'S CLOSET
NEXT DOOR STUDIOS
MEN.COM
COCKYBOYS
JAKE CRUISE'S COCK SURE MEN
CHAOS MEN
PRIDE STUDIOS
SUITE 703: MEN HARD AT WORK
GAY ROOM
PARAGON MEN
BIG DADDY
KINK MEN
FALCON STUDIOS
RAGING STALLION
HOT HOUSE
HOT HOUSE CLUB INFERNO
CLICK HERE TO GO TO HIS NEXT DOOR STUDIOS DETAILS