Handsome Hunk Czech Gay Porn Stud, Peter Looper
Known Aliases / aka: Danny Hock, Danys Hock, Mike Roller
Years Active: 2011 – 2015
WILLIAM HIGGINS INFO:
Age: 26
Home Town: Prague
Height: 173cm/5'8″
Weight: 75kg/165lb
Foot Size: EU43/US8.7/UK8.2
Penis Size: 15cm/5.91″
Profession/Student of: Unemployed
Hobbies: Sport
Favorite Sports: Cycling
Active Sports: Fitness
Movie/Music/Sport Stars: Tyra Banks
Visited Countries: Austria
Want to Visit Countries: Croatia
Dream of My Life: I don't know.
Zodiac Sign: Aries (March 21 – April 19)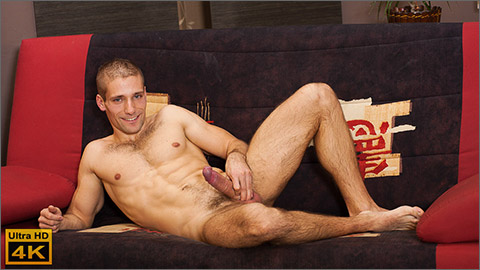 EROTIC SOLO: PETER LOOPER
Peter Looper is aged 26 and lives in Prague. He is unemployed and enjoys sports, cycling and fitness. We start off with Peter's interview and right away we see that he has a lovely smile, that stays with him all the while. Interview over Peter stands up and begins to undress. Firstly he takes off his vest and starts to undo his shirt, letting on hand run over his body as he does so. We glimpse his chest through the open shirt and then all is revealed as the shirt comes off. Peter's upper body is awesome and he readily flexes his biceps before undoing his pants. He adjusts his underwear, giving a glimpse of his pubes. Then it is off with his shoes and he starts flexing again. Closing in on that sexy chest lets us check out the pecs. Then Peter pulls his cock and balls out of his underwear. The soft cock looks great too as it rests on the balls and Peter continues to feel his hot body. Taking off the rest of his clothes we get to check out the fully naked stud. His cock grows well as he slowly wanks on it. It is big and thick with a nice shiny head. Peter sits on the sofa, laying back to wank on his thick meat. Standing again, with that big dick sticking out, Peter takes some oil and rubs it over his cock, all the while continuing to feel his sexy body. Then he kneels on the sofa, legs apart and his hot ass on show. He uses his hands to part his cheeks so we can see his tight hole. Then he turns over, legs up in the air, so we continue to check out that sexy ass as he wanks. Dropping his legs Peter wanks even faster and that cock is soon shooting a nice, creamy load of cum over his hot body. Then he goes off to the shower to clean up after a wonderful shoot.

WRESTLING: PETER LOOPER vs FILO BRUSKA
We brought Peter Looper and Filo Bruska in for a submission wrestling match. The both look so good in their jockstraps as they help each other with some stretching and warming up exercises. Then it is on with the match, with both guys on the mat and Filo getting Peter into a good hold that soon forces a submission. They both remove their jockstraps before starting the second round and those hot naked bodies are soon straining to get a good hold. Filo gets Peter onto the mats and again grabs his leg and again he gains a submission. It seems that Filo has hit on a winning formula as he extends his lead. We watch those hot bodies as they writhe on the mats, with the asses spreading and the cocks flailing. Peter certainly hasn't given up and strain to the utmost, gaining his just rewards as he takes round 5. No quarter is given as Filo extends his lead to 7-2 and they take a break to oil each other. Filo continues on his winning way, gaining the overal victory and they settle down for a wank off. Soon they have their cocks nice and hard, and are invited to wank each other, for a few seconds. Peter smiles as he constantly declines the invitation, but keeps wanking himself and we are soon rewarded with a lovely cumshot as his juice lands on the mat. Filo continues to wank his cock until he cums too, Then they clean each other'cocks and head off to the shower to clean up.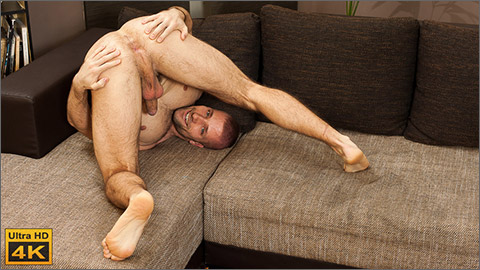 HOT ASS: PETER LOOPER
Peter Looper is one of the hottest guys ever. This very sexy straight guy has always insisted that he wont do anything with another guy. But he is more than happy to show his hot body off for us. In the dream set Peter strips off his top to show his beautiful chest. Then the pants come off too and Peter's massive thighs are on display. He loves to smile and does just that as he turns to give a view of his ass, with his undies wedged into his crack. Peter kneels on the sofa,bending over and pulling the undies aside to expose his hole. Then he pulls the undies down off his ass so that tight hole can be seen better, as he parts his cheeks. We get a great close-up of that hole as Peter keeps pulling on the cheeks. Then, still smiling, he turns over and holds his legs in the air so that sexy ass is still shown. Peter keeps pulling on the ass cheeks to stretch the hole. Then he removes the underwear completely. This lets him really show that ass off, ass he pulls his legs right back. That ass hole starts winking as Peter flexes and relaxes the sphincter. What an awesome sight that is. He then stands and bends over, looking through his legs as he continues to pull on that ass, with his heavy balls hanging between his legs. Next Peter lays on his side, hairy ass to camera and shows off that hole some more. This time with his cock and balls trapped between his thick thighs. Moving onto his back some he lifts a leg and wanks his big cock as he shows off his hole. That ever present smile is shown in close up as he lays back on the sofa and starts wanking that big cock some more. The next view has Peter laying on his shoulder, legs back over his head, with that sexy ass so prominent. Having shown us so much of that beautiful ass Peter stands up and wanks his thick meat, with his balls getting so tight against the shaft. Then that cock explodes with thick, creamy cum that shoots over the floor. Peter milks the cock and releases it letting a big drop of cum hang perilously on the end of the cock, to finish a great scene.
WILLIAM HIGGINS
STR8HELL
FRESHMAN X
CLICK HERE TO GO TO HIS WILLIAM HIGGINS BIO PAGE
CLICK HERE TO GO TO HIS STR8HELL BIO PAGE