Blond Jock American Gay Porn Star, Patrick Rouge
Known Aliases: Patrick Rougue, Patrick (Chaos Men)
Years Active: 2008 – 2012
BRIAN OCKERT / CHAOS MEN INFO:
Start Age: 27
Debuted: August 31, 2011
Height: 5'10"
Weight: 165 lbs
Cock: 5.5″ Cut
In an effort to amp up the Serviced videos, I am mixing in some "Pro" porn guys.
   Patrick Rouge is actually quite close by, so I figured why not have him come on in and do some oral work or even full-on sex.
   His look has changed over the years. He is now bald, but agreed to grow out his body hair for us, making for an cool combination. I think some time lapsed between these photos and the scene with Isaiah, as he has more natural body hair in the video.
   Anyway, enjoy these images of him, and don't forget to pop on over and see him and Derek Atlas together!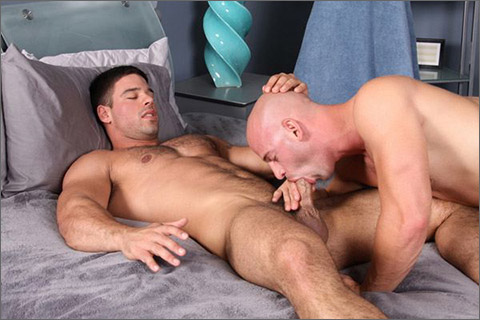 SERVICED: DEREK ATLAS
Derek has done a lot of modeling and some video work, as well as live cam stuff.
   At the time of filming this, he said it was the first time he has had his dick sucked "on film." I run many months ahead so as I write this knowing it will be a while before it airs, I suspect he will have gone far beyond a simple BJ as he drums up financing for his own website.
   So I am just gonna run with it being his first time "on film" (those are "finger quotes" and it cracks me up 'cuz surely he has had his dick sucked 'off cam' when he specifically says "on cam." 😉 )
   Regardless, he was still nervous about performing. If he could keep it hard, and of course, or having someone else make you nut adds a lot of pressure. It is always easier to do it yourself onto someone's face or other body part.
   Derek spent little time looking at the video and stays hard though most of it. He is a big muscle dude all snuggled in to get his cock sucked, and I love the way he writhes around in ecstasy as Patrick Rouge blows him with expertise.
   Patrick also loves eating ass and was in piggy heaven as he got to rim Derek's muscle butt every which way.
   Patrick is horny and Derek didn't mind if he took his cock out, but alas, was not going to help his new buddy out.
   No worries though. After Patrick makes him blow his load, he rolls over and snuggles in next to Derek and shoots a foot or so into the air.
   This is a VERY hot Serviced video and I love watching these beefy/hairy guys go at it!
CHAOS MEN
NEXT DOOR STUDIOS
HOT HOUSE
TITAN MEDIA
BIG DADDY
THE GUY SITE
KINK MEN
CLICK HERE TO GO TO HIS CHAOSMEN BIO PAGE