Handsome William Higgins Czech Gay Porn Star, Nikol Monak
Known Aliases:
Years Active: 2015 – 2018
WILLIAM HIGGINS INFO:
Nikol Monak is aged 22. This very handsome straight guy is a student who enjoys sports, fitness and ice-hockey. He looks so good in this shoot, with his handsome face that sports a beard which suits him very well. As Nikol removes his tee shirt he shows off a very nice chest, posing for the camera to capture it. He then removes his pants and slips a thumb, teasingly, into his underwear. He turns around and lowers the underwear further, to show off a very sexy ass. Then the turns again, underwear off, and poses with his soft cock and low hanging balls on display. He sits on the sofa, leaning back to let us enjoy his hot body. Then Nikol gets his cock nice and hard and gives us some very good poses as we enjoy it. He then kneels on the sofa, ass to to camera to really show it off as his cock and balls dangle between his legs. Sitting again and leaning back Nikol lifts his legs in the air to give a great view of that sexy ass and a nice, tight, hole. To finish, after a good look as his hot ass, Nikol flexes his biceps to show them off as his cock is rock hard too.
Age (2015): 22
Home Town: Brno
Height: 184cm/6'0″
Weight: 83kg/182.6lb
Foot Size: EU44/US8.9/UK8.4
Penis Size: 17cm/6.69″
Profession/Student of: University student
Hobbies: Sport
Favorite Sports: Fitness
Active Sports: Ice-Hockey
Movie/Music/Sport Stars: Cristiano Ronaldo
Visited Coutries: Croatia
Want to Visit Coutries: Greece
Dream of My Life: I don't know.
Zodiac Sign: Leo (July 23 – August 22)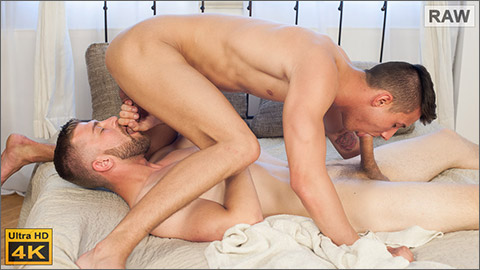 FULL CONTACT: NIKOL MONAK & FILIP VACEK RAW
Nikol Monak is asleep on his bed when he is joined by Filip Vacek. Filip wakes him by rubbing his sexy chest. Then they kiss and feel each other. Filip kisses his way down Nikol's chest and removes the blanket to reveal a lovely hard cock. He takes hold of Nikol's cock and begins to suck on it. Nikol pushes Filip's head down on his throbbing dick as the lips wrap tight around his shaft. Filip then kisses Nikols again anbd returns to sucking on that big cock. Then they move to 69, with Filip kneeling over Nikol. Each sucks hard on stiff cock. Filip's dick goes deep into Nikol's mouth and then comes out for the shaft to be licked. They sit up and kiss each other again before Filip lays back with his legs up for Nikol to have access to his tight hole. He finger's that hot hole as he wanks on Filip's cock . Having loosened the hole Nikol is ready to fuck so Filip kneels on the bed as his buddy stands behind him to slide his cock deep into the waiting hole. Nikol fucks that ass deep, spanking the ass as he does so. His rock hard cock works in and out of Filip's hole with long, deep thrusts. Nikol keeps giving the ass the occasional slap as he fucks hard into Filip's hole. Then Filiip turns over with ihs legs in the air to take that cock somem more. He moans as the big cock works his hole so well. Filip wanks himself as he takes the cock. He keeps wanking until his cock releases the hot cum, shooting it onto his body as Nikol's dick is deep in his ass. Nikol continues to fuck hard, stretching that hole wide. He turns Filip over and slides his dick back into the ass, fucking even deeper. His cock pounds the hole until he too is ready to shoot his load. Then he pulls out and dumps his huge, creamy, cum sot all over that sexy ass. Nikol milks his dick dry and Filip moves up so they can kiss again.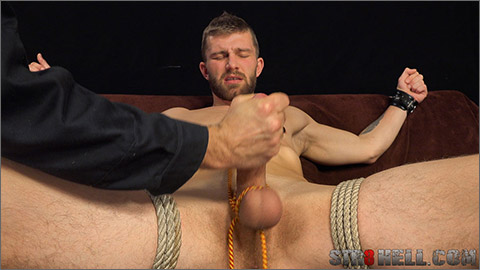 MILKING MEN: NIKOL MONAK
In a new category Milking Men we have Nikol Monak. He is in for a very hot session, where his cock is brought to the very edge of cumming without actually shooting, time after time. Then finally he is allowed to cum. He is tied to a beam and has his tee shirt cut off. Then, wearing just his underwear, his tormentor starts to tease the cock. Water is sprayed on the underwear as the cock gets hard inside. The water clings to the underwear showing the outline of the hard cockhead. Then it is released and a vibrating ball toy is rubbed over the cock making it throb as the tender spots are hit. The underwear his cut off and Nikol's balls are tied up tight as his cock is wanked and tormented. He moans as his cock throbs, wanting to cum. He is moved and retied, all the while his cock is throbbing, right on the edge. Lube is dripped onto it and it is wanked hard. His ass hole gets rubbed too, but the focus remains on the cock. As the torment continues Nikol asks to be allowed to cum, urging the hands to make it happen. But still he is kept on edge. Then, finally, he is allowed to cum, announcing that he will let that hot juice go. After he has cum his teasing doesn't end though as his cock, so tender at the head, after shooting his load, is rubbed all over until Nikol asks for it to stop.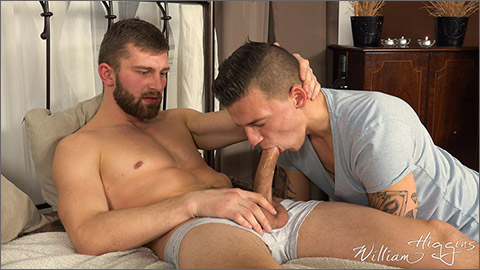 FULL CONTACT: PETER ANDRE RAW SCREEN TEST WITH NIKOL MONAK
Peter Andre is up for a screentest, with Nikol Monak. Nikol is on his bed, enjoying a cigarette and some wine. Peter arrives to pay some money he owes. He doesn't have the full about and it seems that Nikol will have to take payment another way. He reaches into his underwear and pulls out his big cock. Despite protesting that he doesn't want to pay in this way Peter is soon sucking on Nikol's swelling dick. His mouth works the big cock and gets it good and hard. Then Peter licks Nikol's big balls too before sucking the cock some more. Nikol enjoys the sucking but it is not enough to pay off the debt even though Peter does a great job. Nikol tells Peter to stand up and drop his jeans. He does as he is told and Nikol reaches out to wank his cock. Then Peter kneels on the chair to show off his ass and Nikol stands up to rub his big dick against it. Peter knows what is in Nikol's mind and tells him that he doesn't want to be fucked. But he stays on his knees and Nikol's dick slides into the waiting ass. Peter moans as he takes the throbbing cock deep into his hot hole. Nikol fucks hard and fast and spanks Peter's ass cheeks as he works the hole. Then Peter moves onto the bed, laying on his back, legs up, for Nikol to fuck him some more. He keeps up his moaning as he takes the dick deep in his ass. Peter's cock gets hard as he is fucked. Nikol really pounds the tight hole, fucking his cock in as deep as he can. Peter grabs his own cock and wanks it as Nikol fucks him. He quickly shoots his cum all over his belly as Nikol's cock slams into his tight hole. Peter milks every last drop of cum out of his cock as Nikol continues to fuck him. Then Nikol Nikol lays on the bed so that Peter can slide his ass down on that hot cock. He holds his as in place as Nikol fucks his dick up into the hole. Nikol keeps fucking into that ass speeding up as he shoots his hot cum into the hole. Peter pulls his ass off the cock and works the cum out of his ass, dripping it down onto Nikol. Having paid his debt Peter then leaves Nikol to relax.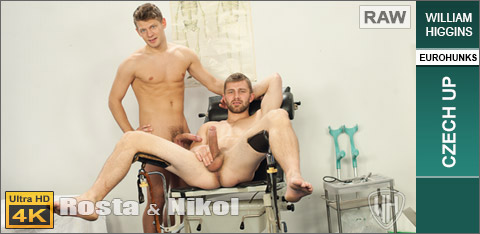 CZECH UP: DR ROSTA BENECKY & NIKOL MONAK RAW
Nikol Monak is visiting Dr Rosta Benecky for his Czech Up. Rosta tells him to remove his sweater so that he can examine his chest. Nikol takes off the sweater and sits on the table so that Rosta can begin the examination. Then he lays down and Rosta starts to feel over his body. Something seems to be causing pain in Nikol's groin so he stands and removes his jeans and sits in the chair. He puts his legs in the stirrups and Rosta begins to check his thighs. Nikol's cock is clearly rock hard in his boxers as Rosta continues to examine the thighs and groin. He helps Nikol to remove the underwear and that big, hard cock and the tight balls are on display. Rosta continues to feel around the groin, taking hold of the cock too. He starts to wank it and leans over to take it in his mouth. Nikol reaches to rub Rosta's back as the hot mouth envelopes his hard dick. With his legs wide apart Nikol's ass crack is on view as his cock is sucked. He moves down in the chair and Rosta's hands pull on the ass cheeks as he sucks the cock. The hole is exposed a little and a finger rests against it. Rosta keeps up with his sucking and then his shirt is pulled off as Nikols feels his body. He lowers his pants too, releasing his own massive cock that is rock hard. Nikol takes hold of it and wanks on it as Rosta keeps sucking. Rosta stands up straight and presents his big cock for Nikol who sucks and wanks on it. They then move over to the massage table again, with Nikol laying down so that Rosta can continue to enjoy sucking on his cock. Nikol gets up again and Rosta bends over the table so that his ass is available. Nikol's big cock is soon sliding in and out of the sexy ass, as Rosta moans in pleasure. Nikol fucks that hot ass nice and deep, speeding up his fucking. His balls slap against the ass as he fucks. He really pounds his dick deep into Roasta's hole. Then Rosta turns over, onto his back, and wanks his big dick as Nikol keeps fucking his hole. As he wanks on his big cock Rosta delivers his cum while Nikol's dick is deep in his ass. Nikol fucks that ass hard, until he is ready to cum too. Then he pulls out and shoots his hot cum all over Rosta's cock and balls. After milking his cock dry Nikol leans over and kisses Rosta after a very hot fuck.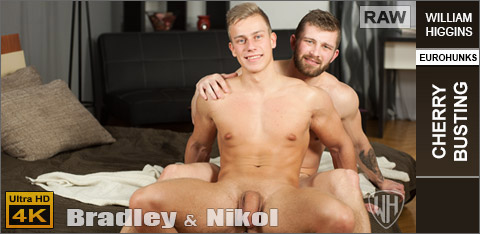 CHERRY BUSTING: BRADLEY COOK & NIKOL MONAK RAW
We have a wonderful Cherry Busting scene with the fabulous Bradley Cook, known elsewhere as Glen, getting his ass worked, for the very first time, by Nikol Monak. We find them on the bed with Nikol kissing and massaging Bradley's back. These two look so hot together and Bradley's sexy ass is soon on view as Nikol peels back the underwear. That beautiful ass feels Nikol's lips kissing it as he works his way up Bradley's back again. He turns Bradley over and is soon sucking on his thick, hooded cock. Nikol licks and sucks on the cock, taking it deep into his mouth. Bradley reaches for Nikol's head, pushing it down on his dick. Nikol works his way up to Bradley's handsome face and kisses him and then kisses all over that sexy chest too. Nikol removes his underwear and he straddles Bradley, wanking both of their rock hard cocks together. Then Bradley turns over again and spreads his ass cheeks as Nikol leans in to rim his hot, hairy, hole. That hole is so inviting to Nikol so he turns Bradley again and lifts his legs in the air so the ass is available. His big, hard cock slips into the virgin hole and begins to fuck with long, deep, strokes. Bradley takes that dick so well, as it stretches his ass wide. He grabs his own cock and starts to wank it as Nikol keeps up his deep fucking. With his cock throbbing as his ass takes Nikol's big dick Bradley soon dumps his hot, creamy load all over his belly. Nikol continues to fuck that hot ass, turning Bradley over and onto his belly. His fucking gets faster and faster and then Nikol pulls out to shoot a massive load of hot cum all over Bradley's back. Then he takes Bradley off to the shower so they can both clean up after a very hot session.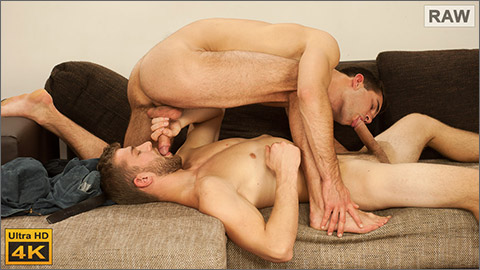 FULL CONTACT: NIKOL MONAK & ALAN CARLY SCREEN TEST RAW
Nikol Monak is one very hot newcomer. With his handsome looks and great body he was a natural to be invited for a screentest. We wanted to make sure we paired him with someone equally appealing so we opted for Alan Carly. Alan does a brief interview with Nikol and then leans over to kiss him. Then he has Nikol lay back on the sofa and he start to kiss his hot body. Alan removes Nikol's tee shirt, revealing, that hot body. He rubs the sexy chest as he kisses Nikol. Nikol responds, rubbing Alan's chest. Alan takes off his sweater and Nikol quickly leans over to kiss his chest. He opens Alan's jeans, releasing his stiff cock. Nikol grabs the cock and starts to wank and then suck it. He kisses the cock and sucks it as well as wanking it. Alan is enjoying that feeling and removes his jeans so Nikol as better access. His hot lips enclose Alan's throbbing cock as he does a great job on it. Then Nikol sits up and Alan helps himself to some cock too, releasing Nikol's from his jeans and sucking on it. Nikol's dick is rock hard as his jeans comes off and Alan sucks it deep into his mouth as the big balls rest between Nikol's thighs. Nikol holds Alan's head on his cock and starts to fuck it up into the mouth. Nikol lays along the sofa and Alan climbs over him so they can enjoy a hot 69. Then Alan straddle's Nikol's sexy body, rubbing his ass against the stiff cock. He reaches back and guides the big, stiff, cock into his ass, taking it all the way. Alan works his ass on Nikol's cock, fucking it deep into his ass. Then Nikol starts to moan as he fucks his dick deep into Alan's eager hole. He sits up and Alan quickly slides his ass down on that big cock again. His own dick is rock hard as he bounces up and down on Nikol's. Nikol thrusts his dick up into Alan's hot hole. As Alan rides the rock hard cock his own dick flails around in its' rampant hardness. He rides the cock and grabs his own, wanking it hard and fast. His nuts tighten around the shaft of the cock as he wanks, with Nikol's dick deep in his ass. He keeps wanking as Nikol pounds his ass as hard as he can. Nikol's dick really stretches Alan's hole. Alan's moaning gets louder as his cock tbrobs in his hand, erupting in a big creamy cumshot. He milks his cock as Nikol continues fucking his ass. He moves Alan, bending him over and fucking him from behind. His massive dick rams in and out of Alan's ass, going so deep and making Alan moan . Nikol's massive balls swing as he pounds Alan's ass. Alan keeps up his moaning as the cock works his ass. Nikol's balls slap against Alan's ass as his cock really slams into that ass. The fucking gets faster and faster until Nikol cant hold back. He pulls out and dumps his hot, creamy, cum all over Alan's ass. Nikol's milks every last drop of cum from his beautiful cock and they kiss before going off to the shower to help each other clean up after a really great screentest.
WILLIAM HIGGINS
STR8HELL
BADPUPPY
CZECH HUNTER
BROMO
CLICK HERE TO GO TO HIS WILLIAM HIGGINS BIO PAGE