William Higgins Czech Gay Porn Star, Michal Dolezal
Known Aliases: Debt Dandy 111
Years Active: 2015
WILLIAM HIGGINS INFO:
Model Name: Michal Dolezal
Age (2015): 21
Home Town: Prague
Height: 178cm/5'10"
Weight: 75kg/165lb
Foot Size: EU43/US8.7/UK8.2
Penis Size: 16cm/6.3″
Profession/Student of: University student
Hobbies: Sport
Favorite Sports: Soccer
Active Sports: Soccer
Movie/Music/Sport Stars: Robert Pattinson
Visited Coutries: Austria
Want to Visit Coutries: Russia
Dream of My Life: I don't know.
Zodiac Sign: Leo (July 23 – August 22)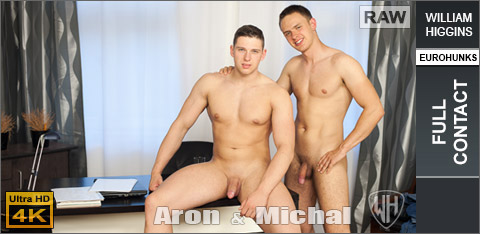 FULL CONTACT: ARON ROS & MICHAL DOLEZAL SCREEN TEST RAW
In a great Screentest we have Aron Ros and Michal Dolezal, two very hot straight guys. Aron is at his desk when Michal knocks on the door. he comes into the room and sits in front of the desk, waiting Aron to finish what he is doing. Michal is there for a casting session to model underwear. Aron starts to interview him, by telling him to show off his muscles. Michal takes off the tee shirt, and Aron finds his body satisfactory. But he needs to check the legs too. Michal explains that he is wearing no underwear, but agrees to take off his jeans. At first he is a little coy, shielding his cock and balls, but then he stands, hands on hips as Aron tells him that he needs to try some poses. Aron moves over to Michal to show him the poses he wants to see. Michal follows instructions, showing some nice biceps. As Michal poses Aron let's his hand touch that sexy body, still instructing him on what to do. Aron continues touching him and pulls Michal's face over to his own. Leaning forward he starts to kiss Michal. Then he drops to his knees and takes Michal's cock in his mouth, sucking it and making it very hard. He sucks and wanks on that cock, as well as licking the balls. Michal's hand goes to Arons head as his cock feels the hot mouth around it. When he has sucked that cock for a good while Aron stands and Michal helps to get him naked. Aron's cock is already quite hard as Michal starts kissing his way down the body to reach the cock. He begins sucking on Aron's cock showing that he can do a great job too. As he feels that mouth on his cock Aron begins thrusting motions, fucking into Michal's mouth. Then he has Michal laying on the desk, so that his ass is available. Aron's beautiful stiff dick slides into that sexy ass and fucks it nice and deep. Michal takes that big cock, moaning some, and wanks on his own meat. They change position, with Michal bent over the table so that Aron can fuck him some more. He works that hole real well with Michal moaning. As he fucks Aron also spanks on Michal's hot ass. Then Aron lays Michal back on the table and wanks him until he cums. He then takes hold of his own cock and dumps his cum on Michal's right thigh. Michal stands up and kisses Aron, hoping that he has got the modelling job.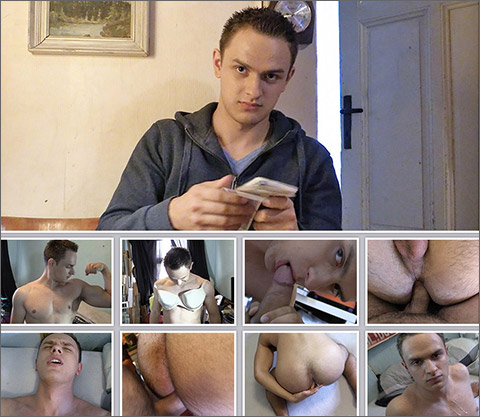 DEBT DANDY 111
The stupid stairs made me almost angry today. Why do the guys always have to live in the top-floor? Well, probably the flats are cheaper there. On the other hand the guy looked really nice. Exactly my taste. Once we arrived in his apartment it was a shock for me. Quite messy and old-fashioned. We talked a lot about his debts. Basically he owed money to a couple of friends and to his family. And of course he was unemployed. He agreed to my little deal once I told him that I am about to leave. We went to his bedroom and there a found a bra from his girlfriend. Sorry, I have a little fetish for that so I told him to wear it for a few minutes. It didn't take long and I was horny enough to receive my blowjob. How would it feel like to fuck this cute muscle-boy?