Young Hung American Gay Porn Star, Michael Del Ray
Known Aliases: Michael DelRay (Lucas Entertainment), Elder Ence, Michael
Years Active: 2014 – 2019
LUCAS ENTERTAINMENT INFO:
Height: 6′
Weight: 150 lbs
Dick Size: 8″
Position: Top/Versatile
I wonder if Michael DelRay has that adorable Wisconsin accent, and I wonder if it comes out when he's fucking a guy doggy style (his preferred position as a top). I wouldn't know as I haven't met him in person, but he sure is nice to look at in his photo and video content. Michael DelRay was born in Milwaukee, Wisconsin and currently lives in Madison. He owns his own small business, but decided it couldn't hurt to show off his assets on camera and make some extra cash doing so. His favorite kind of guys are athletic, toned, and have very handsome faces — just like him.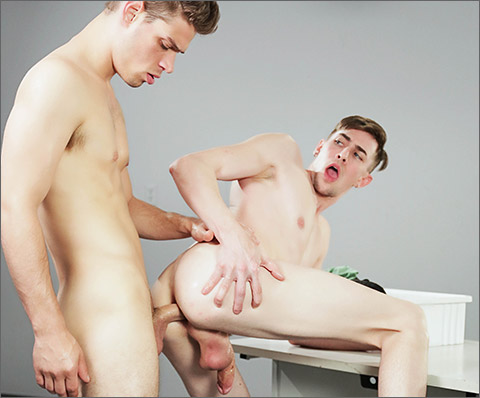 SCANNER
Airport security agent Michael DelRay is reaching the end a very long and uneventful day. Right before closi9ng off his shift, his security scan picks up on something extraordinarily large and concealed on none other than Jack Hunter. Michael takes it upon himself to conduct a very thorough 2nd screening in a private examination room.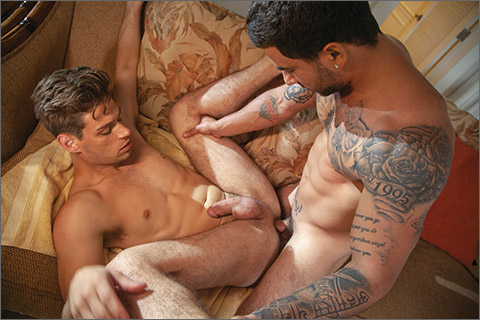 BEACH RATS OF LAUDERDALE: Vadim Black fucks Michael Delray
Michael Delray is skating down the Boulevard when he runs into Vadim Black hanging by the beach. The two buds head off to burn and soon one thing leads to another. Vadim makes the first move and reaches up Michael's tight shorts to feel his thick meaty hard-on. Michael doesn't waste a second and peels of his shorts to grant Vadim full access to his big cock. Vadim sucks it hard until Michael decides he wants a taste of his buddy. Michael gets on his knees to take Vadim down his throat. Rock hard, Vadim pulls out his phone to film this buddy sucking him off. After feeding Michael his cock, Vadim bends Michael over for a quick taste of his ass before he slides his big, bare pole deep into Michael and pumps hard, while he pumps him for info on where he got the weed. Michael is horny as hell and takes over the work riding Vadim's dick. He rides it deep as his own hard cock flops up and down. Vadim wants to fuck Michael his way and flips the stud over onto his back and continues the raw fuck session until he makes Michael spill his load all over his own tight body. With Michael covered in pure white jizz, Vadim blasts off his own load. He pulls out and shoots thick ropes all over Michael's ass before he shoves his dick back inside to enjoy one last feel of Michael from the inside. With information spilled by Michael, does Vadim have more sinister plans?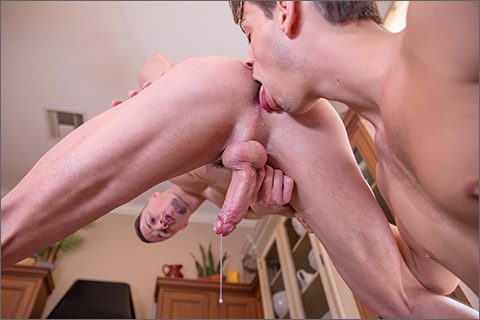 LOVE & LUST IN NEW ORLEANS: Michael Delray fucks Skyy Knox
It's a rainy day in New Orleans and Michael Delray and Skyy Knox have been out enjoying the sights and having some lunch. By the time they make it back to the house, they're soaking wet and need to get out of their clothes. Skyy can see that Michael has a raging hard-on inside his undies and gets to work taking it all the way down his throat. It's a big dick, but Skyy can manage the whole thing and when Michael is at full mast, he decides to return the favor. Michael gets on his knees and services Skyy's extra-long foreskin and big tight balls. Both studs are raging hard now and Michael can't resist taking a taste of Skyy's smooth hole. He gets it nice and wet and opened up with every intention of filling Skyy up with his big stiff rod. Michael is ready to get down to business and bends Skyy over the kitchen table to plug him as deep as he can go. Skyy wants to look his stud in the eyes and flips around to get a view of Michael's face as he continues plowing away. The sight of the hot, young stud servicing his ass is all it takes for Skyy to let loose and cover himself with cum. Even after letting loose, Skyy isn't quite finished. As Michael pulls out of him, Skyy gets on his knees and opens his mouth once again to take every drop that Michael's throbbing dick has to offer.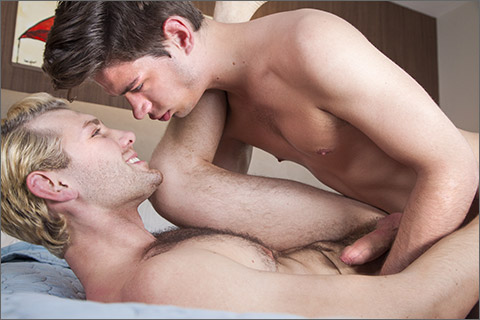 THE CHOSEN FEW: Michael Delray fucks Jacob Peterson
Being part of the Chosen Few is a fantasy come true, but between the private yacht, the luxurious home, and stunning men, Michael DelRay can hardly believe any of it is real. That's why when he catches a glimpse of a handsome, half-naked Jacob Peterson he wonders if he's hallucinating. When Jacob corners Michael in the guest bedroom and shoves his uncut cock in Michael's mouth there's not doubt he is real. After some mutual cock worship and ass-eating, Jacob offers his tight hole and Michael plows him hard in a reverse pile-driver that has to be seen to be believed. Michael pulls out and blows his load then sucks Jacob's huge cock dry. Taste the fantasy!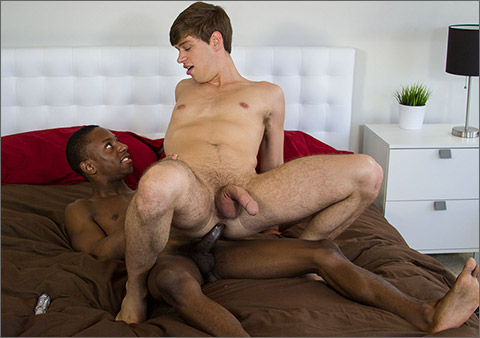 LIAM FUCKS THE CUM OUT OF MICHAEL
Life is better naked. Life is also better with friends. So why not be naked with friends? These guys spent most of their trip here with minimal clothes on (this was obviously encouraged). Their chemistry was on point too, which made this sex that much better. Michael has a nice fat cock, which Liam had no problem completely deep throating. It was fucking impressive. Michael is completely versatile, but insatiable when it comes to bottoming! Gotta love those power top/bottoms. Liam fucked him in almost every position… until Michael climbed on top and it hit that perfect spot and he blew his load straight into the air!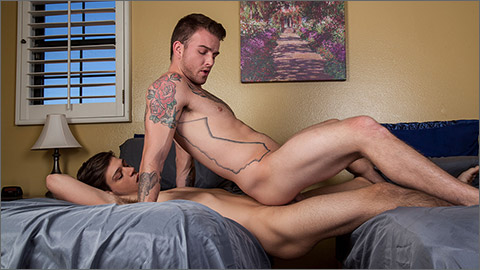 MICHAEL FILLS UP BRETT
Michael Del Ray and Brett Beckham make a hot paring. Both of them have those smooth swimmers builds but hide a big fat dick in their New Urban Male trunks. But things really get wet away from the pool and inside the bedroom. These two hunks attack each other with hot french kissing and soon their engorged cocks are sticking out of their swim suits. Brett bends down to get a taste of Michael's cock first. He deep throats it with ease. But Michael has no gag reflex and wants to show off his skills too. After Brett face fucks him he turns around and plants his ass right in his face and they 69. Soon Brett begs for his cock and he lowers down on it. It is so hot to watch Brett's hard cock bounce up and down as he lowers himself down on Michaels erect dick. Michael fucks him doggie and then ends things on Brett's back – cumming in his ass and loading Brett up with tons of his cum.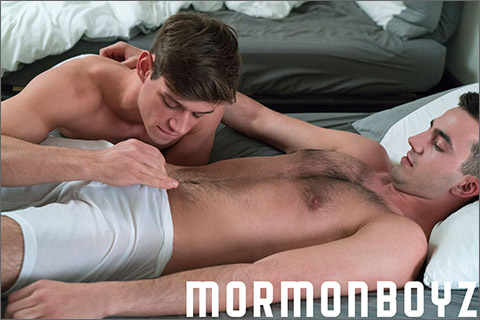 CHAPTER 8 – COMPANIONSHIP INVENTORY w/ ELDER ENCE
Shy but gorgeous Elder Dudley has had intense feelings for Elder Ence. And these feelings have been slowly building for weeks, to the point where now the feelings are unmistakably a crush!
   Before his mission Elder Dudley had a girlfriend at his farewell. She was there with his family when he went into the MTC, but a few months later she Dear John'd him with no explanation.
   A few days after he got dumped, he was recruited by the Brethren of The Order. Since then he's started having new and strange feelings. He even had a vivid dream where he and Elder Ence got married.
   Because Dudley has been a dutiful initiate, his mission president, a presiding authority in The Order gave the boy the option of choosing his mission companion at transfers. Naturally, Dudley jumped at the chance to request Elder Ence.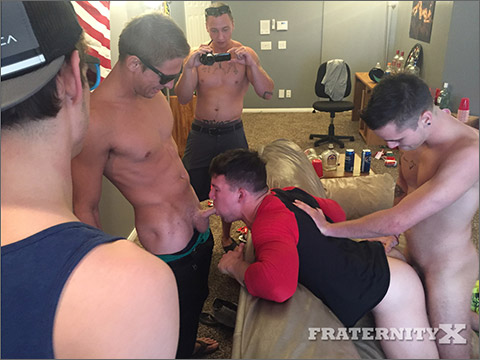 MUSCLE BUTT BRO
Damn frat brother Mike got a fat ass but you know what they say! We get a little crazy sometimes when we're drunk and lit up and with an ass like that we all needed to take a turn. We bent him over and all pounded his hole raw, made him service our dicks and gave him load after load after load. Bet the bitch liked it… but damn that ass was askin for it.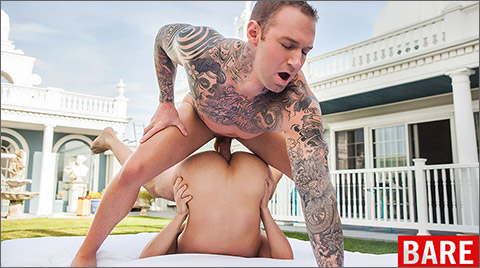 HITTING IT RAW: Michael DelRay Takes It In The Butt From Dylan James
http://www.lucasentertainment.com/scenes/play/michael-delray-takes-butt-dylan-james
Michael DelRay has the look of a wise-cracking smart ass with plenty of attitude… which is why it's so satisfying watching Lucas Entertainment exclusive beefcake Dylan James bend him over and pork him in the butt bareback. Michael is a lean guy with a huge cock, but it's his hole that gets used in this encounter.
CLICK HERE TO GO TO HIS LUCAS ENTERTAINMENT DETAILS
VIDEO ON-DEMAND: Michael Delray @ AEBN SMUTJUNKIES THEATER
DVDs & ON-DEMAND: Michael Delray @ TLA VIDEO