Falcon Studios Randy Blue American Gay Porn Star, Micah Brandt
Known Aliases: Micha Brandt
Years Active: 2009 – 2017
TWITTER @MrMicahBrandt
FALCON STUDIOS INFO:
FALCON:
Endowment: 7.5
Foreskin: Cut
Position: Bottom
Height: 5'10"
Body Hair: Smooth
Body Type: Gymnast
Eye Color: Brown
Hair Color: Dark Brown
RANDY BLUE INFO:
Micah Brandt runs his long fingers over his smooth chest. He loves the feel of his own body which you can see in the look of ecstasy on his face as he lightly pulls on a nipple or brushes his hands through his neatly trimmed pubes. He lets his hands roam all over his lightly muscled torso, over his tight pecs and down to his sturdy thighs. Then he grabs his beautiful meaty dick and starts stroking. The low breathy moans that escape his luscious lips tell you how good he's feeling. He also really loves his ass and lets his fingers work their way through his round, firm cheeks and into his puckering hole. But that's not nearly enough. He grabs his favorite toy, a big, black double dong, and works it in. His cock, already huge and thick, plumps up even more until it's rock hard and on the verge of shooting. You get the feeling that he could shoot at any time but that he's holding off to prolong both your pleasure and his own. He eventually abandons the toy and gets back to work on his own tool, getting so into it his body writhes with pleasure and the light breaths become heavy panting. He shoots copious amounts of jizz all over his smooth stomach and chest, making sure to savor a bit as he thinks about the next cock he'll get to suck.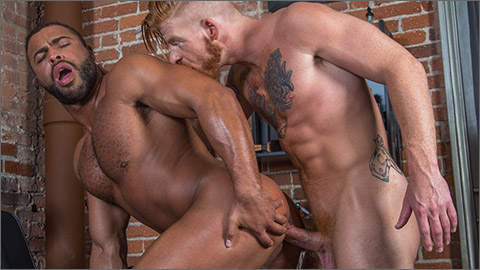 BEARDS: Bennett Anthony & Micah Brandt flip-fuck
We've all experienced the casual but undeniable sexual energy of a barber shop. One man giving up a bit of control while the other serves him. The unspoken give and take. Tattooed, red-headed Bennett Anthony trims the hair and beard of the muscular Micah Brandt. A simple trim becomes a real sexual give and take as the two enjoy a flip-fuck right in the barber's chair. Micah pays Bennett back by leaning down to suck Bennett's hard dick. Yes, he's got red hair everywhere. Bennett, pants still around his knees, drops to pull out Micah's big, hard dick and sucks him back. Trading of blowjobs becomes trading of rim jobs and Micah buries his face in Bennett's ass and Bennett returns the favor before hopping up on Micah's dick and sliding his ass down on it. The sexual chemistry between these men is undeniable. These men are really enjoying getting to know every inch of each other. Seeing Micah's thick hard dick slamming into Bennett's asshole is something you won't want to miss. When it's time to switch positions, the two men are uncontrollable… Micah cums TWICE before blowing a big third load with Bennett's dick buried in his hole. Bennett hops up on Micah's chest and blows his own load right into Micah's face and the two finish off swapping spit and cum.

CABIN FEVER – PART 1: Donny Wright fucks Micah Brandt
Micah Brandt and Donny Wright are happily wrapped up in each other's hot embrace as they kiss with manly passion. Micah's lips traverse the landscape of Donny's muscular body running from nipple to nipple, down along his treasure trail until he winds up hitting pay dirt as he swallows his partner's thick erect dick. He sucks on the meat pole greedily and the two continue their sexual floorshow as they twist around so Donny can dig in and rim Micah's ass. The big guy's tonguing skills have his buddy tingling with excitement and every lick is marked with a satisfied moan. Having prepped Micah's hole, Donny pierces through with his big cock. He charges right in moving in a steady rhythm, then pumps faster and faster. Micah's eyes roll back in his head as he gasps for air, grasps his cock and strokes it until he squeezes out a milky load. Donny is quick to answer as he finishes himself off by hand and blasts Micah's mug with his jizz.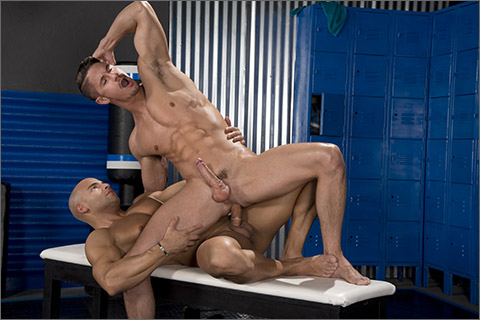 THE TRAINER – NO EXCUSES: Alex Mecum fucks Micah Brandt
Alex Mecum is lifting weights at the gym with his buddy, Micah Brandt. Micah promises Alex a present if he can do 30 reps of bench pressing. Alex takes the challenge and the two studs continue their workout until the chemistry in the air is overbearing. The horny muscle jocks kiss on the floor of the gym as they rub their bulging shorts and help each other out of their tight shirts. Alex is the first to unleash his already dripping beast of a cock, and Micah instantly follows by peeling off the rest of his workout gear. The sight of Alex's big thick dick makes Micah's mouth water. He drops to his knees before he takes the big hardon down his throat. All the cock sucking makes Micah hard as a rock. The two muscle studs 69 on the gym equipment as they suck and gag and drool all over each other's engorged dicks. Alex has fucking on his mind and he knows that he needs to get Micah's bubble butt ready for the action. Micah turns around and sits on his Alex's face to let him tongue fuck his hole. After a nice long rim session, Alex can sense that Micah is open and ready for entry and invites Micah to sit down on his big throbbing cock. Micah wants maximum penetration into his loosened-up asshole and lies on his back on a gym mat so that Alex can fuck him even deeper. The horny studs go at it hard until Alex's more primal instincts kick in and he rolls Micah over on the mat. Alex wraps his big bulging biceps around Micah and dominates him as he fucks his hole into submission. Micah's eyes roll into the back of his head and he dumps his load of cum all over the gym floor as Alex keeps up the relentless pounding. Micah's ass feels amazing and the internal throbbing sensation of Micah cumming on the floor is all it takes for Alex to dump his load. He pulls out and covers Micah's smooth, muscular back with a massive, pent-up load of jizz.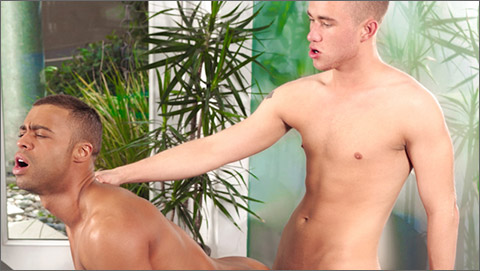 SIT TIGHT 2: Leo Sweetwood fucks Micah Brandt
Jocks Exclusive Micah Brandt may be the youngest and most beautiful Black man rowdy Leo Sweetwood's ever gotten a grip on. Leo wields a dominating dick, and his close cropped hair, shaved crotch and touch of ink reveal streetwise grit. He's a rough young stud, just like Micah likes them. Leo horns his tongue into Micah's succulent sphincter, and Micah is primed. He clambers aboard Leo's "sweetwood," clenching his chocolate cheeks tight on this dude's tower of power and grinding like he wants it to crumble. But not before he's getting it doggie style. He winces and groans in painful pleasure as Leo's drives it in up to the hilt, balls bashing loudly against butt with every lunge. His cum jets all over Micah's back, as the howling bottom dive bombs his own massive load downward.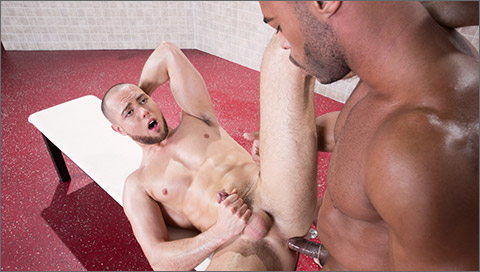 DEPTHS OF FOCUS: Micah Brandt fucks Brendan Phillips
Brendan Phillips hits the communal bathhouse showers to get cleaned up. Micah Brandt is already there, stroking himself under the water. Turning around, Brendan shows Micah a flash of his tight, pink asshole. With a devilish grin, Micah pulls Brendan close for a deep, passionate kiss. Getting down on his knees, Brendan gets a throat full of Micah's hard, thick cock. Bending over a bench, Brendan shows off his tasty ass to Micah, who dives in tongue first for a spit-fueled rim job. Putting his legs in the air, Brendan strokes his cock as Micah eats his ass, depositing plenty of thick spit. Sliding his cock into Brendan's ass, Micah delivers a pounding fuck that stretches Brendan's hole. Doggy style gives Micah even more power to his intense thrusting. With Brendan's tight ass on his cock, Micah goes over the edge and shoots a huge load onto Brendan's ass cheeks. Micah uses his cock to smear his load around on Brendan's ass, then kneels down to get a taste of Brendan's load. Micah's finger in his ass, Brendan lets loose with his hot, white load, which Micah laps up eagerly. Running his tongue along Brendan's body, Micah works his way upwards until their lips meet and they taste Brendan's cum together.

DEPTHS OF FOCUS: Micah Brandt fucks Johnny V
The photographer shoots action shots of muscle hunks Johnny V and Micah Brandt as they pose together on set. After the photographer calls 'that's a wrap', Johnny and Micah head back to wardrobe and get undressed. While stripping down, the two sneak glances at one another until they're both naked and rock hard, running their hands around each other's bodies. Micah is first to sink to his knees and slurp on Johnny's swollen member. When it comes time for Johnny to return the favor, he's left gagging and hurling strings of spit onto Micah's cock and balls. With Johnny's cock at attention, Micah switches his focus to Johnny's hairless hole. Slinking his tongue in and around Johnny's eager ass, lubing it up for the pounding to come. Once Johnny's hole is primed with spit, Micah mounts him from behind and pummels Johnny's butt while they're leaning against a mirror. Things get hotter when Micah throws Johnny on his back and pounds his prostate hard. Johnny takes every last thrust from Micah until he blows a massive wad all over his ripped physique. Micah whips his tool out of Johnny and adds his spunk to the collection of cum on Johnny.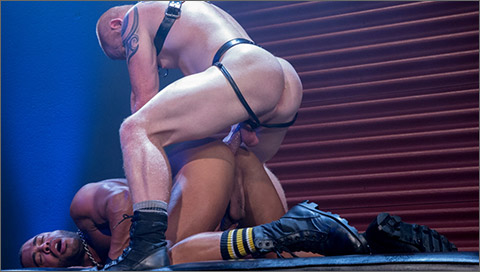 SKUFF: ROUGH TRADE 2: Jordan fucks Micah Brandt
Micah is eagerly awaiting someone to come in and fill his hole with another cock. We don't know how long he's been there. He could be 10 dicks in by the time Jordan approaches and takes the bait. Micah entices him arching his back, serving up his hole in partially tore underwear with 'FUCK ME' written on them. Jordan eagerly obliges and tears those tighty whities into oblivion. He wants nothing in the way of getting at Micah's perfect ass. He goes primal and tears into Micah's hole face first attacking it. He spits on it heavily, teases it, and rims that hole as Micah is moaning and begging for more. He's in Jordan's able hands now. He offered up the goods and now he's strapped in for the ride of what's to come. After Jordan feels adequately satisfied lubing up Micah's hole with spit, he rams his 9′ cock all the way to the pubes opening Micah right up. He's relentless in his fucking. Even after Micah cums uncontrollably, Jordan keeps pounding away. Micah cums again and Jordan isn't done until he says he's done. He lays Micah flat and fucks him deeper and deeper past the point of pleasure and pain. When he's satisfied, he offers up his sweaty hole for Micah to take in, pleasing his dom and getting off on the experience. Micah cums a third time. Jordan fucks Micah's mouth and shoots a big load on his face and down his throat. Jordan leaves that used fuck hole behind and heads off to his next conquest leaving Micah to hop up on the platform waiting to get filled up by the next hot stranger.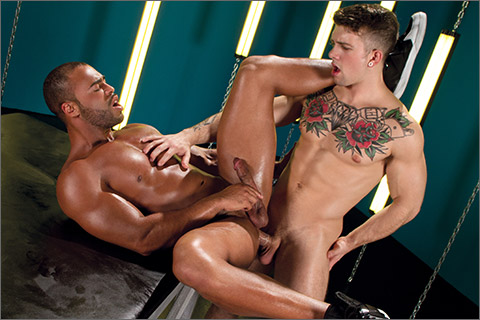 SURGE: Sebastian Kross fucks Micah Brandt
Micah Brandt is ripped with beefed muscle. He's making out with inked and super-defined Sebastian Kross, and the bulges in their Cellblock 13 briefs say they clearly like the taste of each other. Micah alternately sucks Sebastian's lips and nipples, while he strokes both of their rock-hard cocks. When Sebastian's cock is at max hardness, Micah sucks him with deep suction and a hand assist. Micah rolls Sebastian into a ball and drives his tongue into his hot hole. Sebastian unbends and does the same to Micah, who puts his hip flexor muscles into overdrive opening up for Sebastian's tongue. Micah soon begs for Sebastian to fuck his flawless ass. Sebastian's ripped torso rocks and pounds away as he delivers Micah's wish of a hard, deep fuck. The room is filled with the sounds and smells of rough, hard, man-on-man sex as they change positions again and again. Micah cums while riding Sebastian's cock, brushing his fingers through his spooge and sucking it off, then sucking Sebastian to an explosive orgasm.
TITAN MEN
HOT HOUSE
FALCON STUDIOS
LUCAS ENTERTAINMENT
RANDY BLUE
CLICK HERE TO GO TO HIS FALCON STUDIOS DETAILS
VIDEO ON-DEMAND: Micah Brandt @ AEBN SMUTJUNKIES THEATER
DVDs & ON-DEMAND: Micah Brandt @ TLA VIDEO