Falcon Studios Randy Blue American Gay Porn Star, Micah Brandt
Known Aliases: Micha Brandt
Years Active: 2009 – 2016
TWITTER @MrMicahBrandt
FALCON STUDIOS INFO:
FALCON:
Endowment: 7.5
Foreskin: Cut
Position: Bottom
Height: 5'10"
Body Hair: Smooth
Body Type: Gymnast
Eye Color: Brown
Hair Color: Dark Brown
RANDY BLUE INFO:
Micah Brandt runs his long fingers over his smooth chest. He loves the feel of his own body which you can see in the look of ecstasy on his face as he lightly pulls on a nipple or brushes his hands through his neatly trimmed pubes. He lets his hands roam all over his lightly muscled torso, over his tight pecs and down to his sturdy thighs. Then he grabs his beautiful meaty dick and starts stroking. The low breathy moans that escape his luscious lips tell you how good he's feeling. He also really loves his ass and lets his fingers work their way through his round, firm cheeks and into his puckering hole. But that's not nearly enough. He grabs his favorite toy, a big, black double dong, and works it in. His cock, already huge and thick, plumps up even more until it's rock hard and on the verge of shooting. You get the feeling that he could shoot at any time but that he's holding off to prolong both your pleasure and his own. He eventually abandons the toy and gets back to work on his own tool, getting so into it his body writhes with pleasure and the light breaths become heavy panting. He shoots copious amounts of jizz all over his smooth stomach and chest, making sure to savor a bit as he thinks about the next cock he'll get to suck.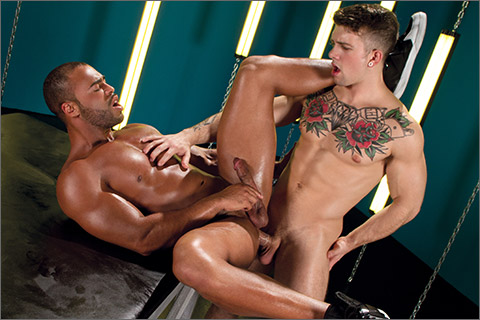 SURGE: Sebastian Kross fucks Micah Brandt
Micah Brandt is ripped with beefed muscle. He's making out with inked and super-defined Sebastian Kross, and the bulges in their Cellblock 13 briefs say they clearly like the taste of each other. Micah alternately sucks Sebastian's lips and nipples, while he strokes both of their rock-hard cocks. When Sebastian's cock is at max hardness, Micah sucks him with deep suction and a hand assist. Micah rolls Sebastian into a ball and drives his tongue into his hot hole. Sebastian unbends and does the same to Micah, who puts his hip flexor muscles into overdrive opening up for Sebastian's tongue. Micah soon begs for Sebastian to fuck his flawless ass. Sebastian's ripped torso rocks and pounds away as he delivers Micah's wish of a hard, deep fuck. The room is filled with the sounds and smells of rough, hard, man-on-man sex as they change positions again and again. Micah cums while riding Sebastian's cock, brushing his fingers through his spooge and sucking it off, then sucking Sebastian to an explosive orgasm.
FALCON STUDIOS
LUCAS ENTERTAINMENT
RANDY BLUE
CLICK HERE TO GO TO HIS FALCON STUDIOS DETAILS