ChaosMen Amateur Gay Porn Guy, Lorenzo
Known Aliases:
Years Active: 2015 – 2016
BRIAN OCKERT / CHAOS MEN INFO:
Start Age: 22
Debuted: February 23, 2015
Height: 5'9″
Weight: 160 lbs
Cock: 7″ Cut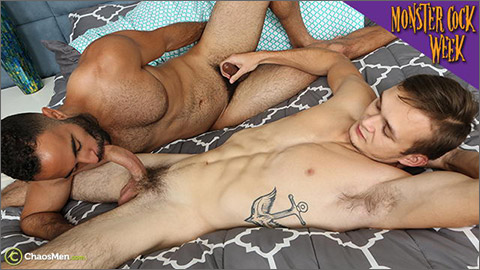 SERVICED: JACKSON & LORENZO
Jackson seemed nervous but eager to mess around with a guy.
   I got the feeling he really wanted to try new things, but was timid about making the first move. He is actually shaking with excitement before we got started.
   Lorenzo calms him down by worshiping his pecs and amazing abs. Jackson's cock is hard and ready to be serviced.
   My favorite part is watching Jackson take a chance to rub on Lorenzo hairy body. He seemed fascinated by it and I think given his naturally hairless body, he was a little envious. Or maybe just turned-on by it.
   He even sucks Lorenzo's cock. Yep, you can tell it is more than likely his first time. But he dives in, trying to please his buddy.
   Lorenzo then has him get on his back so he can get to work on his big curved cock. Jackson strokes Lorenzo's cock while being serviced.
   Lorenzo then rims his hole, and based on Jackson's reaction, I think we might have a Bottom in our future.
   Both Jackson and Lorenzo race to cum first. Just as Jackson is cumming, Lorenzo slides down and laps up his load.
   That gets Lorenzo psyched to bust his own load, adding his DNA to Jackson's spent cock.
   Jackson texted me that night, eager to come back and do EVERYTHING. So I think we opened the floodgates for him!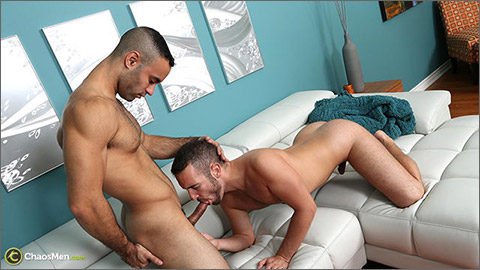 SERVICED: LORENZO & NOAH RILEY
I am so excited to be working with Lorenzo. His solo was awesome, and his energy for this video is real and electric! Of course, it helps a lot that not only is there genuine chemistry between him and Noah, but also that Noah also has got some great energy and skills too.
   From the moment they start kissing you know the sparks are going to fly! Lorenzo has a bossy vibe that Noah responds to with enthusiasm. He has Noah worshiping his cock in no time. But he is also eager to please his boy, and sucks and rims Noah till pre-cum is dripping out of his cock like a faucet. His cock sucking skills are in the elite category!
   There is a moment when Lorenzo was sliding his cock around Noah's hole, and it might feel a little bait and switch to the viewer, but they stuck to the limits for the shoot. I think we have all been in the position where you almost start fucking, but the timing is not right. Both guys really wanted to fuck!
   Lorenzo does manage to slide his finger into his hole while sucking his cock.
   They swap facials in this movie, and Noah's is hot because he was so close to cumming that he only had to slowly fuck Lorenzo's mouth for a few minutes, before pulling out to cum. He shoots out jets of cum that fly past Lorenzo's face, but he corrects for the final couple squirts.
   Lorenzo's aim is a little off too, but in an amazing way. He starts by aiming for Noah's mouth, but the cum shoots out at different angles, hitting him square in the eye! The shame of going home with red eye!
   But not only did he hit his eye, but his forehead, his cheeks, his lips, his mouth! He coats his enrie face like frosting a cake!
   On both cum shots they share their loads, and it is hot watching Lorenzo lick strands off cum from Noah's chin!
   I definitely asked Lorenzo to be part of the team and he is eager to get started. He of course has asked for a re-match with Noah so he can fill his hole up, but I have a few other guys I would love to see him with. But if you liked the chemistry between these two, I will consider a re-match!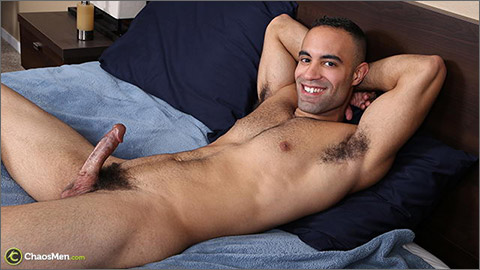 SOLO: LORENZO
Lorenzo is a hot mixed-heritage guy. There is a touch Caucasian, some Puerto Rican and a little Middle-eastern in his genetic cocktail. He has a rockin' body, and I could tell by his initial images he was very hairy, so advised him to let it grow out. The battle against his natural hairiness was lost and it was time to embrace it!
   Clearly he works hard on his body, so he was worried the chest hair would hide it. I dunno, I don?t think you can hide his super fit physique!
   Love his hairy bush and armpits! Sniffffff!
   Lorenzo is a very friendly guy, easy to smile, and we clicked personality-wise.
   He play on Team Gay, but has a few non-stereotypical traits, like an obsessive following of sports, particularly professional basketball. Lots of checking scores and making sure he was able to watch a good game coming up that evening.
   Lorenzo is a versatile Top. You can tell just by the way he works his cock. He will bottom, and mentioned that he had been wanting to get fucked more often after a recent really good experience. But my best guess is he will likely be a more dominant top.
   There is a little OutTake at the end. There were some vibes going on, but he still took me by surprise, and his questions seemed so earnest, so I left it in there. Hope you find it cute too!
   Lorenzo will be back next week to work with Noah and it is super hot. He also has joined Team Chaos, so will be back for more work.
CLICK HERE TO GO TO HIS CHAOSMEN BIO PAGE