ChaosMen Tattooed Latin Amateur Gay Porn Hunk, Ledger
Known Aliases:
Years Active: 2016
BRIAN OCKERT / CHAOS MEN INFO:
Start Age: 26
Debuted: August 8, 2016
Height: 5'8″
Weight: 185 lbs
Cock: 6″ Cut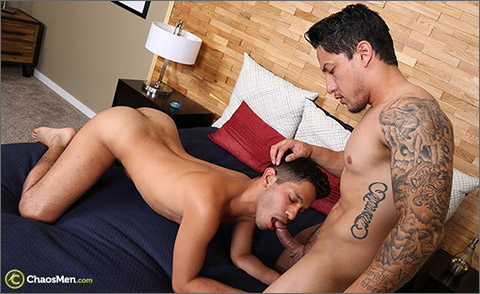 SERVICED: CARMINE & LEDGER
I wanted to pair Ledger with Carmine so we could have a hot Latin suckfest!
   Well, Carmine does all the sucking is this suckfest, but we do get Ledger to stroke Carmine's 9″ uncut cock for a bit. Ledger came sooo close to sucking on it, but alas, it looks like we will have to move through his limits.
   They both have hot steamy energy, and based on Ledger's vibe, you can tell he is going to be a Bossy Top. Although, he sure did enjoy getting is ass rimmed!
   Ledger fucks Carmines face, and then jerks a giant load into Carmine's open mouth.
   I love Ledger's rough trade look, and after doing this video very successfully, I am pretty sure he will jump easily into being a full-on performer.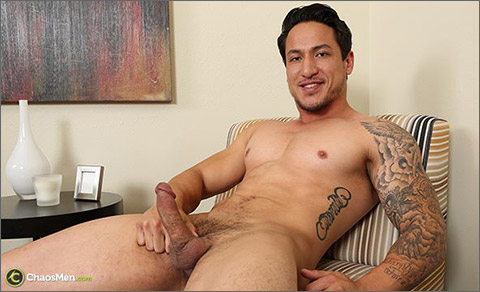 SOLO: LEDGER
Ledger is a hot mix of Spanish and Filipino. He has an amazing body and spends his free time in the gym. He has danced in gay bars and also does personal training.
   Like many of the dancers, he has had a few hook-ups with other guys, but he definitely likes the ladies. But with his past experiences with dudes, he figured he be fine doing guy-on-guy video work. He and his girlfriend have done a scene together, but it didn't pan out. She was fine with him doing gay work, but was a little too jealous if he was working with women.
   He has a super sexy vibe, and an enviable body. I love his pecs!
   I did request him to grow his pubes out, but I got him in pretty quickly after being introduced, so they are very short. He says he is cool with growing them out.
   Ledger's solo is awesome. He was actually pretty solid for the photos, but when I yelled action and all the video cameras were rolling, he had a little moment of stress trying to get hard. But once he focused more on the porn, he was up, and wow! He just oozes sex!
   He plays to the camera great, and you can tell his cock is giving him nothing but pleasure.
   When he unloads, it is a HUGE pile of cum!
   I can't wait to see him in action!
CLICK HERE TO GO TO HIS CHAOSMEN BIO PAGE