Handsome Red Head Ginger TimTales Gay Porn Star, Leander
Years Active: 2015 – 2019
TWITTER @xxxleander
TIM TALES INFO:
The new year starts with a phantastic new man. We had seen him before on his private profile and we knew we had to have him. His hair is like copper, so the expression "redhead" is almost an understatement. His little ass is so tight and well rounded, simply delicious. On top of this comes the open and friendly smile and the nice personality. His name is Leander and we think he could become "the" new redhead in the business. You can watch his debut now here on Timtales.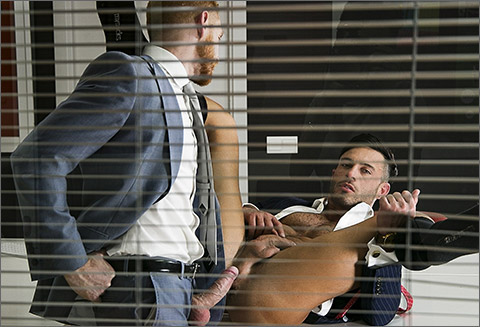 REAL ESTATE 'BROKER' – PART 2
In PART 2 of this series, real estate firm manager Leander is fresh off his call with Alexander who had just filled him in on how his open house was going. Happy with the update, he pulls the scorching hot Andy Star aside for their weekly meeting to see how his prospects have been coming along. Unfortunately, the news isn't exactly what he wanted to hear but when you look like Andy Star, successful open houses are not necessarily required. Andy knows exactly what to do to make up for his poor performance. He unleashes Leanders bulging hard-on from his pants and drops to his knees to suck cock like his job depends on it. He closes the deal by bending over the board room table and showing Leander what his open house looks like. Leander teases and pounds Andy's pulsing hole until he explodes all over his blue pinstripe suit. A satisfying ending to this hot 2 part series.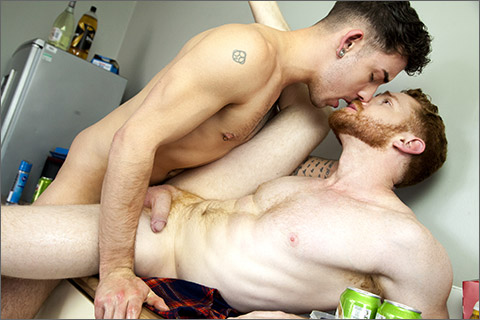 HUNG & HUNGOVER: Jack Hunter & Leander flip-fuck
Two is company, Three's a crowd. That's how horned up boyfriends Jack Taylor and Leander feel about Mickey Taylor. They love him but it's hard to find time to fuck when he's hanging around their flat. So when Mickey jumps in the shower to get ready for a wild night raising hell around Manchester they get their chance. Still hungover from the night before, Leander doesn't want to go out anyway, all he wants is Jack's huge uncut cock up his ass. He bends over and Jack fucks him on the kitchen counter then Leander leans back and Jack hops on his thick dick for a ride. These two hot fuckers put the MAN in Manchester.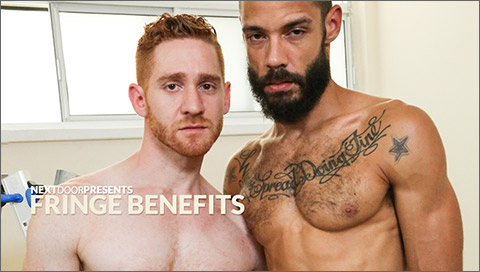 FRINGE BENEFITS
When Leander interviewed for the position with Dylan Henri's home restoration company, he got the feeling there might be more to the job than met the eye. Sure enough, he was right. It turns out Dylan Henri is a sex-hungry deviant who takes advantage of his employees…and Leander likes it!Mr. Henri routinely has showed up on job sites not only to make sure Leander isn't fucking around on his phone, but also to get his big cock sucked. On this occasion, Mr. Henri finds Leander slacking hard. That's call for some serious repercussion, so Mr. Henri has Leander get up on a ladder so his pants may be pulled down enough for Mr. Henri to access his ass. Once in position, Mr. Henri licks Leander's sweet, tight hole. Leander doesn't let on, but he actually enjoys this brand of punishment.Next, Mr. Henri sucks Leander's firm dick. Now THIS does feel good to Leander, very good. Then Leander returns the favor and slurps down his boss's fat cock for a while. From there, the two engage in some passionate, on-the-job kissing and nude, full-body grinding. This leads right into full-on, boss-on-employee ass fucking. That's right, Leander is happy to take Mr. Henri large, erect cock deep. And boy, Mr. Henri is really letting him have it! Maybe Leander will learn his lesson…if he wants to be pounded nice and hard, be sure to slack off!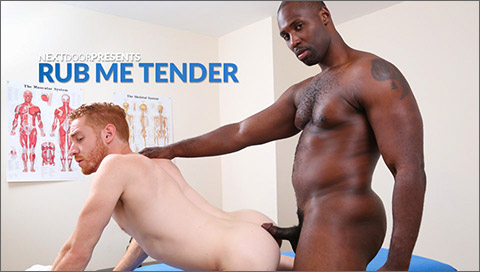 RUB ME TENDER
Leander is a rub-down aficionado. He's been to all the massage parlors in town and he's heard that Nubius's Nook is the best. Now he's stripping down, just after meeting proprietor Nubius, and preparing for what he's heard should be the rub of his life.
   When Nubius enters and begins lathering up his strong hands, Leander feels his cock swelling. As Nubius kneads and manipulates the tight spots, Leander becomes extremely aroused. Soon, Nubius's crotch area is right in Leander's face. Leander doesn't wait for any more signal than this. He's too hungry for firm dick. He pulls down the elastic on Nubius's shorts and lets that huge cock pop right out in his face.
   Leander sucks and Nubius works his fingers around Leander's tight, eager hole. After some good sucking from Leander, Nubius moves around to Leander's back side and has a taste of that wonderful ass.
   This, as Nubius knows, is perfect prep for that sweet hole to accept fat, swollen cock. Nubius takes full advantage and inserts his pulsating dong into his client's inviting butt.
   Join these two as Leander discovers his favorite new massage spot and Nubius enjoys an awesome day at work.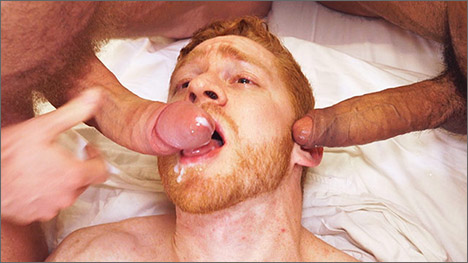 LEANDER WITH JAGUAR & TIM KRUGER
Leander, the reddest redhead of them all is back and this time he gets fucked by two masked men with huge cocks. When we told him he would shoot with Jaguar he mentioned that it had always been a dream of his to get fucked by two men with masks. So Tim got a mask as well and Leanders phantasy got fulfilled Don't we all have that phantasy?
MEN AT PLAY
NAKEDSWORD
NEXT DOOR EBONY
TIM TALES
CLICK HERE TO GO TO HIS MEN AT PLAY DETAILS
VIDEO ON-DEMAND: Leander @ AEBN SMUTJUNKIES THEATER
DVDs & ON-DEMAND: Leander @ TLA VIDEO