Handsome Hung Scottish Gay Porn Star, JP Dubois
Known Aliases: J.P. Dubois / JP
Years Active: 2010 – 2020
2015 PROWLER PORN AWARDS NOMINATIONS
   HOTTEST BRITISH PORN STAR 2014
BLAKE MASON INFO:
Meet the lovely and very handsome JP. This fine looking fella was requested by some of our members via our forum and since they asked so nicely we listened! And so here he is in all his glory, flashing his red hair, pale white skin, hairless hole and big fat uncut dick (all 8 inches of it!) for all to see, enjoy, and most importantly get off on 😉 And man, JP sure did put on a great show for someone so young – this guy has confidence!
   Now JP has always wanted to oil up and get it on with himself on camera so that's exactly what he does – this film is all about him, what's good for him, and what he wants to do… so once we've had a quick chat and asked him to strip off, he's simply left to enjoy himself… and it takes nothing more than a few strokes and his thick cock is soon swelling to full glory!
   When JP reaches to oil himself up it's already pointing skyward – his cock throbs immensely as he continues his jerk off, and his hefty meat continues to get fatter and fatter. He turns around to show off his ass, parting his cheeks to show his hole, before his big cock cries out for the 100% attention it deserves! And with that he's soon writhing about on the sofa shooting his hot white jizz up his tight, tensed stomach.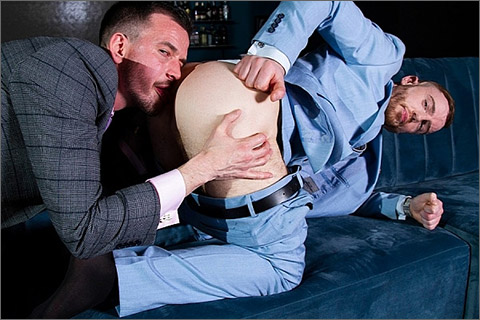 MAFIOSI
Mafiosi Franky Fox has come for the weekly cut (money) which every club owner around the city has to give. Lamentably, JP Dubois tells Franky that he's a bit short for the second week in a row.
   With consequences looming, Franky tells JP to serve him a whiskey on the rocks and to join him in the VIP area of the club to talk some more.
   Franky is stressed too as he'll have to explain the situation to his Bosses. JP may not be able to do anything about last week's shortage, but right now he can help release Franky's stress. A deep-throated blow job, raw ass fucking and facial may just do the trick… this time.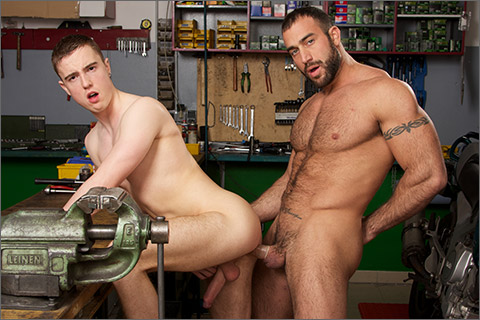 HEISSE KISTEN (LUBE JOB): Spencer Reed fucks JP Dubois
The boss of the motorcycle repair shop likes a hot butt for his hot rod. When a cute biker can't pay, he has to put his mouth and his ass on the line. Spencer takes some motor oil and shoves his thick rod into his hole and fucks him until it's steaming.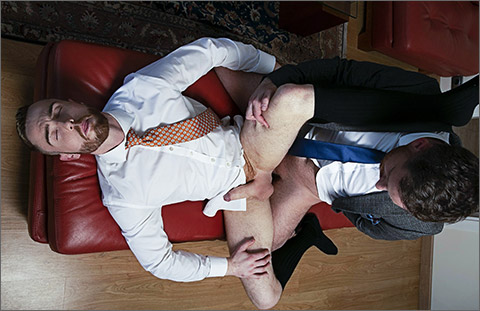 THE TOP FLOOR
This week we suit up gay porn superstar JP Dubois for the first time and give him a proper welcome to MenatPlay. Ginger stud Jonas Jackson has a big surprise in store for his lover JP Dubois. He's purchased them a penthouse apartment in Spain with a gorgeous view of the ocean. JP is so overcome with excitement that he can't keep his hands off Jonas. The scene gets heated faster than a Barcelona summer as these two brits passionately kiss. Jonas begins by grabbing and stroking JP's throbbing cock through his pants. He then drops to his knees and takes every inch of this beautiful uncut meat into his mouth, slobbering and slurping with every thrust. When JP bends Jonas over and begins to ferociously tongue his hairy hole, you know he's prepping him for a pounding he won't soon forget.
You'll definitely want to stick around to see how this cum gushing flip flop fuck ends

JP DUBOIS & CORMAC
Red-Head on Red-Head – everything they say is true, these fiery, sexy studs are more passionate! Sexy – Cormac shows Jp Dubois around a duplex, Jp's impressed but giving nothing away. Only one question when they reach the living area, "is it overlooked" Jp enquires, Its isn't and its a very warm flat Cormac mentions as the gents slide out of their jackets and into each others arms ( mouths, arses…) We've always loved JP's long, pink foreskin – and we've missed it, but he's back on fiery form. Cormac licks up and down the shaft of his bloated dick, nibbling on the foreskin and making sure JP is ready to be well and truly fucked – OH is he ever. JP bends and spreads to take that fat, uncut dick up his hole, but he's never a lazy bottom, he pushes back for every throbbing inch until his hole is gaping and eating for more plundering. Cormac's got all the inches, stamina and spunk to satisfy this sexy Scot ( We re not sure what the people opposite thought of the action – right next to those huge windows, have these guys NO shame? ….nope!)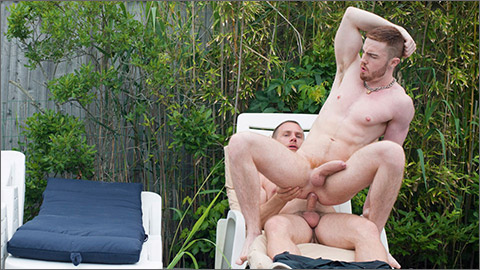 FIRE ISLAND – HOUSE BOY: Hans Berlin fucks J.P. Dubois
In EPISODE 1, we meet the home owner, Hans Berlin, who has put up signs all around Fire Island looking for a houseboy. Among the many boys interested in the job is red-headed British hunk J.P. Dubois. But the interview is more than J.P. bargains for. In fact, it includes the first watersports scene ever at DominicFord.com. Hans has to pee, and J.P. is more than happy to help him out with that. The scene unfolds as J.P. auditions for the role of house boy, doing everything Hans asks of him, which includes getting fucked senseless and take Hans' load to his face. Who else wants to be the house boy on Fire Island? Stay tuned all summer long as this series unfolds.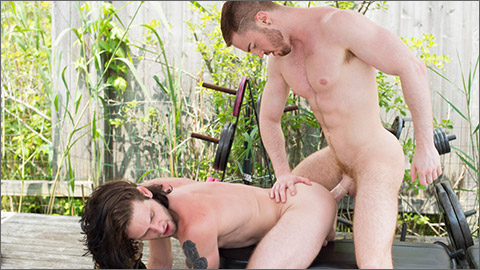 FIRE ISLAND – HOUSE BOY: J.P. Dubois fucks Duncan Black
In episode 4 of FIRE ISLAND: HOUSE BOY, Duncan Black sees the "house boy wanted" ad in the Pines and goest to the house to inquire. But the master of the house is not at home, just J.P. Dubois, who is using the house's private gym. He tells Duncan the position is already filled, but Duncan won't take no for an answer. J.P. fucks him in the gym before telling him where he can find the master of the house.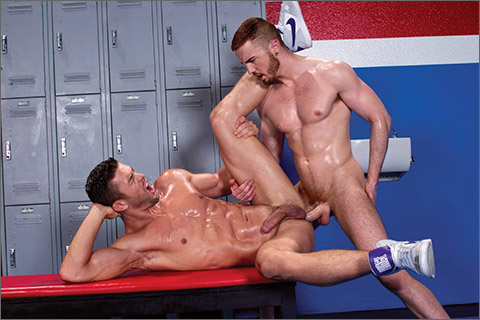 RIPPED: JP Dubois & Ryan Rose flip-fuck
Exceptional stud JP Dubois' sexy Scots accent can't be heard, because when he's not grunting and groaning, his mouth is filled with some part of Ryan Rose's 'Ripped' anatomy. JP has a buzzed head, full beard and mustache, and sparse chest hair. Ryan's smooth torso is as tan and ripped as ever, and it looks hard enough for bullets to ricochet off it. JP's is beefed up and he's got a rockin' chest too. The action takes place in a locker room, where the smell of sweat and jock straps is a powerful aphrodisiac. After lots of mutual muscle worship, JP sucks Ryan in deep gulps with lots of spit. Ryan slides a finger in and out of JP's tight ass, causing the blue mesh of JP's jock strap to swell. Ryan yanks out JP's cock, plays with the foreskin, and sucks it, running his tongue around the balls, across the taint and up to JP's hole. He stretches the hole with two fingers from each hand, reams it with his tongue, then fucks it. Then it's Ryan's turn to get his hole stretched when JP wants to top. Ryan's cum flies in all directions, and JP scoops it up and feeds it to both of them, adding his own load is a straight shot to Ryan's mouth.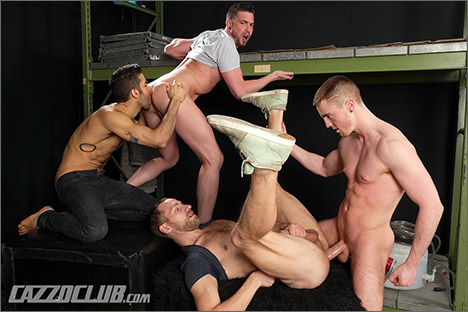 MISHA DANTE, JP DUBOIS, SAM BARCLAY & TONY MILANO
It's been a long time since Misha Dante has worked for Cazzo. He was here in Berlin and visited the old studios. In the place of his past sexual exploits, he gives in to his fantasies and masturbates his cock. Out of nowhere suddenly appears the blonde JP Dubois and his friend Sam Barclay licking Dante's cock until the first juice runs. Dante is now on his knees and sucks the two young cocks until drool runs from the corners of his mouth. Unnoticed Italian stud Tony arrives watching the horny scene.
   Under the greedy eye of Tony, JP licks plump ass until his friend is fuck-willing … Tony wants to not only watch but have Dante's ass on his face. The pussy must be licked soft! Sam now has enough of the foreplay and will guide JP circumcised Dick into his steaming hole. Dante also brings his hairy ass in the game. JP pulls his cock out of his friend's ass and takes the ass cheeks of Dante and pounding him deep in the wide-open ass. After an animalistic fuck, the trio squirts on Dante until his entire upper body is covered with sperm. And then they disappear and Dante is all alone in the Studio. Was it all just a dream?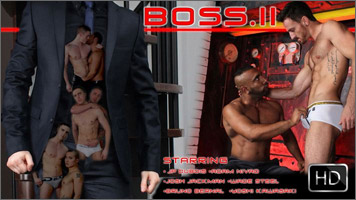 BOSS.II
DE-BRIEFING: JP Dubois fucks Bruno Bernal
Bruno has been called into JP's grand looking office to discus a special assignment. It's a hit and it's big money, he hands him a gun and 10 grand, telling him "he'll get the other half when the job is done". It seems to be a deal, Bruno is on it. Though Bruno has other concerns, not about the job in hand. He's heard rumours that some of the other guys have had their "private initiation' with JP when they join his organisation… and he feels as though he's missed out.
   He's flat out asking him for sex and JP doesn't object in the slightest. They stand up and meet in a hot kiss over the old desk, the sunset streaming in through the window as they do so. Stripping and exploring each other for the first time, Bruno is a hot little package, dark skin, lightly hairy in all the right places and sexy tattoos to match. The hot contrast of JP's milky alabaster skin, Bruno's hot tanned hide and the richness of their surroundings, complete with sunset and fierce chemistry is enough to set all that antique mahogany on fire! The suits come of and the cocks come out, Bruno taking JP's dick in is mouth first. He sucks it for all he's worth; he's been waiting a long time for this moment, Bruno's wet tongue rolling around JP's bulging cock head. JP wants to taste his old comrade, getting him up on top of the desk for some returned cock sucking and then bending him over to eat out his smooth dark hole. Climbing onto the desk JP fills Bruno's hot arse to the max with his huge pink cock, slamming his hole and getting right over him to pound him through the furniture into the floor! Letting Bruno do some of the work he takes a seat in his fancy office chair and gets him to reverse cowboy on his cock, giving his muscular thighs a hard work out as well as his now-stretched fuck hole. Flipping him back onto the big desk this office is practically a fucking jungle gym! Slamming into him missionary style so he can watch him come and cover him in his own. Welcome to the club!
CLICK HERE TO GO TO HIS MEN AT PLAY DETAILS
CLICK HERE TO GO TO HIS UK HOT JOCKS DETAILS
VIDEO ON-DEMAND: JP Dubois @ AEBN SMUTJUNKIES THEATER
NOW STREAMING: JP Dubois @ NAKEDSWORD