Fetish American Gay Porn Star Str8 Boy Bottom, Lance Hart
Known Aliases: Brother Hart, Lance @ Sean Cody, Lance Heart
Years Active: 2009 – 2017
TWITTER @lancehartfetish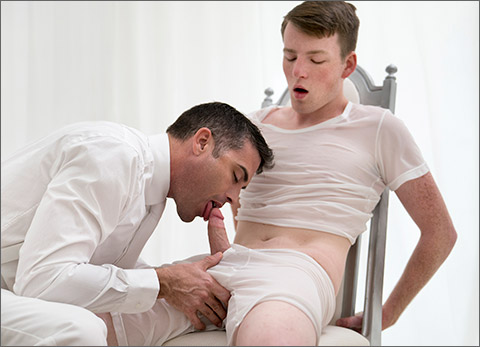 THE INITIATION OF ELDER SORENSEN:
CHAPTER 1: THE INTERVIEW
Young love can be a confusing thing. Hormones are racing, your body's changing, and there's pressure from the world around you to pair off.
   Elder Campbell was caught up more than most in the dizzying messages coming from within and without. Before he even was developing the chemical feelings of attraction, girls were chasing him around hoping to date him.
   And it's not hard to see why. Campbell is a handsome, sweethearted, sensitive boy. His biggest flaw has always been his own sense of worry. Everything he did and does is carefully considered and meticulously planned. And when he has doubts, it can sometimes be hard for him to get out of his own head and just act.
   Until one day when he was 16 and he was spending more and more time with one particular girlfriend. He kind and polite and everything a good boy should be.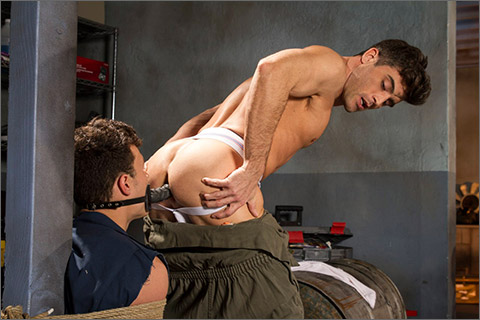 BONDAGE GARAGE: Lance Hart & Micky Mackenzie
Sitting on a steel barrel, mechanic's apprentice Micky Mackenzie jerks his cock while gazing at a gay porn mag. Behind him, lead mechanic Lance Hart is unimpressed. If Micky wants to keep his job, he'll have to give Lance what he wants. Micky stands up straight and Lance binds him to a post with thick, rough hemp rope. Lance attaches Micky's hands to his cock and starts intensely tickling the young apprentice. Lance even strips off Micky's socks and attacks his feet. No matter how much Micky struggles, he can't get away from Lance's tickling fingers. After completing his relentless ticklation, Lance straps a gag over Micky's face with a big, black dildo protruding from it. He pushes Micky down on the pole so that he is crouching on the floor. Shedding his work jumpsuit, Lance backs his ass up into Micky's face and fucks himself on the dildo strapped to Micky's mouth. When Lance has satisfied his ass, he unties Micky, lays him on top of a barrel, and shoves his cock inside the sub's tight hole. Micky squeezes his eyes shut and contorts his face as Lance has his way with Micky's ass.

LANCE HART TUSSLES WITH ELI HUNTER
Lance Hart's got a perfect body, and he's ready to use every inch of it to dominate Eli Hunter. Eli, coming back from a defeat, feels confident that he'll reclaim his glory and fuck Lance into the mat. The second round maintains the intensity, as Lance uses every opportunity to shove his dick into Eli's mouth while Eli commands the ring with punishing holds. Both contenders fight admirably, but there can only be one winner. He emerges with a clear margin and hard cock, ready to take his prize. The winner makes the loser worship his cock and balls before manhandling him around the mat for a victory lap. The loser gets a good taste of winner feet and armpit after being thrown to the ground. The winner can't wait to take the loser's ass to town and slides right in for a rough fucking. With the winner's hands fish-hooking his mouth, the loser moans and pounds his fist into the mat. The winner pulls out and covers the loser's ass in cum. After the loser cleans the winner's dick, he gets taken into an arm bar and his cock milked. The winner uses his feet to smear the loser's cum all over his face.
MORMONBOYZ
RAGING STALLION
FISTING CENTRAL / FETISH FORCE
KINK MEN
ICONMALE
PRIDE STUDIOS
SEAN CODY