Scrappy Lookin Falcon Studios American Gay Porn Star, Kyle McMillan
Known Aliases / aka:
Years Active: 2017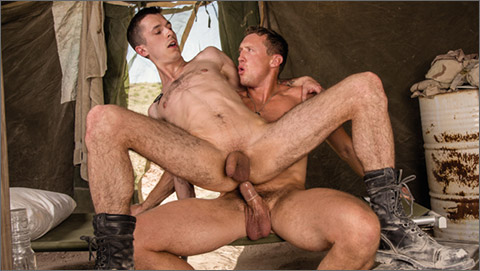 CODE OF SILENCE: Pierce Paris fucks Kyle McMillan
Kyle McMillan has a camera and he's sneaking up on Pierce Paris in his tent on the military base to see what Pierce is up to. Kyle is in for a surprise when he finds his buddy fully immersed deep inside a FleshJack. Pierce pleads for privacy but Kyle insists that there's no such thing in the military. Kyle offers up some help and when Pierce has his eyes closed, he slips the FleshJack off of Pierce's stiff dick and starts using his hands and mouth. Pierce has no complaints and rolls with the new development. When Kyle sees that Pierce isn't going to put up a fight, he gets more into the work of pleasing the hung stud. Kyle's mouth and fist feel amazing enveloping the thick dick and Pierce takes off his shirt as the action gets more heated. Kyle comes up for some air and the two studs make out as Kyle gets out of his uniform. Pierce is so aroused that he's ready for anything. When he sees Kyle's uncut dick, he immediately opens wide and goes down to service the fit jock. Once he has his fill, he bends Kyle over and gets busy eating him out. His tongue goes deep and he loosens Kyle up for insertion. Pierce enters his toned friend and pumps away, even commenting on how tight Kyle feels. Pierce has Kyle lie back with his legs in the air for maximum penetration. The big dick goes as deep as possible while Kyle strokes his own rod to get himself close. Pierce says that he wants to make Kyle cum, and that's enough for Kyle to let loose and cover his own body with pleasure. Once Pierce has done his job, he's ready to finish up. His big dick explodes on Kyle's face as sweat runs down Pierce's muscled body. Kyle can't get enough of Piece's plump dick and continues to suck and taste the stud's cum in the extreme desert heat.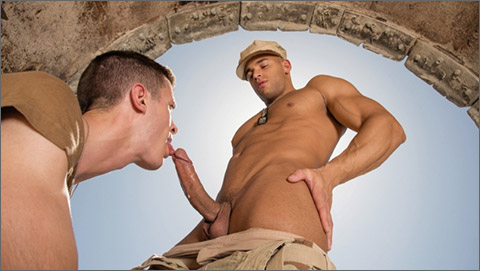 CODE OF SILENCE: Sean Zevran & Kyle McMillan (all oral)
Sean Zevran and Kyle McMillan are on duty at a deserted post in the desert. It's extremely isolated and Sean admits that he brought Kyle out to the middle of nowhere to help him relax. Sean commands Kyle to put down his weapon and open his mouth. Sean is already hard as rock and he slips his big, curved, uncut Marine dick inside his subordinate's warm, wet mouth. Sean gets completely naked as Kyle continues to service the hunky stud in the hot afternoon sun. Beads of sweat form on Sean's shaved head as he focuses all his attention on the amazing blowjob Kyle is providing. Sean needs a bit more relaxation and spreads out on his back. Kyle is into the experience and peels off his shirt to situate himself between his commander's legs. Kyle doesn't want to miss an inch of Sean's nice stiff dick and uses his mouth and tongue to service Kyle's big swollen balls and shaft. He licks and sucks until Sean moans out and unleashes his load. Kyle catches every last drop inside his hungry mouth and spits it back out onto Sean's shuddering body and freshly serviced dick.
CLICK HERE TO GO TO HIS FALCON STUDIOS DETAILS