American CockyBoys Gay Porn Star, Tommy Regan
Known Aliases: ELDER ISAACS
Years Active: 2015 – 2017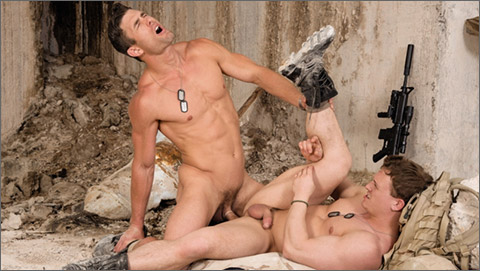 CODE OF SILENCE: Ryan Rose fucks Tommy Regan plus Brandon Evans & Fane Roberts
Handsome soldier Fane Roberts is assigned to his new post with fellow stud grunt Brandon Evans. After spending so much intimate time together, their attraction and feelings are undeniable. Unable to resist any longer, they secretly swap head in the barracks. Fane moans loudly as he shoots a creamy load down Brandon's virgin throat. Sergeant Zevran passes by nearly catching them in the act. Meanwhile, out in the hot desert sun, Ryan Rose and Tommy Regan are on a military patrol. There's no one around for as far as the eye can see so the Marines take off their protective gear to get more comfortable. Ryan takes it a step further and unbuckles his belt to pull his dick out of his fatigues. Tommy tries to ignore Ryan jacking off behind him and when Ryan asks Tommy to show his ass, Tommy refuses. Ryan is the commanding officer and orders Tommy to remove his pants. Tommy obeys the order and bends over to let his superior officer rim his cute, fit bubble butt. Tommy admits that the rim job feels good, and as it continues, it gets him in the mood for more action. Tommy turns around to offer up his growing erection. Ryan can't wait to get Tommy in his mouth and treats his subordinate to a nice long blowjob as he leans against a shelled-out cement wall. All the sucking gets Tommy in the mood to take a taste of Ryan's hard dick. He services the ripped stud on his knees until Ryan instructs Tommy to turn around. Ryan slips his big stiff rod inside Tommy's tight ass and has his way with him as the muscled up military jock bends over to take it deeper inside his body. Ryan keeps a steady pace and uses Tommy's perfectly fit form to get himself off. He pulls out and covers the military stud's groin and abs with a river of white and creamy satisfaction.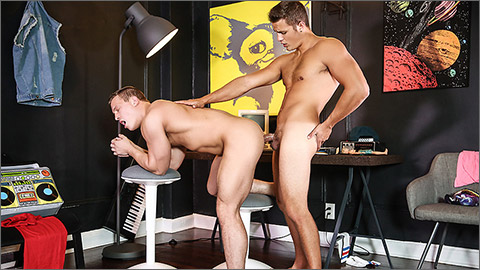 WEIRD SCIENCE A GAY XXX PARODY: Charlie Pattinson, Tommy Regan
Luke Adams and Tommy Regan are determined to score with a hot guy. The only problem is these two dweebs have no game. Good thing the nerds have enough brains to create their perfect man for practice, in the form of Charlie Pattinson. It's rock, paper, scissors to see who gets him first… Tommy wins this round.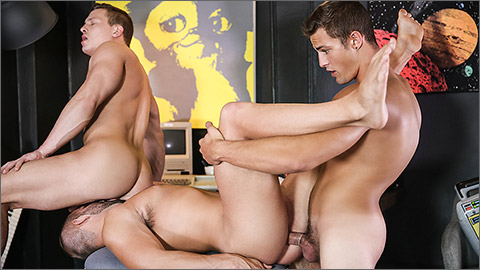 WEIRD SCIENCE A GAY XXX PARODY: Charlie Pattinson, Luke Adams, Tommy Regan
The big dance is tonight but Luke is buggin' because his parents have grounded him. Charlie thinks he can smooth talk him out of this—but it doesn't go quite as planned. Charlie has no choice but to freeze Luke's parents, thus turning the boys on to one hot threesome.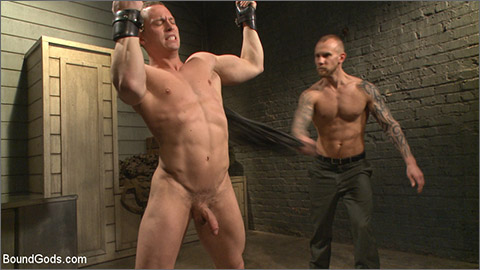 ENHANCED INTERROGATION: DETAINED STUD FACES A HORNY, SADISTIC AGENT
It's dark, and Tommy Regan can't move. Heavy straps keep him bolted to a chair in some God-knows-where place. Occupational hazard for a spy. Suddenly, bright lights wash into his eyes as the hood over his head rips off. As he regains his bearings, he realizes that some intelligence officer, Damien Michaels, has him as prisoner. Damien spares no pleasantries and gets straight to the interrogation, punching Tommy's bulging pecs and twisting his nipples raw. The bad cop routine isn't getting Damien what he wants, so he flips the approach and edges Tommy's cock to get the intel. Now that Damien got what he wants, he keeps Tommy around for fun, suspending his arms above his head and flogging his hard body raw, only interrupting the torment to make Tommy gag on his dick. Damien takes Tommy deeper into the black site, chaining him from the ceiling in a sleep sack and fitting his dick with electrodes. Tommy reels under the pain from the electricity, submitting fully to his captor. Damien keeps Tommy slung from the ceiling as he fucks him relentlessly. Damien milks a load from his captive before covering his ass in cum. Tommy sways in the air, defeated and broken as the cum drips down from his body.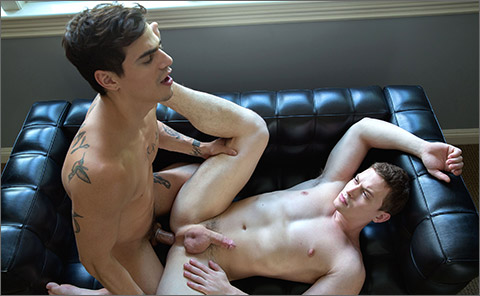 LEVI KARTER & TOMMY REGAN FLIP-FUCK
Tommy Regan is our newest CockyBoy, and he was naturally drawn to Levi Karter for his first scene. He was just really comfortable around Levi, and that's a feeling that's pretty important when you're just starting out in porn. Tommy's a very athletic guy — he's a former soccer player but had to put a hold on sports after a leg injury. Still maintaining a perfect body with rock hard muscles, Tommy's decision to have sex with some CockyBoys seems like a pretty hot thing to do on hiatus!
   Tommy loves getting fucked, he loves the intensity, and he loves the way it intensifies his orgasms. That said, he's still sexually versatile, and he and Levi made an extremely good pair for a hot flip-fuck. Levi was first to pull out Tommy's hard cut cock from his briefs which stood straight up, just begging for a blowjob. Levi went down on him immediately, eager to show him the sheer sexual intensity he was in for. Levi then pulled out his cock and Tommy gave him the same treatment after they jerked each other off for a bit.
   Shortly after, Tommy got on his hands and knees and gasped as Levi began rimming him, prepping him for his first CockyBoys fuck. Levi broke him in gently at first, but the guys soon developed a solid rhythm. Levi then wanted to show Tommy his expert bottoming skills, and Tommy's cock slid right into Levi's eager hole as Levi road him. That led to Tommy taking on more control, pounding Levi in the same doggy-style position as before. Tommy made for one extremely rough top! But Levi wanted to be the one to officially break him in, and so they switched to missionary for Levi to drill Tommy to orgasm. Tommy had no complaints, quickly spewing his load with Levi firmly inside him. Levi was just as turned on and breathless as Tommy — he shot his load seconds later all over Tommy's torso, officially knighting him a real CockyBoy!