British Gay Porn Star, Kyle Fortune
Known Aliases:
Years Active: 2017
UK HOT JOCKS INFO:
Location: Edinburgh, Scotland
Age: 21
Height: 6ft 0ins
Weight: 50kg
Hair: Black, Medium
Eyes: Blue
Cock: 7″ cut
Role: Versatile/Bottom
Orientation: Gay
Sweet and shy Kyle traveled down to us from Edinburgh to do his first ever porn shoots! He was excited and very nervous but the UKHotJocks boys soon put him at ease and coaxed him enough to go wild on camera! Piercing blue eyes framed by angle sharp cheekbones, sporting a goatee and jet black hair, he's a very pretty and striking guy! As for the rest of him, we first have to draw attention to THAT peachy lil bubble butt! It's a good thing he's more inclined to bottom as it'd be a crying shame not to hit that! A sturdy and upwards pointing 7.5" dick points at a tanned and toned body with a smattering of sexy tattoos, especially the one on his shoulder.Another Scottish Jock on the site, welcome Kyle!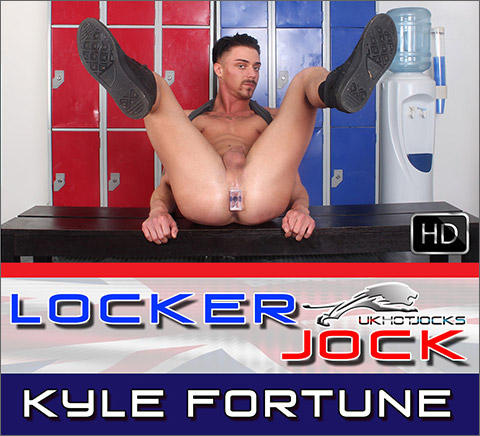 LOCKER JOCK: KYLE FORTUNE
Kyle was nervous about doing his first shoot but after we showed him the toys and got him in the locker room he seemed happy enough! We have a chat about his life and what life is like in sunny Scotland, he's a hard working hairdresser so took the time out to especially to come down to Manchester and make some porn, yeah! We gave him a choice of plugs to play with, some pretty big ones at that. Pulling his vest over his head to frame his shoulders, he runs his hands over his deeply tanned torso and into his little yellow shorts. A hardening cock print appears in the soft jersey fabric, he's not wearing underwear. The shorts come down and the dick springs up, solid, cut and in need of a trim grip. He beats off slowly, loads of eye contact with the camera. Reaching into a nearby locker he pulls out a cone shaped translucent butt plug which is deceptively big as I think he discovers on trying to get it in for the first time! The widest point is bigger than you expect! Lots of groans and it's finally in, he wanks his cock at the same time with relief. tagging on it he loosens his hole, getting himself to the stage where he can pull it fully out and push it back in again, giving his arse a hot gape, he seriously works his hole! Laying back on the bench with the toy still in, he jerks harder and faster, building up an inevitable rhythm to a big load cum shot!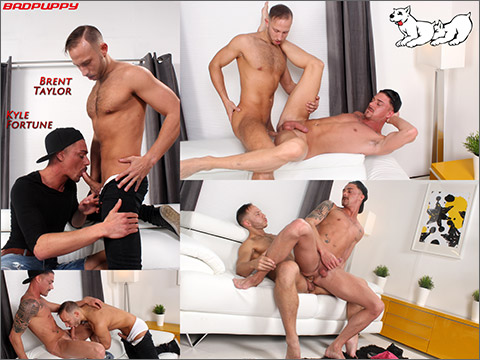 BRENT TAYLOR FUCKS KYLE FORTUNE
We find out in the interview that Brent Taylor has never topped, and Kyle Fortune has never bottomed, but for this scene, they are going to switch things up. Brent gets things started by standing up; pulling down his jeans demonstrating that just the conversation of the interview was enough to get his cock standing straight up. I'm guessing he can't wait to plant his dick in Kyle's hole. Brent pulls off his shirt, stands up on the sofa and Kyle woofs down Brent's cock like a hungry dog. Kyle quickly rips off his clothes revealing his slim, tight body decorated with some really interesting tattoos. Brent moves in quickly, swallowing ever bit of Kyle's cock; gagging on it quite a few times as he keeps trying to get it as far down his throat as possible. Brent spins Kyle around on the sofa, bends him over and shoves his cock straight into Kyle's ass. Kyle gets a good pounding; but, wanting to switch things up, he has Brent sit down on the sofa and Kyle goes about riding Brent's cock while Brent is pounding him from below. Kyle both loves the pounding and from the looks of the precum dripping from his cock, he's getting really close to cumming. Kyle starts squirting cum and it just keeps cumming and cumming; all over his hot, tight stomach and chest. The jizz splattered on Kyles torso was all it took to send Brent over the edge. No sooner had he pulled out of Kyle; he starts squirting hot, thick loads of cum all over Kyle's cock, stomach and chest. When all is said and done, Kyle is coated in cum.
CLICK HERE TO GO TO HIS UK HOT JOCKS DETAILS