Men At Play European Gay Porn Hunk, Klein Kerr
Years Active: 2015 – 2018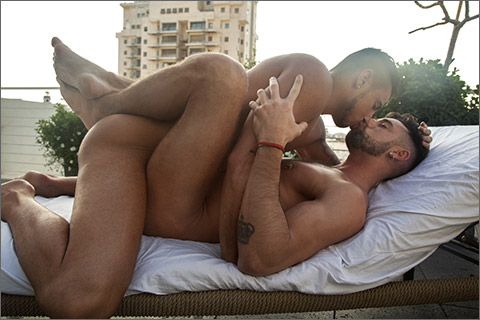 KISS AND TEL AVIV: Massimo Piano & Klein Kerr flip-fuck
"Rooftop Romance". International boyfriends Massimo Piano and Klein Kerr show Tel Aviv what love looks like as they playfully frolic from the city streets up to the semi-private patio of their hotel room. An impromptu dance lesson gets both men so turned on they strip down and take turns sucking dick and eating ass. Klein is the first lover to get his hole filled, bouncing up and down on Massimo's giant cock. Before either of them get off, Klein turns the tables and shoves his dick in Massimo's tight hole. Klein cums first and eats if off Massimo's washboard abs then bends over and gets fucked again until Massimo pulls out and shoots all over his big raw butthole.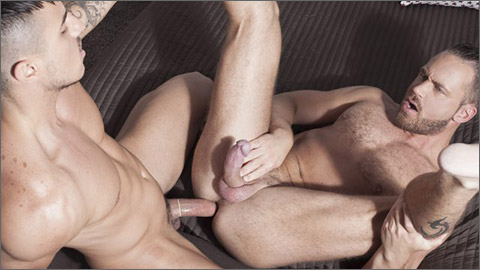 FLIP-FUCKERMATES – KLEIN KERR & LOGAN MOORE
This week we bring you two of our horniest mates: the handsome Spanish lad Klein Kerr and the sexy Dutch stud Logan Moore are back on www.fuckermate.com and meet to take turn fucking each other just for the pleasure of your eyes. The two mates enjoy every second and don't waste any moment. First they suck each other's succulent cocks, then they rim their hungry assholes to prepare them for a passionate flip-fuck. Both dicks are rock hard and they won't stop fucking until they rip off two thick loads of cum!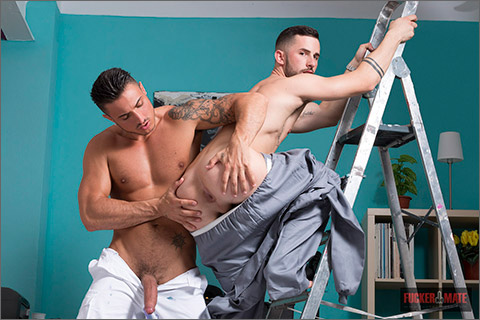 LIGHT ME UP – KLEIN KERR & SUNNY COLUCCI
When a pair of colleagues like the gorgeous Sunny Colucci and the handsome Klein Kerr goes to work together, it is very likely that wherever they are their job will end with a great fuck. It's just what happened today that the two mates have been sent by their boss to an office building here in Barcelona to fix a couple of burned out lights. Klein climbs on the stair to reach the ceiling lights and Sunny helps him with the tools. From below the basque mate Sunny can only appreciate the beauty of his buddy and when he congrats Klein for his perfect muscled body the sparks between them lights up. They start to suck each other's big cocks leaving their work clothes on, but soon they get completely naked to fuse their sexy toned bodies in an unforgettable flip-flop fuck. This week we made meet two of our hottest and most beautiful mates and we know you don't wanna miss it!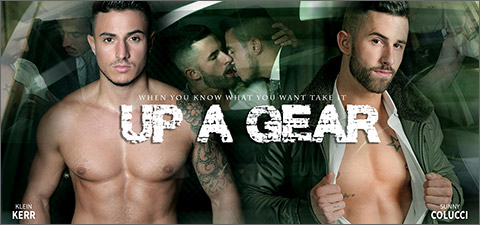 UP A GEAR
When you know what you want you got to move up through the gears quick! Klein Kerr is ready to go before he's even put the keys in the ignition, when he finds himself seated next to the hot garage manager Sunny Colucci. Picking up his car after a routine maintenance at the local garage, flash suited exec Klein insists that young Sunny takes the passenger seat to check out the performance.
   But its Sunny's performance he wants to experience and instead of reaching for the gears he grabs a hold of Sunny's thick long stick in his mouth. As you'll know we love seeing a slick suited gent getting down and dirty in a blue collar workplace. So get ready for the ride as Klein takes things up a gear and gives Sunny an exhilarating test drive without even starting the car.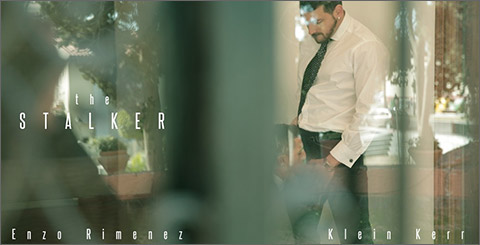 THE STALKER
With his striking masculine looks, and powerful physique Enzo Rimenez has become one of our most popular men on MENATPLAY, but with that popularity also comes unwanted attention, and unbeknownst to him someone is watching him very closely. But today Enzo gets an unexpected visit, and intrigued by the handsome stranger, our msytery "stalker' sneaks in for a closer view and hits [Record].
   What results is this secret and incredibly sexy footage, capturing the French hunk in a no-limits fuck session with Klein Kerr where he strips Klein from the waist down, and gives his ass the pounding of a lifetime. Holding his legs apart and grabbing him by the tie, to help himself ram his thick meat as deep into Klein as possible, making him shoot his tasty load all over himself.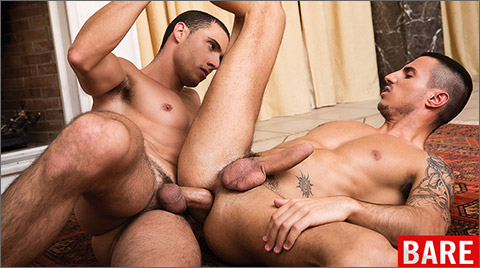 BAREBACKING ABROAD: Javi Velaro Fucks Klein Kerr's Furry Butt
A fireplace is enough to get anyone's juices pumping. Check out Javi Velaro, who is enjoying Klein Kerr; Klein is laying back while Javi rubs and massages him before moving on to Klein's ample uncut package. And, a personal touch that's a favorite of mine, Klein is wearing black briefs — even while Javi is sucking on his cock (see some of it for yourself at 03:14; this is some awesome oral action if you like the sensual side of fellatio). Javi Velaro is one of those porn models that does well in versatile sex scenes, and with a guy like Klein ready to meet his needs, Javi very much wants some of Klein's furry butt before turning around and bending over himself.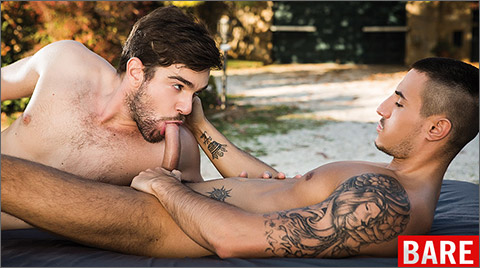 CUM-PUMPING PAPIS: Zander Craze Takes Klein Kerr Balls Deep
During this production in Greece, Zander Craze certainly spent his time on set well. He first got a chance to show Viktor Rom his stuff, and his efforts as a bottom paid off: Viktor was left satisfied and smiling after pumping out a load with Zander. Now he's paired up with the broodingly handsome Klein Kerr — and when Klein fucks he takes control of the situation. Zander Craze isn't a man to say "no" to the raw cock of a handsome top, and here you'll see him swallow and ride Klein in an incredibly hot bareback encounter.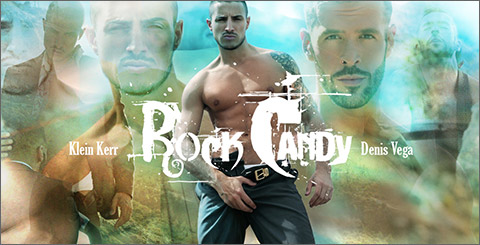 ROCK CANDY
We've only gone and done it again! Adding to our army of boner-enducing men, Menatplay bring you yet another brand new face – and what a face it is! 25 year old Klein Kerr has all the makings of a high fashion model, so his decision to step into one of our sharp tailored suits for his debut scene seemed only natural. And we couldn't wait to get our hands on him (metaphorically of course) and here is the result – ROCK CANDY, co-starring none other the the muscle god that is Denis Vega. Except this time round Denis pulls no punches and breaks the new recruit in, the hard way, tying him up and giving him a bit of the Vegas rough treatment. But its evident that Klein can play rough too and they engage in a man on man power-struggle, wrestling all over the dirty rugged terrain and fighting for top position. Watch Klein as he takes the upper hand and gives Denis a good hard ass pounding and proves without a doubt that he has what it takes to be an official Menatplay Man.
An explosive debut for Klein, almost as explosive as his delicious cumshot! But fear not you'll see much more of our new recruit very soon, and remember you saw him here first!
NAKEDSWORD
FUCKERMATE
LUCAS ENTERTAINMENT
MEN AT PLAY