Men At Play European Gay Porn Hunk, Klein Kerr
Years Active: 2015 – 2016
TWITTER @kleinkerr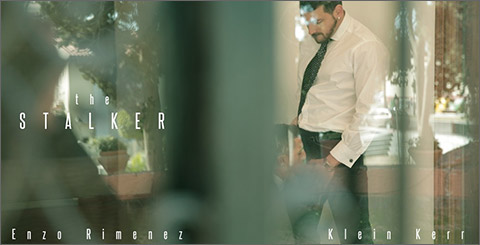 THE STALKER
With his striking masculine looks, and powerful physique Enzo Rimenez has become one of our most popular men on MENATPLAY, but with that popularity also comes unwanted attention, and unbeknownst to him someone is watching him very closely. But today Enzo gets an unexpected visit, and intrigued by the handsome stranger, our msytery "stalker' sneaks in for a closer view and hits [Record].
   What results is this secret and incredibly sexy footage, capturing the French hunk in a no-limits fuck session with Klein Kerr where he strips Klein from the waist down, and gives his ass the pounding of a lifetime. Holding his legs apart and grabbing him by the tie, to help himself ram his thick meat as deep into Klein as possible, making him shoot his tasty load all over himself.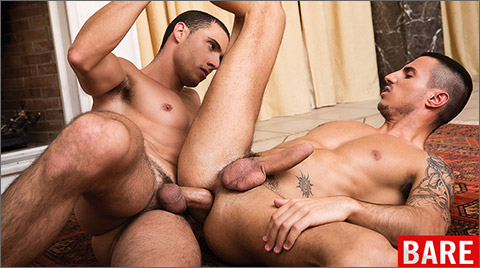 BAREBACKING ABROAD: Javi Velaro Fucks Klein Kerr's Furry Butt
A fireplace is enough to get anyone's juices pumping. Check out Javi Velaro, who is enjoying Klein Kerr; Klein is laying back while Javi rubs and massages him before moving on to Klein's ample uncut package. And, a personal touch that's a favorite of mine, Klein is wearing black briefs — even while Javi is sucking on his cock (see some of it for yourself at 03:14; this is some awesome oral action if you like the sensual side of fellatio). Javi Velaro is one of those porn models that does well in versatile sex scenes, and with a guy like Klein ready to meet his needs, Javi very much wants some of Klein's furry butt before turning around and bending over himself.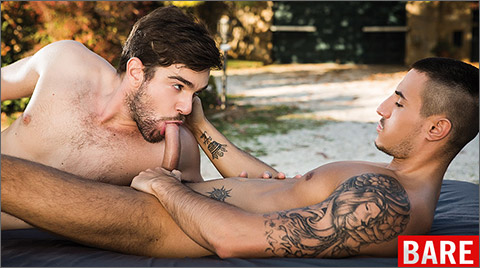 CUM-PUMPING PAPIS: Zander Craze Takes Klein Kerr Balls Deep
During this production in Greece, Zander Craze certainly spent his time on set well. He first got a chance to show Viktor Rom his stuff, and his efforts as a bottom paid off: Viktor was left satisfied and smiling after pumping out a load with Zander. Now he's paired up with the broodingly handsome Klein Kerr — and when Klein fucks he takes control of the situation. Zander Craze isn't a man to say "no" to the raw cock of a handsome top, and here you'll see him swallow and ride Klein in an incredibly hot bareback encounter.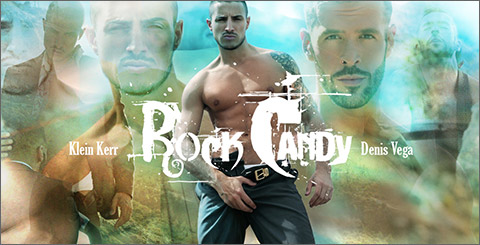 ROCK CANDY
We've only gone and done it again! Adding to our army of boner-enducing men, Menatplay bring you yet another brand new face – and what a face it is! 25 year old Klein Kerr has all the makings of a high fashion model, so his decision to step into one of our sharp tailored suits for his debut scene seemed only natural. And we couldn't wait to get our hands on him (metaphorically of course) and here is the result – ROCK CANDY, co-starring none other the the muscle god that is Denis Vega. Except this time round Denis pulls no punches and breaks the new recruit in, the hard way, tying him up and giving him a bit of the Vegas rough treatment. But its evident that Klein can play rough too and they engage in a man on man power-struggle, wrestling all over the dirty rugged terrain and fighting for top position. Watch Klein as he takes the upper hand and gives Denis a good hard ass pounding and proves without a doubt that he has what it takes to be an official Menatplay Man.
An explosive debut for Klein, almost as explosive as his delicious cumshot! But fear not you'll see much more of our new recruit very soon, and remember you saw him here first!
LUCAS ENTERTAINMENT
MEN AT PLAY