Foxy Randy Blue Gay Porn Star, Killian James
Years Active: 2014 – 2016
TWITTER @killianjamesnyc
RENTBOY INFO:
Nationality: U.S.A.
Height: 5′ 7″ (170cm)
Weight: 173lbs (79kg)
Build: Muscular/Buff
Hair Color: Brown
Eye Color: Brown
Body Hair: Smooth
Cock Size: Large
Foreskin: Cut
RANDY BLUE INFO:
Killian James has one of those gregarious personalities that just makes you feel like you have known him for years after your first conversation. He knows how to make you feel at ease. This man hails from New York and is definitely a fan of the dick. This gay boy knows how to please a man and the things he can do with his ass has literally won awards. No really. The only problem he had with the solo is that he wanted another man there to jam a dick inside of him. He told me he loves to cum with a cock in his ass. So I handed him a dildo and said that this is the next best thing. He winked at me and told me he was ready to have some hardcore fun. He stripped down outside and showed off his beefy smooth body in a speedo. Before long I could tell all the rubbing he was doing to his nipples got him hard. He took his dick out and began to beat off. But he wanted more. So we headed inside. He stared at himself in the mirror as he fingered his hole. Then he moved to the bed and began to fuck himself with a dildo. He rammed it inside his tight hole harder and harder until finally gallons of cum came jizzing out. This boy is a keeper and I think he is going to win many more awards to come.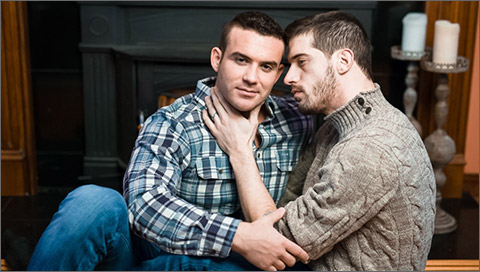 FATHERS & SONS 4: Ty Roderick fucks Killian James
Nick Capra didn't think he could find love again, especially after coming out as a gay man so late in life. That was, until he met Damon Andros. After only a few months into their relationship, the couple have decided to get married. But before they can move forward, they need to share the big news with their sons.
   The news about their dads' engagement is unexpectedly dropped over dinner, but the boys are nevertheless thrilled for them! Later that night, Nick is lying in bed, thinking. He tells Damon how surprised he was over his own son's reaction. He didn't expect Ty to take it so well. He also tells Damon how impressed he was of Killian. He always hoped that his son would be as motivated as Killian is. But Damon tells Nick to let his son be who he is. They stare into each other's eyes, and Nick leans in to give Damon a kiss.
   Nick rolls on top of Damon, pressing his hairy body against his. Damon grabs Nick's ass, squeezing it, as they continue to passionately make out. Damon flips him onto his back, kisses him on the neck and slowly makes his way down to Nick's huge bulge. Nick watches Damon suck on his big dick, drooling down on his balls. Nick gets on all fours with Damon behind him licking and eating his hole. Damon gets on his knees behind him and pushes his rock hard meat inside of Nick's ass. He fucks him hard, banging against his bubble butt. Nick falls flat on the bed, still receiving a rough pounding.
   They change position, Damon lying on his back with Nick sitting on his tool, riding it. He jerks off as he bounces on top of Damon, which makes him cum instantly all over his man. When Damon is about to shoot his load, Nick gets in a doggy style position and takes it all on his ass.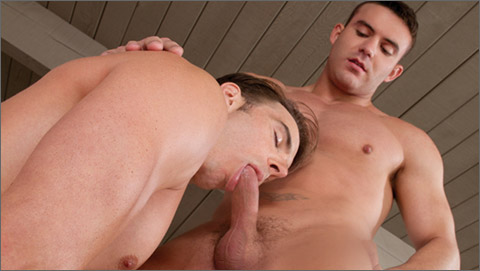 HEATED – PART ONE: Killian James & Addison Graham (all oral)
Straight out of the pool, Killian James has a throbbing erection sticking out several inches over the waistband of his trunks. It catches the attention of Addison Graham, who's watching from the window. When they make eye contact, Killian give his cock a few squeezes to make sure Addison knows the attraction is mutual. Smooth and tan muscle-hunk Addison bats his blue eyes, smiles, reveals a glimpse of his own hard-on and reels Killian in. They connect first at the lips, and Addison reaches for Killian's exposed cock, freeing it from the confines of its swimsuit, and sucks it. They kiss and cuddle on the bed, panting, taking turns sucking each other's hefty endowments. Killian fingers Addison's willing hole and sucks until he gets a mouthful of hot cum, which he lets drip down his chin and lips. Addison chomps on one of Killian's nipples while Killian jacks out his own thick release.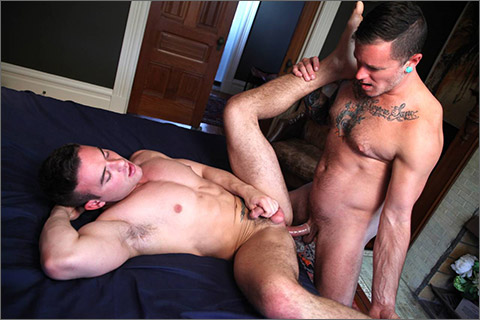 HOOKER STORIES 3 – GOODS FOR GOODS: Max Cameron fucks Killian James
New York super hooker Killian James rarely takes calls after midnight but rent is due tomorrow so he accepts an offer of $600 to see a couple downtown. As soon as Killian walks in he meets Max Cameron who excuses himself and begins to argue with his boyfriend in the next room about money. Max returns to explain but Killian takes over – no one is getting the better of him at 3am in the morning. Instead of cash Killian considers taking the couple's big screen TV and an expensive watch; but not before getting a taste of Max's big cock. Max fingers Killian's legendary hole and shoves his cock in, pounding him hard. Killian finally shoots while Max plays with this nipples then rolls over to cuddle Max while he jerks off. As he shoots Killian leans in to get a taste and spots Max's boyfriend's LV wallet on the bed table. Score!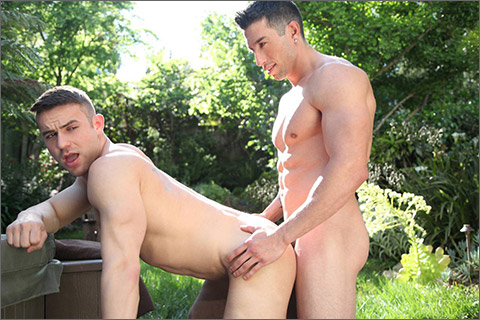 BIGGEST CATCH – EVERYTHING'S NEGOTIABLE: Casey More Fucks Killian James
JD Phoenix's bragging about his rich new daddy and condo doesn't deter Killian James, in fact he's more determined than ever to find his own millionaire. As luck would have it he overhears muscular hunk Casey More discussing some big-money deals and convinces the out-of-town daddy he needs Killian as his personal assistant. Killian gets right down to business, worshiping Casey's ripped abs and huge cock. Casey bends Killian over and shoves his dick up the stud's big fat booty until Killian blows his load. He gets on his knees to taste Casey's sweet cum and the deal is sealed.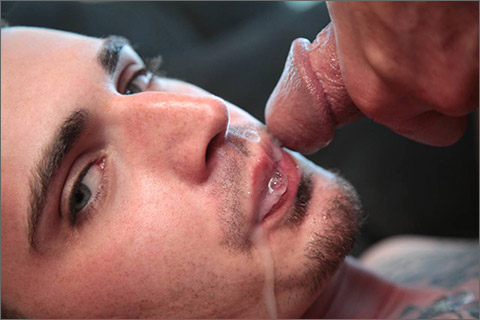 ON THE LOOKOUT
EPISODE 3 – BAY WINDOW: Austin Keyes fucks Bray Love
Catching some sun while reading a book in your window seems like a great way to spend an afternoon but when Austin Keyes notices Bray Love hanging outside his building he gets a better idea. A nod of the head is all it takes and Bray is up in Austin's flat, sucking his giant cock and licking his baseball-size nuts. The two horn-dogs don't even bother to close the blinds, treating the neighbors to a wild cock-sucking session that ends up with Bray sitting down on Austin's giant dick. The fuck-down reaches a frenzy when Austin pulls out and cums all over Bray's pretty face who proves to be a true pig, sucking every last drop.
ICONMALE
FALCON STUDIOS
RANDY BLUE
NAKEDSWORD
CLICK HERE TO GO TO HIS RANDY BLUE DETAILS
CLICK HERE TO GO TO HIS NAKEDSWORD DETAILS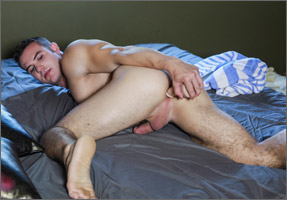 KILLIAN JAMES FUCKS HIS GAY HOLE WITH A DILDO
JUSTIN OWEN AND KILLIAN JAMES SKIP STUDYING FOR A LITTLE BIT OF GAY FUCKING
GAY HUNKS, DOMINIC SANTOS AND KILLIAN JAMES FUCK
LEGENDARY CHRIS ROCKWAY FUCKS THE HELL OUT OF GAY PORN STAR KILLIAN JAMES