Handsome Young Slovack BelAmi Gay Porn Star, Kieran Benning
Known Aliases / aka:
Years Active: 2017
BEL AMI INFO:
Kieran Benning is a 21 year old boy from Slovakia, and some of you noted in his preview last week that he bears some resemblance to Helmut. That is true for a very good reason. Kieran is very sensual and sexual and is fast becoming a top class model, both as a top and as a bottom. He has been with us on both out last trips to Africa and is still shooting full speed.
   Kieran has scenes both here on BelAmi and Freshmen and there are new ones being added every month.
Eye Color: Brown
Zodiac: Taurus
Dick Type: Thick
Dick Size: 21
Hair Color: Brown light
Height: 183
Weight: 68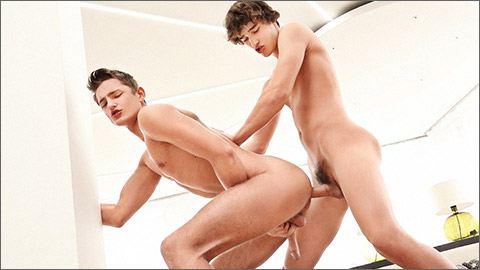 KIERAN BENNING & JARROD LANVIN
As you are able to tell from the introduction to this video, Helmut and Jerome's apartment is our second filming location in Prague. Luckily for them (or not) they were both away when we needed to use the apartment to film this scene with Jarrod and Kieran.
   While this series is about Kieran, we feel that we should note that this is probably the best performance to date from either of these guys.. Kieran gives us a very passionate and sensual performance, showing us exactly why he is the 'Perfect Package' while Jarrod also gives us what is probably his best performance to date.
   Next week we will have the conclusion of our Perfect Package mini series with what was supposed Kieran's solo (but with Jason Bacall around, things get a little out of control).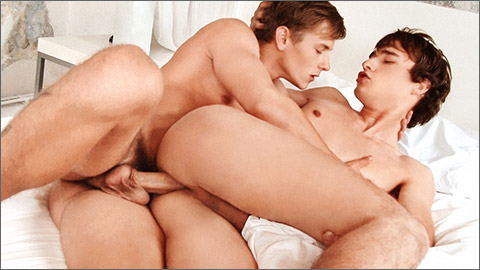 SUMMER BREAK 8: KEVIN WARHOL & KIERAN BENNING & NINO VALENS
After a series of conventional couples, our Summer Break scene today is a 3way.
   Kevin, Kieran and Nino are teaming up for our viewing pleasure today in this scene shot by Luke Hamill (with the able assistance at times of Kevin himself).
   This is actually Kieran's first ever scene, but he can't seem to wait for his scheduled scene partner, Kevin to be ready for him. Nino is one never to let an opportunity slide, and happily tries to usurp Kevin's role in the scene. Being good natured and patient, Kevin let's him get involved in the oral, but is clever enough to claim his rightful role in deflowering the eager Kieran.
   PS… Happy Birthday to our director here, Luke Hamill.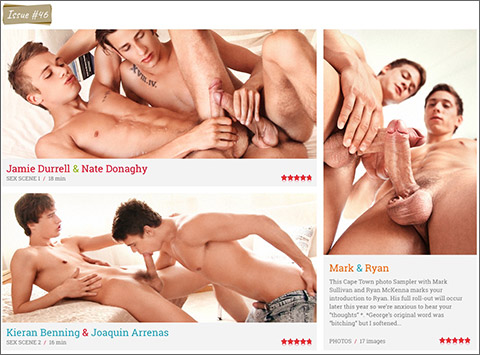 FRESHMEN ISSUE 46: Kieran Benning & Joaquin Arrenas
This almost qualifies as a "behind the scenes" video as these two Slovak friends are fuck buddies off set as well…whenever they get horny. Our editor's note here reads: "The fucking is really nice here except for the Kevin style breathing"… Whatever that means. I wasn't aware that Kevin's breathing even had a "style". But for those of you as discerning as our editor, I hope you enjoy, "Kevin style" breathing and all.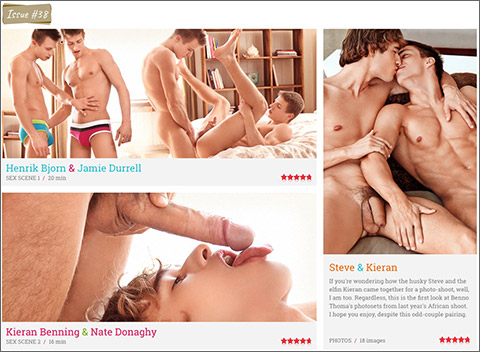 FRESHMEN ISSUE 38: Kieran Benning & Nate Donaghy
The only good thing about this lover's quarrel between Kieran and Nate is the make-up sex it brings. This scene serves a dual purpose as it satisfies their argument and big-dick lovers simultaneously.

FRESHMEN ISSUE 26 – INTERVIEW & SOLO: Kieran Benning
Kieran is one of those rare boys who doesn't create controversy and has something to offer to every customer. Teejay is under the wrong impression that this interview/solo is three years old. It is also from last December's Africa. Kieran started to shoot in January 2016. As a result you'll gradually see him with different hairstyle attempts and different levels of experience. By know he has become a seasoned performer. He was sensual and flirty from the very beginning, and experience came with shooting. I suspect that he'll tell you more about himself in his interview. His other qualities don't need my commentary.
Kieran Benning @ FLIRT4FREE
BEL AMI LIVE AT FLIRT4FREE