Hung Handsome Frisky Polish Gay Porn Star, Kayden Gray
Years Active: 2013 – 2018
TWITTER @KaydenGrayXXX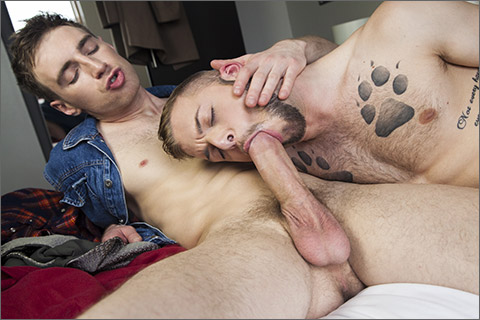 GUYSPOTTING – ARSEHOLE: Kayden Gray fucks Koby Lewis
If Grindr were a kingdom Kayden Gray would be King. With his chiseled good looks, defined swimmers build, and monstrous 10-inch cock he has his pick of all the subjects in the land – and today he has summoned hot bottom Twink Koby Lewis to do his bidding. The cock-hungry Koby knows his place and submits to Kayden's rigorous face-fucking and ass pounding. As they lay panting covered in sweat foolishly asks Kayden if they can see each other again. Kayden dismisses him with a sneer and tells Koby he's nothing more than fuck toy. "Arsehole!" Koby yells as prepares to leave but Kayden is already back on his phone searching for his next conquest.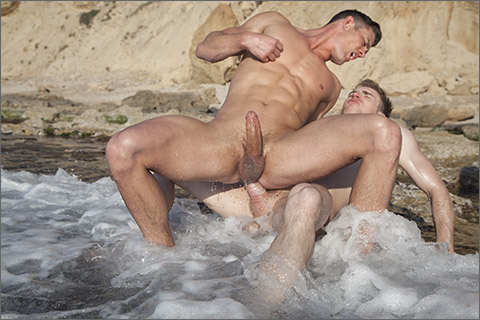 KISS AND TEL AVIV: Kayden Gray fucks Ryan Rose
"Cock by the Ocean" Glorious clear blue skies and crashing waves are the perfect backdrops for Ryan Rose and Kayden Gray who decide that this Tel Aviv beach is clothing optional. After briefly sunning themselves they start to explore and find the perfect place out on the rocks to deep-throat each other's cocks. Kayden bends Ryan over to eat his ass then slams his cock inside and pounds him hard. Ryan pushed Kayden back into the surf so he can ride his cock until he cums. Ready to bust, Kayden stands up and jerks off, shooting his load into the Mediterranean.

INTERNATIONAL PLAYBOYS: Kayden Gray fucks Mickey Taylor
There's no denying the chemistry between young lovers Mickey Taylor and Kayden Gray. The hip, sexy duo spend a lovely day cruising the local sex shop and sipping drinks at their favorite pub but it's all just foreplay for the main event. As soon as they're alone the clothes come off and Mickey is on his knees worshiping Kayden's huge cock. Kayden goes down on Mickey then flips him over and invades his SoHo with his legendary impaler. Both sexy Brits work loads our of each other and eat it, the perfect end to a perfect date.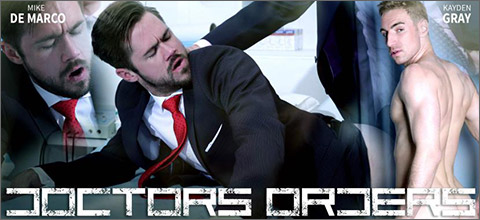 DOCTOR'S ORDERS
In the hierarchy of the hospital, Mike de Marko believes his position as senior surgeon entitles him to humiliate and mock eager young student doctors. But he's met his match this time when Kayden Grey attends his practical study session. With no patient available to analyse Dr. de Marko insists that Kayden sit in as the patient and proceeds to cut the trouser leg of Kayden's suit open up to his crotch to demonstrate assessment of a pelvic fracture. Kayden's naive demeanour is betrayed by a raging hardon that Mike de Marko attempts to deal with, at first professionally but then succumbs to his unprofessional desires. After deep-throating Kayden's huge dick, Kayden decides it's time to retaliate and cut the senior doctor's trousers making a hole just in the right place. Cocky Doctor de Marko not only gets his precious suit trashed but also gets pummelled hard by young Kayden's thick rod. We love seeing the tables turned like this, especially on cocky suited bosses who really deserve their comeuppance. A great suited start to 2017!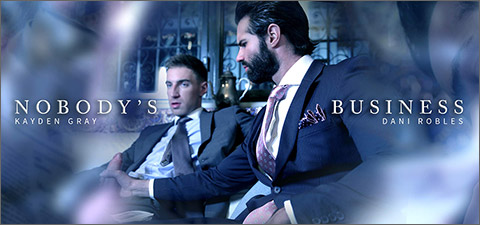 NOBODY'S BUSINESS
Have you ever asked "Is this seat taken?" knowing perfectly well that there are plenty of other empty tables, but there's a particular guy at this particular table that is just so fucking hot you got to breath in a bit of his personal space. You actively start invading that space, shifting up closer, opening up your body language, and giving little glances to test the water. You desperately try to think of an excuse to brush up against this stud and start a conversation. Kayden Grey is as subtle as he can be when faced with such a beauty as Dani Robles. Then, when he gets the signals he's been waiting for he gentle strokes his shoe up and down Dani's calf under the table. Meanwhile Kayden opens his flies and lets Dani reach inside. Trying to hide Kayden's huge dick behind a newspaper is a challenge, as is Dani getting his lips around it, but before long they've thrown caution to the wind and Kayden is riding Dani and going at it like nobody's business!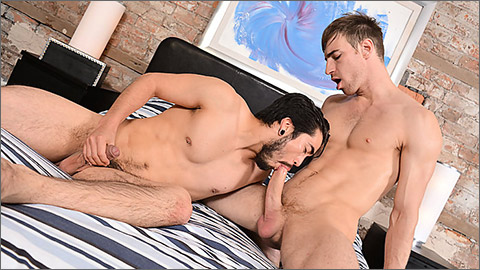 KAYDEN GRAY FUCKS ALEXIS BELFORT
Kayden has needed a cum load in his mouth for days, and he's finally satisfying his thirst with eager bottom Alexis in this intense pairing! The two are quickly feasting on cock, sucking each other and gobbling every uncut inch they can get, but with some amazing rimming of Alexis' hole Kayden signals its time to fuck. Plunging his long cock deep into his fuck buddy he rams Alexis in some great positions, pulling out in time to wank his cum out over his back. With Alexis stroking his dick in his mouth Kayden gets his thick and creamy reward!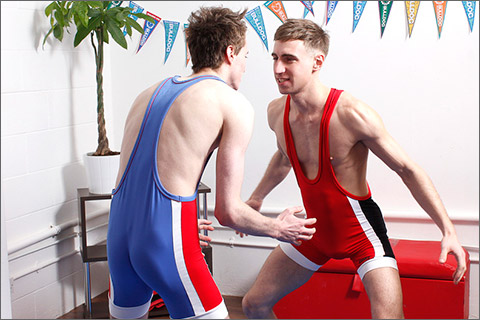 THE WINNER TAKES IT ALL: KAYDEN GRAY FUCKS MATHEW DAVIDS
Mathew is back and putting his lessons into practice with current champion Kayden Gray. Working the gym mat, it's obvious Mathew's still got a lot to learn, both on the mats and off them! Winner Kayden gets his victors rights on Mathews, and after pushing him to the wall, gets a hot face fucking from his twink loser! Pushing himself to deep-throat, Kayden ensures that young cock is wet with spit before he lets Mathew loose on his own thick meat. Slightly worried about what's to come, his tight hole is going to be tested farther than his wrestling skills ever have been as Kayden teases with his tip before plunging it all the way inside, fucking his boy into the corner of the room as he loosens his hole enough for Mathew to ride it, pushing down to try and take everything he can! He tries his best, but as with his wrestling, Mathew has a lot to learn, and he's perfectly placed to get the best lessons he can!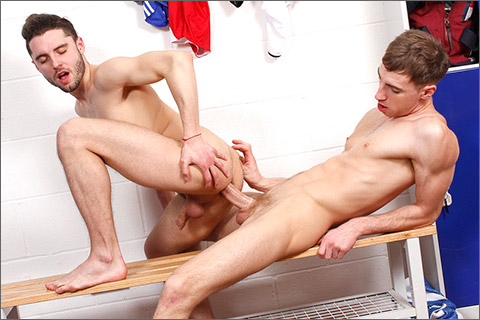 POST MATCH STRETCHING: KAYDEN GRAY FUCKS JOHNY CRUZ
Grappling, tackling and getting to grips with each other, super horny Kayden and Johny joke around after a hot sweaty match, rubbing their wet singlet's in each other's faces in the locker room as their glistening muscular young bodies are naked, their growing dicks swinging between their legs. As the testosterone fills the air, Kayden pulls Johny closer, grabbing him by the balls and manoeuvring his thick semi-hard dick into his mouth! As soon as the shaft touches his lips, it grows even bigger until rock solid and being worked down Kayden's wanting throat. These horny young wrestlers don't stop there, Kayden's own massive dick wants attention and as the victor, he deserves it! Pulling Johny to his knees, Kayden throat fucks and then lifts him back up to expose his peachy butt hole, ripe and ready for a hard bench fucking! Johny rides his huge cock over and over, even positioning himself so Kayden can get even deeper than ever inside him, letting us see his hole wrap around it as Kayden pumps him full of himself! Spunking after a multitude of positons, their bodies are soaked with sweat and spunk but ready for another match any day!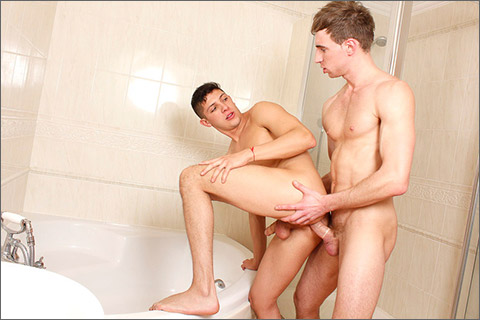 SECRET SHOWER SEX: KAYDEN GRAY FUCKS DANNY MONTERO
Losing himself in his thoughts, Danny Montero, dark haired, smooth and olive skinned caresses himself and moves south towards his growing cut dick as he imagines a big dicked top to enter the shower behind him. Cue Kayden Gray, big dicked of course, muscled and handsome – the perfect partner for horny young bottom boy Danny! Entering the shower, Danny and Kayden are at close quarters, and in order to make more space, Danny kneels down, face to face with 9.5" of thick meat. Swallowing it down as much as he can, it almost looks like 12" next to that cute face of his struggling to take it all in. Lifting a leg up, Danny is fucked right there in the cubicle before being taken out and fucked some more, Kayden can't get enough ass and Danny definitely can't get enough dick, even if it's the biggest he's had in his life! Slowly opening up the young boy, Kayden knows how to play the game and soon Danny's gaping wide and bouncing on top from tip to hilt and leaning back to kiss his big dicked lover! Shooting his load over Danny's hairless chest, Kayden covers the Latin twink so much another shower is needed, not that they really care, it's an excuse to start all over again!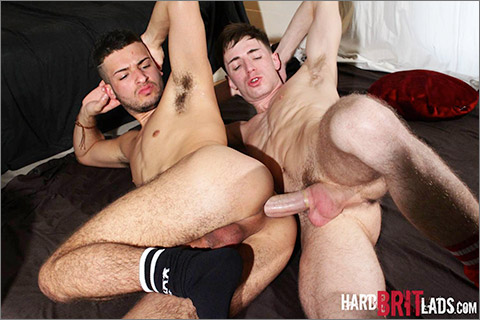 HOT, HORNY YOUNG BEN TAKES KAYDENS EXTRA THICK MONSTERCOCK!
Prepare for one of the HOTTEST videos I have ever made. Making a spectacular debut, super hot new young model Ben Grey gets his mouth and arse seriously stretched to the max by Kayden Gray's super thick 9.5 inch monster cock. Ben is laddish, cocky, with hairy legs and a thick meaty dick which permanently throbs. He might be young, but he is a very horny fucker, and gets off on being pushed to his limits. The action is non-stop, with both lad's big thick dicks throbbing from the start. After some passionate kissing and hard bulge action, the lads take turns feasting on each others cocks in very horny positions, with Kayden forcing his massive meat as far down Ben's throat as he can. Kayden deepthroats Ben, almost making him cum, fingering his hole deep as he sucks his stiff meat. The fucking is mind blowing. We have loads of positions, each one jaw dropping hot as Kayden gives cock hungry Ben the most intense fuck of his life, stretching his arse wide, with non-stop graphic close ups. By the end, both lads are aching to cum, and Ben shoots a thick heavy load as Kayden pounds his butt hard and deep, then Kayden pumps out an explosive cum shot, drenching Ben in his hot jizz. UNMISSABLE!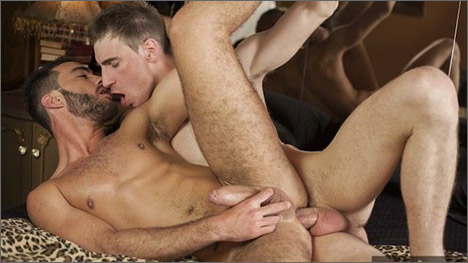 CHEMISTRY REACTION: KAYDEN GRAY & ALEJANDRO ALVAREZ
This week it is our pleasure to bring you these two hot guys together for the first time. We must admit that during filming it was difficult to keep these two horny guys apart. they never stopped but don't worry our cam caught the best of the action. This is a passionate and exclusive Fuckermate encounter bewteen two young, hot horny and smooth guys. The chemistry is explosive as you can see. Just sit back and enjoy it.
NAKEDSWORD
MEN AT PLAY
BLAKE MASON
BULLDOG PIT
HARD BRIT LADS
FUCKERMATE
VIDEO ON-DEMAND: Kayden Gray @ AEBN SMUTJUNKIES THEATER
DVDs & ON-DEMAND: Kayden Gray @ TLA VIDEO