Handsome Hungarian Hunk Gay Porn Star, Julian Vincenzo
Known Aliases: Julien Vincenzo (Sharpshooter), Bruce Steel
Years Active: 2003 – 2008
Men At Play comments:
How can we even begin to describe how amazing this guy is!! When Julian first stepped into our office recently and there was a collective intake of breath. All the guys were jumping over themselves to be first to get their hands on his perfectly muscular body. Standing at and impressive 6′ 3", Julian is the kind of guy who doesn't just ooze, but pours masculinity, leaving a trail of bulging trousers behind him. Even we, who try to remain professional on most occasions, found it hard to disguise our aching hard-ons from him when filming. Luckily he seemed to enjoy and feed off the extra 'attention'.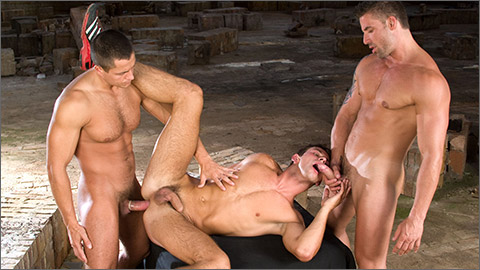 CZECH UNDERGROUND (SEX LABYRINTH): Julian Vincenzo & Glenn Santoro fuck Marco Mark
Led to an abandoned warehouse by a stranger, handsome and buff Julian Vincenzo wanders through a sparse warehouse where his eye is caught by a stroking Marco Mark. Marco devours Julian's smooth, massive chest and enticing nipples before being joined by handsome and muscular Glenn Santoro. Marco gets between both studs, who jostle for position in his mouth. Marco bends over as the two tops take turns aggressively pounding his hole, their shafts caught in great close-up shots before they all come on Marco.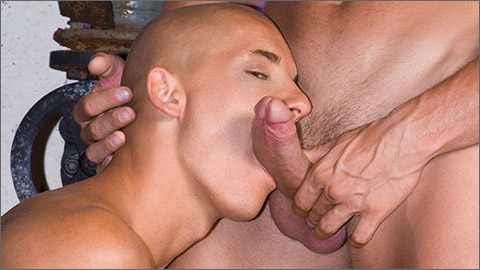 CZECH UNDERGROUND (SEX LABYRINTH): Julian Vincenzo fucks Ladislav Boh
Still hungry, the insatiable Ladislav Boh jacks his uncut meat and smiles. The muscular Julian Vincenzo can't contain himself as he drops down to suck. Ladislav returns the favor as Julian grabs his head and guides him down with his muscular hands. After warming up Ladislav's hole, Julian slides his beefy meat deep inside for a ball-bouncing fuck that has the bottom moaning. Ladislav then sits down on Julian for another spirited slide session before the two jack to come, with Julian's big hard cock still throbbing as the film fades to black.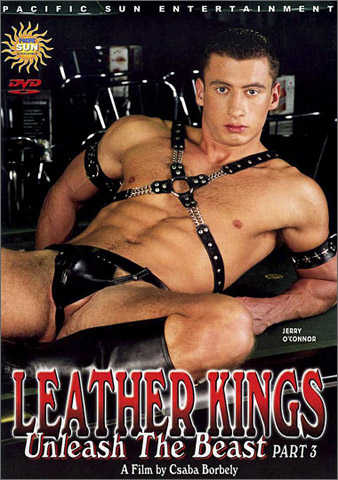 UNLEASH THE BEAST 3 – LEATHER KINGS
Charismatic "Luciano Endino" newest found exclusive and brother look-a-like "Peter Krista" meet a match of rhythmic movements with "Soto Donovan" exercising their man rods made of iron. Real man-to-man action takes place inside a Locker room, combining masculine opponents energy with craving desires of total penetration. It's forbidden to happen, intensity & heated resistance twists during demonstrations of ripped fitness conditioned students & an unapproachable instructor.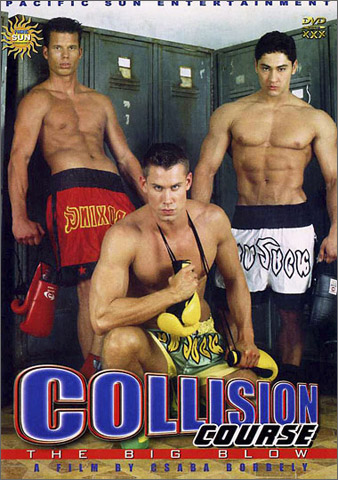 COLLISION COURSE: THE BIG BLOW
When 2 opposing boxing teams train hard for an upcoming match…they mean HARD! It isn't long before the gloves come off…the shorts come down, and the cocks go up!! From the ring to the locker room to the showers, the action is HARD, SWEATY, and MANLY. Watch perfectly sculpted Hungarian athletes fuck, suck, and rim in 3-way, 4-way, and even manwich action! BIG, UNCUT COCKS, and HOT MEN of every description from dark to fair, smooth to hairy, to please every taste.

CITY HEIGHTS: OFFICE RIVALS
Well the 15th floor at City Heights certainly sees some hot action. But none more unexpected than what occurs between Julian and Steve, two city boys in constant competition for the top spot. When Steve breaks a picture of Julian's beloved girlfriend in his desire for desk space, it's his desire for cock that gets satisfied as Julian ties him to his chair and shows him who's really in charge. Julian forces his monster cock into Steve's helpless mouth and can't wait to get his hands on Steve's enormous 9-inch piece.
MEN AT PLAY
HIGH OCTANE PRODUCTIONS / HERVÉ HANDSOME
MILE HIGH MEDIA / MALE REALITY
ELITE MALE AT MALE DIGITAL
COLT STUDIO / OLYMPUS
TITAN MEDIA / TITAN FRESH
FALCON INTERNATIONAL
LUCAS ENTERTAINMENT
CSABA BORBELY / DIAMOND VIDEO
VIDEO ON-DEMAND: Julian Vincenzo @ AEBN SMUTJUNKIES THEATER
DVDs & ON-DEMAND: Julian Vincenzo @ TLA VIDEO