Lucas Entertainment Handsome Puerto Rican Gay Porn Star, Jonah Fontana
Years Active: 2015 – 2018
TWITTER @xxxjonahfontana
LUCAS ENTERTAINMENT INFO:
Height: 6′
Weight: 178 lbs
Dick Size: 7.5″
Position: Versatile
It's anyone's guess what the rednecks of Arlington, Virginia think of Puerto Rican native Jonah Fontana, who claims Arlington as his home currently. But it's safe to say a lot of them are closeted, and they're all lusting after Jonah. Jonah's architect internship isn't exactly covering his bills, and his inner exhibitionist compelled him to earn some extra income filming gay porn. Jonah is attracted to men who are beefy, muscular, work out in the gym, and are all-around masculine. With that information in mind, it's no wonder he can't wait to take a ride on the hard raw cock of Sergeant Miles.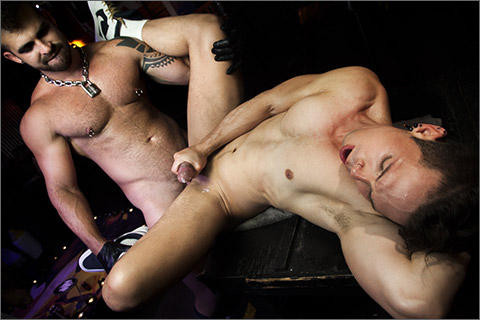 THE DEVIL'S DEAL & OTHER SORDID TALES: Jonah Fontana fucks Gabriel Alanzo
A handsome youth-obsessed go-go dancer (Gabriel Alanzo) summons the Devil (Jonah Fontana) to make a deal. He'd like to offer his soul in exchange for eternal youth and beauty. The Devil accepts his offer – but first instructs the hot young stud to suck his cock. After a brutal ass fuck the young man think's he's paid the price… but there's always hell to pay when you're dealing with the Devil.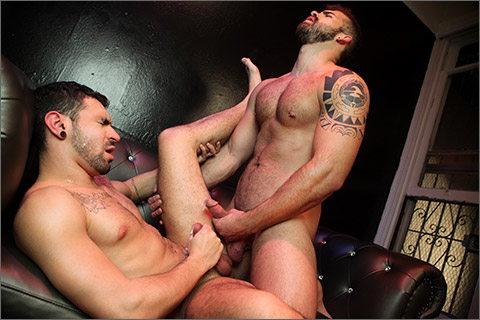 THE TEN SPOT: Jonah Fontana fucks Ian Greene
Bonafide "Tens" Jonah Fontana and Ian Greene hook up and Jonah knows just where to go – The Ten Spot. Ian asks to many questions so Jonah tells him to stop talking and put his dick in his mouth. Ian proves to be a world-class cock sucker which only makes Jonah more eager to fuck Ian's hot ass. Once Ian's hole is wet with spit Jonah sticks his hard cock in and nails him hard on the legendary Ten Spot couch. After a brutal fuck-down, Jonah pulls out and shoots a hot stream of jazz three-feet into Ian's hungry pie hole.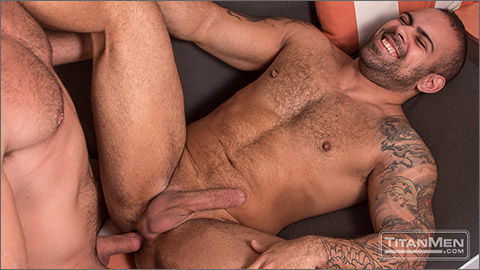 CUM LAUDE: Jonah Fontana fucks Lorenzo Flexx
Voyeurs Lorenzo Flexx and Jonah Fontana grow huge wood. Jonah guides Lorenzo down to his big dick, slapping it on his face and spitting into his mouth. Jonah pulls him up, staring into Lorenzo's eyes as their noses touch, kissing him as they passionately embrace. Jonah fucks his face, then sucks Lorenzo's thick slab while fingering his hairy hole. Jonah munches him, stroking the sub's boner before pounding him from behind ("Gimmie that dick!"). The tattooed bottom sits on Jonah ("There you go! Ride that fucking dick!"), then gets on his back for more before shooting a thick load. "Open that mouth!" demands the top, who blasts a rocket onto Lorenzo's face.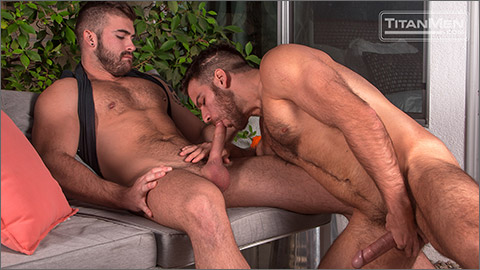 CUM LAUDE: Jonah Fontana fucks Jackson Grant
Anxious to get inside Jackson's shorts, Jonah grabs his own groin while chatting about their steamy encounters. Jackson strokes his big meat between his hairy legs, moaning "Choke on it! Spit on that dick!" as Jonah dives down on it, gasping for breath. Deep throat it! Jackson sucks the hung stud back, his hairy chest sliding against Jonah's boner as the sucker comes up for a kiss. Jonah spits on the verbal bottom's ass, taking him to the bedroom to fuck him doggie style (Take that dick!). Jackson sits on it, then gets on his back Jonah fucking the cum out of him before aiming his stream at the bottom's face, Jackson licking the load off the top's fingers.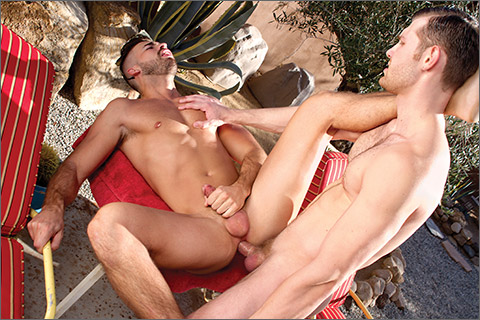 DESERT GETAWAY: Jacob Peterson & Jonah Fontana flip-fuck
First to arrive at their 'DESERT GETAWAY' locked rental house, handsome Jacob Peterson and sexy Jonah Fontana have an hour to kill while they wait for their friends to arrive with the keys. Their attraction for each other is clear and with time on their hands, they don't waste a minute. With the beautiful desert landscape as their backdrop, Jacob Peterson and Jonah Fontana press their lips together in a passionate kiss and fall back onto the outdoor lounge chair. Jonah peels off Jacob's shirt, revealing ripped, washboard abs, and then undoes Jacob's fly. Jacob's thick, uncut cock springs to attention, and Jonah wraps his lips around Jacob's meaty tool. The two strip naked under the hot desert sun, and Jonah plants his scruffy face into Jacob's crack. After lubing up Jacob's ass with spit, Jonah slaps his dick across Jacob's butt, then inches his shaft inside his hole. With Jonah pounding away, Jacob's balls sway and his giant cock bounces with each satisfying thrust. Ready to switch it up, Jonah gets on his back and invites Jacob to hit it. Jacob spreads Jonah's legs wide for a deep, sensual penetration. Jonah savors every minute of it, and jerks his big cock in time with Jacob's thrusting. A move to doggy style lets both studs show off their tight muscle while they fuck with abandon. Jonah reclines back to receive a massive facial from Jacob, the thick, white cum dripping down his bearded chin. Jonah jerks out his own load onto his washboard stomach, and the two share a final kiss in the fading desert light.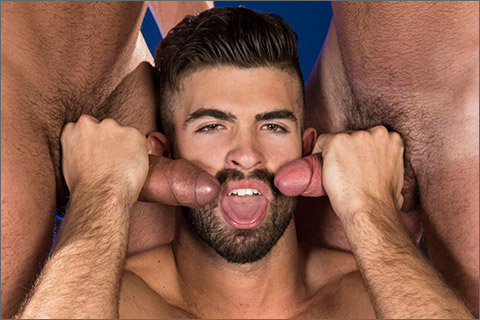 BOUT TO BUST: Jacob Taylor & Jonah Fontana spit-roast/fuck Derek Deluca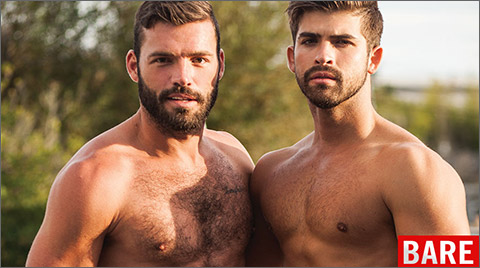 BAREBACK AUDITIONS 3: Xavier Jacobs Begs For Jonah Fontana's Cock
Two of my personal favorite models from the 2015 Fire Island production (though, by my own admission, there's a lot of them) are brought together — Xavier Jacobs and Jonah Fontana. Could these two be brothers? No, but they could be cousins, and they wear their beards very well on top of it. These guys are young and full of hot-blooded lust, and don't hold back when they're teamed up. Jonah (who is so, so strikingly handsome) especially enjoys himself when he gets the gorgeous otter Xavier Jacobs bent over and fucks his ass raw. By the end neither one of them can hold back sharing their cum.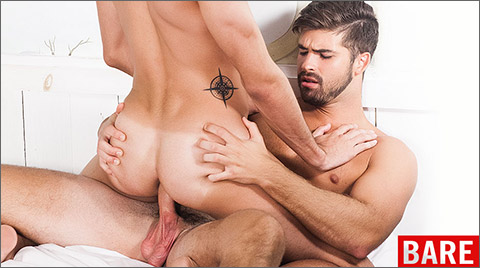 HITTING IT RAW: Ashton Summers Bottoms For Jonah Fontana
Jonah Fontana is back for more action, and this time around he wants to get his dick wet in Ashton Summers. Here's the question, though: how easy will Ashton give it up to Jonah? You don't have to look far for the answer — the minute Ashton gets a look at Jonah's handsome face and hot body he's sold, from fellatio to rough and raw anal sex.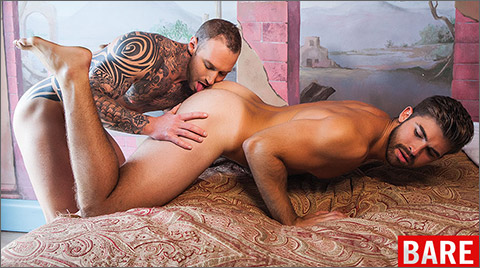 ASS BLASTERS: Jonah Fontana Gives His Latin Ass Up To Dylan James
If you have a particular appetite for juicy asses, then this encounter between Dylan James and Jonah Fontana will appeal to you in particular. Jonah really has a body you can sink your teeth into — and his dashingly handsome face pulls it all together. Dylan is well aware of this, and judging from the action at 43:45, he enjoys the toy he's been given to play with and rough up. I like emphasizing that Dylan is skilled in the pornographic art of versatility, but when he uses that big dick to fuck an ass it's a real sight to see — check out the example at 43:45. And an extra note on juicy asses — there in an awesome shot of his buns at 07:47; you get a great view of Dylan's butt right before he pushes Jonah on the bed for some rimming.
TITAN MEN
FALCON STUDIOS
RAGING STALLION
LUCAS ENTERTAINMENT
NAKEDSWORD
CLICK HERE TO GO TO HIS TITAN MEN DETAILS
CLICK HERE TO GO TO HIS LUCAS ENTERTAINMENT DETAILS
CLICK HERE TO GO TO HIS FALCON STUDIOS DETAILS
VIDEO ON-DEMAND: Jonah Fontana @ AEBN SMUTJUNKIES THEATER
DVDs & ON-DEMAND: Jonah Fontana @ TLA VIDEO