Corbin Fisher Amateur College Man, Jon
Years Active: 2015
CORBIN FISHER INFO:
Age: 20
Waist: 31
Eyes: Green
Height: 5′ 10″
Weight: 145 lbs
Hair: Blond
Build: Athletic
Cock: 6.0″ cut
Shoe: 10
Jon loves rock climbing, using his lean body to work his way up to bring himself to the edge. The same is true when it comes to his sex life!
   He's been edging for the last two weeks in order to store up as much cum as he can for the cameras. He strives to impress and push his own limits, in all his extracurricular activities! When it comes to sex he's hoping for recklessness, sharing that one of his favorite sexual experiences was hooking up with his friend's sister with him lying right next to them.
   Well we couldn't wait for that finish, so let him do his thing while we admire that hot body of his- and his big finish was huge! I don't know if I've ever seen so much cum shooting out of a single cock!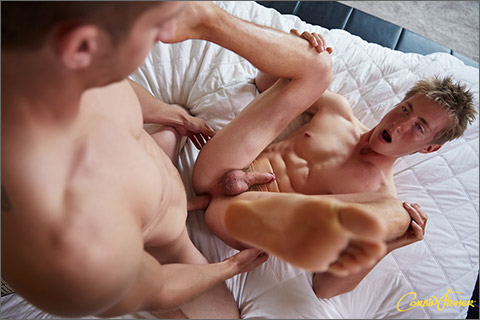 BRANT DICKS JON
I have no doubt that ripped, hot-bodied, CF stud Brant is the man for the job to break in Jon. Along with being amazingly hot, he also has a big powerful dick that's makes it impossible to hide just how good it feels to be getting fucked!
   Brant gets him ready, spreading him open and fingering his virgin hole. Using his spit as a lubricant he starts with one, then two fingers to tease Jon. Brant's a gentleman and toys with him until Jon yells out that he needs his dick!
   I don't think Brant was quite prepared for how good Jon's ass felt, his moaning was louder than ever! Getting fucked by Brant opens up a whole new world for Jon. His facial expressions are priceless- he clearly loves the feel of a cock up his ass! He yells to be fucked harder and challenges Brant to give him all he's got- then swallows Brant's thick load with an unbridled hunger that I rarely see from first-timers! Oh so HOT!
BRANT DICKS JON
MARC TAKES JON'S LOAD
JON