Handsome Spanish Kristen Bjorn Gay Porn Star, John Rodriguez
Years Active: 2014 – 2015
KRISTEN BJORN INFO:
Nationality: Spain
Height: 6′
Weight: 180 lbs
Dick: 8 (20.32 cms) uncut
Position: Versatile
John is a Spaniard with a body that could grace the cover of any fitness magazine. His large, contoured legs and his pecs are strongest points. His features are exotic, and his skin is smooth and velvety. John is insatiable. In the afternoons, after the gym, he enjoys watching straight guys running in packs through the park, and glimce as their fat, sweaty cocks bounce. John imagines sucking their dicks on any street corner, obliged and submissive. In sex, he likes everything, but if you know how to suck his nipples the way he likes, he will do anything to satisfy you…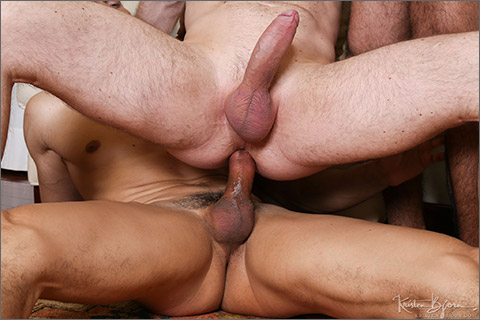 BARE TO THE BONE #8: JOHN RODRIGUEZ, PETER COXX & RICK DE SILVER
Rick has hooked up online with Peter and text his friend, John to join them. As all three cocks are unleashed, Peter realizes that this is going to be a good day. Peter gets his fat cock sucked and swallowed by John, who is having his hot cock serviced by Rick. Each of the guys is a hungry cock sucker and eagerly devours the cock in front of him. Peter's huge balls are drawn up tight in anticipation of blowing a huge load as John continues to inhale that huge cock. Rick wants a piece of that enormous cock and he and John tag team Peter's cock with their drooling mouths. John can't wait any longer and he offers his ass up for Peter's throbbing cock. Rick lubes it up good with his saliva as Peter slides his cock deep into John's raw hole. As Peter fucks John's ass, Rick licks his cock and then Peter pulls out so that Rick can lube his cock up more with his eager mouth. Peter loves the sensation of fucking John's raw hole and Rick's mouth that he alternates between the two. Rick then slides himself under John and he and John begin to 69 each other as Peter continues his onslaught of hardcore fucking. John flips Peter and has him ride his raw cock hard and deep as Peter sucks on Rick's straining cock. Peter rides John's cock so hard that John blows his creamy load and plants the remaining shots in Peter's ass. Peter continues to ride John as hard as he can until his huge ball sac erupts with a huge load of cum as Rick feeds him his thick load. Peter concludes that being fed cum in his ass and mouth does make for a good day.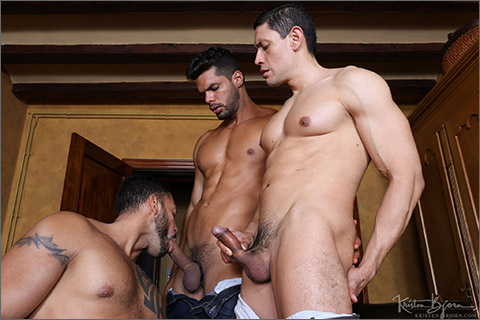 BARE TO THE BONE #11: VIKTOR ROM & LUCAS FOX FUCK JOHN RODRIGUEZ
Viktor and John are on their way to the café when their attention turns to the handsome, young Lucas waiting for the bus. Lucas decides to not take the bus and follow the two sexy guys that just cruised him. Lucas' is invited back to John's apartment and the shirts come off immediately and the men begin to explore each other with their tongues. One by one each of the hot men withdraw their hard cocks and Viktor is the first to drop to his knees and begin to worship Lucas and John's incredible cocks. Viktor works his way back and forth sucking and licking one immense cock after the other. Lucas and John are reveling in the pleasures of Viktor's cock sucking skills and Viktor himself is getting his cock rock hard from all the excitement of deep throating two huge cocks. John and Lucas change things up and begin tag teaming Viktor's mammoth cock with their greedy mouths. Viktor's cock strains to contain itself from all the thrilling pleasure given to his huge cock. With his cock about to split open from growing harder, fatter and longer, Viktor blasts a huge load of cum all over John's hungry tongue and Lucas jumps in and laps up the cum dripping from Viktor's cock and they licks Viktor's cock clean. Viktor bends John over and spreads his ass open and sucks on Lucas' cock to lube him up. Viktor then shoves Lucas's torrid cock deep inside of John. As Lucas fucks John's raw ass, Viktor hammers his mouth and throat with his fat cock. Lucas finds himself very turned on watching these two friends pleasure each other that he shoots his creamy load all over John's ass then shoves his cum drenched cock back inside of John. Viktor has waited long enough and now it is time for him to fuck one of these asses. John squats down on top of Viktor's gigantic cock and pounds his ass hard and deep with Viktor's raw cock. John rides Viktor hard until he can no longer withhold his load and strokes out a huge load of cum as Viktor's cock splits his ass open.
KRISTEN BJORN
DARK ALLEY XT
TIM TALES
CLICK HERE TO GO TO HIS KRISTEN BJORN DETAILS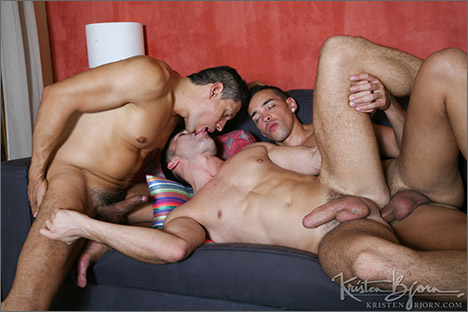 BARE TO THE BONE #2: JAMES CASTLE, JOHN RODRIGUEZ & ENZO CORTES
RAW ADVENTURES #6 – INSIDER: RAUL KORSO, JOHN RODRIGUEZ, ANSONY
ON THE PROWL #1: JOHN RODRIGUEZ FUCKS JAMES CASTLE
CASTING COUCH #330: JOHN RODRIGUEZ & ENZO CORTES
BARE TO THE BONE #8: JOHN RODRIGUEZ, PETER COXX & RICK DE SILVER
BARE TO THE BONE #11: VIKTOR ROM & LUCAS FOX FUCK JOHN RODRIGUEZ
DESPERATE FOR THE DICK
TWO UNCUT SLUTS
GUT PUNCH
ESTEBAN FUCKS JOHN RODRIGUEZ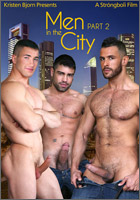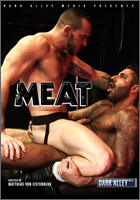 MEN IN THE CITY 2
MADRID STORIES
MEAT