Hung American Gay Porn Star, JJ Knight
Known Aliases: JJ Thick
Years Active: 2015 – 2016
TWITTER @JJKnightXXX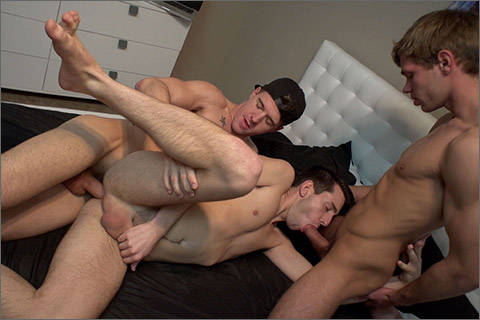 JJ AND DALTON FUCK LANCE
There's a lot of cock in this video. 25 inches to be exact. We took the boys out to the mountains to play and do a photoshoot, and on the way back, Lance decided to whip JJ's 10? cock out and play with it (naturally, we filmed it). JJ's 10? and Dalton's fat 8? was a lot to take, but Lance did it with pleasure! Dalton power-fucked Lance doggy style and then blew his load all over his back while JJ offered Lance his load all over his rock hard abs…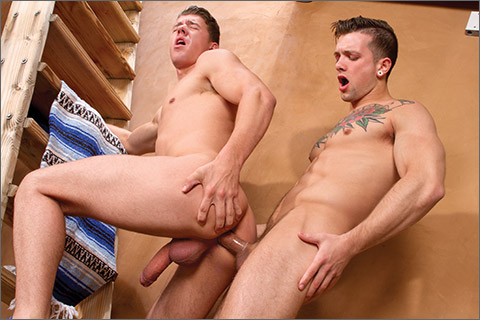 DESERT GETAWAY: Sebastian Kross fucks JJ Knight
After a hike through scenic Joshua Trees, Sebastian Kross and JJ Knight return to the vacation house and head to the secluded back patio. JJ rubs his hands on Sebastian's tattooed chest and undoes Sebastian's belt. Out pops Sebastian's giant boner, and JJ showers it with oral worship. Letting his own shorts fall to the ground, JJ unveils his unbelievable giant cock. With giant gulps and lots of spit, Sebastian gets to work on JJ's monster meat. But it's Sebastian's ass that really gets JJ going: he parts Sebastian's cheeks and works his tongue deep into Sebastian's crack. Standing up, JJ lubes up his dick and tries to be smooth about sticking it to Sebastian. Turning around, Sebastian says, "Maybe next time, but I came out here to fuck you." That works just fine for JJ: he bends over and offers his ass up to Sebastian's tongue. When his ass is wet and ready, JJ throws his legs over Sebastian's shoulders, and Sebastian slams his cock into JJ's hole. When they switch to doggy style, JJ's massive cock flaps back and forth with the motion of Sebastian's thrusting. JJ's tight ass brings Sebastian to climax: he pulls out and unleashes a massive stream of cum that drenches JJ. Sebastian slaps his dick on the puddle, splashing white semen everywhere. Turning around, JJ jerks out a massive load into Sebastian's open mouth.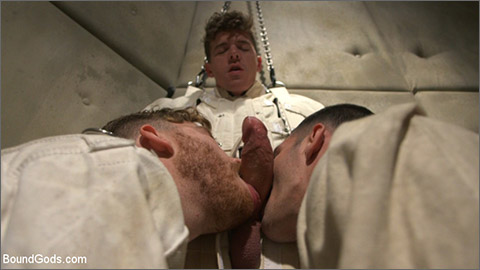 PATIENT AND NURSE BATTERED AND ASS FUCKED BY SADISTIC DOCTOR AND HIS 10 INCH COCK
Brogan Reed is having problems with his cock, and decides to visit Dr. JJ Knight and his assistant Nurse Sebastian Keys. After rigorous testing, Dr. Knight concludes that the best solution is to attack Brogan's erection until it goes down. Nurse Keys grabs Brogan, while Dr. Knight beats Brogan's hard cock, using his hands, and a crop. Dr. Knight pulls out his ten inch cock and shoves it down Brogan's mouth. Dr. Knight's new patient takes all ten inches in his throat, until the doctor can't restrain himself, and fills Brogan's mouth with hot cum. Nurse Keys wants some sloppy seconds, and ties Brogan to the bed before sticking his stiff cock down Brogan's throat. Dr. Knight decides that only he can treat the patient, and proceeds to savagely beat Brogan and Nurse Keys with a crop. Nurse Keys dreams of the doctor in a maxcita sleep slack, while he and Brogan lick all over the doctor's luscious dick. Nurse Key's awakens from the sweet dream, and finds himself in a padded cell next to Brogan. Dr. Knight towers over his bound nurse and patient. The vengeful doctor paddles Nurse Keys and Brogan as they grovel on the floor. Dr. Knight then chains them to the ceiling, and brutally flogs them until they cry for mercy. Dr. Knight lets them down and then presses them against the wall. The three form a fuck train as Dr. Knight thrusts his massive cock in Nurse Keys' ass, while Nurse Keys butt fucks Brogan against the wall. Nurse Keys wants even more cock, and takes both Dr. Knight and Brogan's dicks up his ass simultaneously. The intense double penetration leads Nurse Keys to shoot his sticky cum all over Dr. Knight's chest. Dr. Knight pushes the nurse off his cock and bends Brogan over to fuck the cum out of him. Brogan takes Dr. Knights thick dick up his ass while Nurse Keys strokes the cum from his cock. Dr. Knight then pulls Nurse Keys and Brogan to the floor, where he showers their faces with his cum.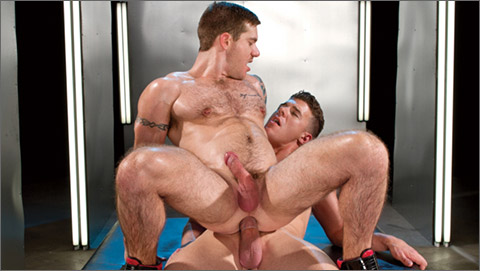 ULTRA SEX: JJ Knight fucks Skippy Baxter
Sexy JJ Knight's jockstrap can't even contain all of the meat he's packing. Lowering himself down to his knees, hot Aussie Skippy Baxter begins swallowing JJ's monster cock. Deep throating such a massive sword is daunting, but Skippy knows what he's doing, and his cocksucking skills have JJ eager for more. Skippy lays on his back with his legs in the air, parting his ass cheeks and inviting JJ to play. JJ uses his tongue to get Skippy's hole lubed with spit, then slides in a finger to explore. A second finger follows, stretching Skippy's hole and preparing him for the pounding to come. After teasing Skippy's ass with the tip of his dick, JJ plunges his supercock deep inside. Power bottom Skippy keeps one hand on his hard cock and the other hand holding his leg up, giving JJ deep access. Switching things up, JJ leans back and Skippy sits down on his cock. Using his beefy, hairy legs, Skippy raises and lowers himself on JJ's huge fuck stick. This expert bottom knows what he's doing! After getting his cock milked by Skippy's ass, JJ's ready to bust a nut: he stands over Skippy's face and blasts his load right down Skippy's open mouth. Skippy releases his spunk and sprays it across his hairy torso, and the two studs seal the deal with primal kissing.
REKINDLING COCKS
Johnny and JJ Knight were high school buddies. It's finally reunion time and JJ is late. As he's just about to enter the reception hall, Johnny is walking out. They're excited to see each other, so they go back to JJ's place to have a couple beers and catch up. When JJ asks Johnny about old flames back in school, he's surprised to learn that Johnny always had a crush on HIM!
   JJ decides to go with it, so the two engage in some passionate kissing. Soon, Johnny is on his knees servicing JJ's big, swollen cock. High school was never this much fun!
   After more smooching, JJ returns the favor by sensuously sucking Johnny's super-hard erection. Then, JJ takes things further by licking Johnny's tasty and tight asshole. Johnny didn't think he'd like it, but he can't believe how good it feels!
   Once Johnny's hole is good and ready, JJ bends Johnny over the counter and inserts his rock-solid, completely bare cock! Johnny can't believe he's finally getting fucked by his old high school crush. This is a reunion that couldn't have yielded a hotter fantasy. Join them as Johnny lets JJ put him into some very interesting positions, and watch both guys end this sexual encounter of a lifetime by shooting big, meaty loads for each other.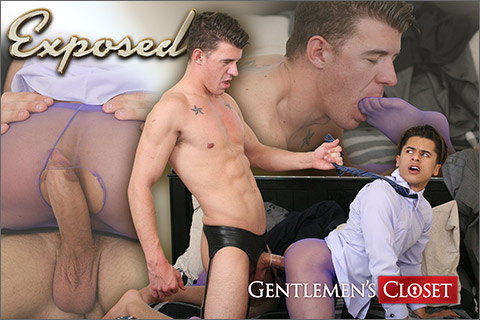 GOLDEN HOUR / REVEALED / EXPOSED
Driven by the scent of another, Armond Rizzo aims to please his master JJ Knight. JJ kicks back in his casual wear and the eager boy starts to worship the shoes then he starts to lick the amazing gold toe socks JJ had on. Armond is lit perfect during this golden hour. His body is a chiseled masterpiece. Light licking followed by deep throating, Armond knows how to worship feet. JJ stares at Armond's body and enjoys the mouth massage on his feet.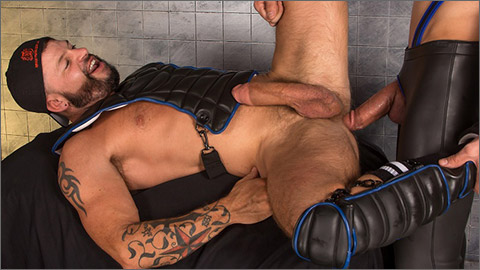 ICONS : JJ Thick fucks Tex Davidson
Tall, smooth and toned JJ Thick locks lips with hunky Tex Davidson, whose hairy chest bursts out of his baseball harness. JJ pulls Tex in closer for a kiss, the two smiling as their huge cocks grind. JJ wraps his gorgeous lips around Tex's big shaft, Tex reaching around to spread JJ's ass. Tex sucks back, opening wide as he tries to take it as deep as he can. JJ smiles down at the sucker, who spits on it as he wraps his bearded face around the shaft again. He grips JJ's sac and tugs it as he goes deep, spit strands falling down as Tex's huge boner throbs below in excitement. They kiss, their cocks sliding against each other in stiff swordplay. JJ fucks the stud from behind, Tex's big meat splayed out against the table. The bottom turns over, his beautiful dick still rock hard—and so big it reaches up under his harness—as he gets pounded some more, JJ building a great rhythm. JJ then sits on Tex's thick meat, riding him before getting on his back before they squirt.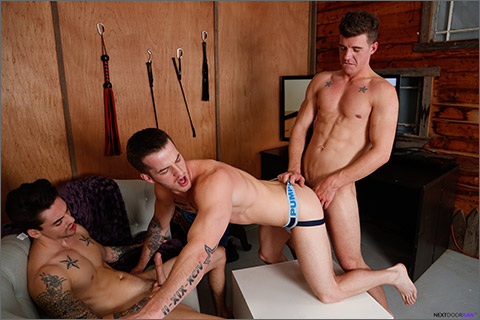 THE BREEDING HOUSE
There's no mystery about what goes on down at the Breeding House. It's the city's most active bathhouse and Quentin Gainz has recently become a regular. Johnny Torque and his partner in sexual adventure, JJ Knight, are visiting the place tonight for the first time.
   A little while after Quentin arrives and gets nice and comfortable with a big, anonymous cock in his mouth, courtesy of whoever's on the other side of the glory hole wall, Johnny and JJ enter the establishment. As they're checking in at the front desk, Quentin happens to be taking a little break, having a look at the latest dudes to drop in. He and Johnny lock eyes for only a few moments, but from that point, Johnny knows exactly whose hole he wants to breed.
   They find Quentin inside and convince him to do what they say. Soon, Quentin is switching back and forth between two enormous cocks. He's only had dicks in his mouth before, and is very nervous these boys want more.
   He's right. After taking Johnny and JJ's stiff erections hard and deep in his mouth, Johnny bends him over and slides his bare cock into that tight, virgin hole. This is NOT what Quentin had bargained for! It's happening now, and Johnny and JJ wouldn't like it if he raised a fuss, so Quentin does his best to take their massive dicks in his tight ass. After Johnny pounds his hole for a while, JJ takes a turn slamming him with his uncovered boner.
   Join them as JJ and Johnny teach Quentin a lesson about proper behavior at a bathhouse. You'll see Quentin realize in just what type of activity he's really become involved when these no-nonsense, RAW fuckers erupt their hot loads all over this gentle sweetheart who was just looking for a good time.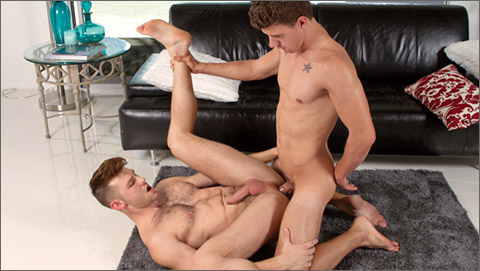 HEATED – PART ONE: JJ Knight fucks Jacob Peterson
Jacob Peterson jacks off on a deck chair while watching ripped stud JJ Knight frolic naked in the pool. Enticed by Jacob's exhibitionism, JJ takes the bait and it's not long before they're locked lip to lip. Jacob has a furry chest and 5 o'clock shadow, and JJ is smooth and clean shaven. They smash their uncut cocks together as they kiss, until Jacob bends to suck JJ: balls first, then his tongue traveling to the tip of JJ's cock and finally swallowing his cock whole. JJ lays back and spreads his legs, giving Jacob total access to his mouth-watering goods. They flick tongues, then JJ redirects his attention to eating Jacob's hot hole, with intermittent slurps of dick. Jacob finger-fucks himself while JJ rims him, then he grabs JJ's cock and guides it into him. Groans compete with the sound of flesh slapping flesh. JJ's up-curved cock sprays its load in a high arc that coats Jacob's torso from chin to nuts. Jacob grabs his meat and doubles the load.
GUYS IN SWEATPANTS
KINK MEN
TITAN MEN
NEXT DOOR RAW
NEXT DOOR STUDIOS
FALCON STUDIOS
MEN.COM
GENTLEMEN'S CLOSET
JASON SPARKS LIVE