William Higgins Czech Gay Porn Star, Jirka Mendez
Known Aliases: Troy Vara, Jake Dante, Czech Hunter 168
Years Active: 2014 – 2015
Jirka Mendez is aged 20 and lives in Marianske Lazne. He is unemployed and enjoys ice-hockey, sports and gynmastics. What a very handsome guy he is. He certainly looks good as he poses at the start of his shoot. As he removes his tee-shirt we see that Jirka has a good body too, with some hair on his chest and a happy trail. After posing so that we can enjpy his chest Jirka turns and lowers his jeans to show off a beautifully round butt. With Jirka naked, next, he poses again with his hot, flaccid, cock resting on his balls. Then he kneels on the sofa to show off his sexy ass again. Turning and sitting down he leans back, legs spread and dick at rest on his balls. He gets his cock nice and hard and then stands up to show it off. Back onto the sofa, leaning back and pulling his legs up we get a great view of that tight hole. Before finishing with some more hot poses and a beautiful smile.
William Higgins Model Name: Jirka Mendez
Age: 20
Home Town: Marianske Lazne
Height: 175cm/5'8″
Weight: 70kg/154lb
Foot Size: EU42/US8.5/UK8
Penis Size: 16cm/6.3″
Profession/Student of: Unemployed
Hobbies: Sport
Favorite Sports: Gymnastics
Active Sports: Ice-Hockey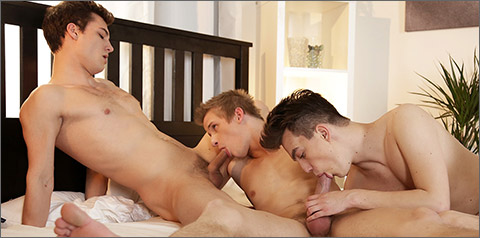 CUM WITH ME!: DIRTY BLOND GETS BLINDFOLDED, RIMMED & SPIT-ROASTED BY MATES!
Edward Fox and Troy Vara are clearly in the mood for a little bit of kinky fun with their sleepy fuck-buddy, Tom Nutt – bounding onto his bed, blindfolding the fellow and playing that age-old game of "guess whose cock you're sucking"! Any pretence of disinterest on Nutt's part, however, is undermined by the fact that the young blond has a hard-on in his pants like a fucking tent. Indeed, both Fox and Vara seem to understand that their pal is well up for action; and it's no more than a minute or two before Nutt has removed the blindfold and is very eagerly devouring every meaty, uncut inch that his mates are able to thrust in his direction!
   What's more, it doesn't seem to take all that long before the fellow has positioned himself on the bed with his legs almost wrapped behind his ears, so that Fox and Vara can take turns to rim his gaping ass-hole. Clearly this is a boy with a whole lot of sex on his mind; and it seems to come as almost something of a relief when Vara finally plunges his joystick into the fellow's hungry pucker, still jutting proudly into the air in a very open invitation to his over-sexed pals.
   No question about it, Vara takes full advantage, mercilessly pummelling the kid's man-cunt to full effect; whilst Fox takes a somewhat more gentile approach, allowing Nutt to ride his dick cowboy-style – a method that Vara himself replicates shortly afterwards. Not that Nutt seems the kind of boy to care how he's being fucked – so long as he is! – and the copious stream of jizz that he takes full-on in the face only underlines his total-slut credentials!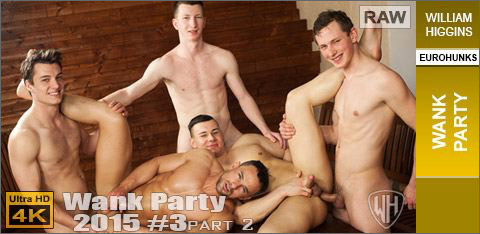 WANK PARTY 2015 RAW #3
For our EASTER WANK PARTY 2015 we lined up a great cast, Jirka Mendez, Martin Porter, Tony Mark, Laco Meido and Paul Hunter. We find Martin and Jirka waiting for some beer. It is delivered by Paul, who removes the caps from the bottle and hands a bottle to each of the others. It seems they have lost their friends who are out looking for girls to hit with their birch sticks, an Easter tradition. Then the others, Laco and Tony arrive. Paul gives each of the new arrivals a beer too. It seems they didn't have much luck with the girls. To make up for it they decide to use Laco's ass instead. Then strip him from the waist down and start to flick their sticks over his sexy ass. Then they release him and go back to drinking beer. Jirka and Paul start to rub Laco, soothing him after his ass was made sore. As he rubs Laco's chest Jirka leans over and kisses him. Martin moves over to Tony and starts to rub his legs, as he watches the others. Jirka licks on Laco's nipples as a bare-chested Paul rubs that sexy body. They remove Laco's tee shirt and he starts to rub Paul's leg as Jirka takes off his tee shirt. Martin and Tony kiss and start to get naked as Paul reaches over to Jirka to rub his chest and groin. Tony has Martin'as jeans open and reaches in to grope him. Meanwhile Paul kisses Laco as things start to really heat up. Tony loves Martin's big chest and starts kissing on it as Jirka has Laco naked and sucks on his cock. That cock is rock hard as Jirka sucks it, and Martin's is throbbing too with Tony's mouth wrapped around it. Laco kisses Paul as Jirka keeps on sucking and Tony does a great job on Martin's rock hard dick. Then Paul moves to join Jirka, sharing Laco's throbbing cock. They kiss too and takes turns sucking. Then Tony is naked and hard and Martin shows that he loves to suck cock too. His handsome face encloses Tony's beautiful cock, working up and down on it. Paul does the same to Tony with Jirka encouraging him. Then Jirka and Paul get naked too, their cocks all ready for action. Paul moves to stand in front of Martin who takes that hot cock in his mouth. Laco sucks on Jirks as Tony takes a turns a turn on Paul's cock. Then Martin sucks again as Tony switches to suck Jirka. they all take turns on Jirka's and Paul's cocks and then start some rimming. Martin lays on his back with Tony tonguing his hot hot. Jirka lays on top of Paul, both their asses available for Laco to rim. His pierced tongue laps as each hot. Martin loves Tony's hot tongue and then enjoys a finger joining it to work his hole, as Laco continues to work on the other two guys. That has set things up so well for the final part.

FULL CONTACT: ROMI ZUSKA & JIRKA MENDEZ RAW
Romi Zuska is enjoying a shower in his flat, holding the the hose with the water running over him. He soaps his sexy body, rubbing the soap into his cock and then his ass. Then he washes the soap off and walks into the bedroom where he finds Jirka Mendez. Jirka stand up from the bed and begins to kiss Romi. He sits on the bed and has a quick suck on Romi's cock. Then he leans back, his own dick already very hard, for Romi to suck him. Romi's mouth wraps around that hard cock and works it well. He licks the cock and laps at Jirka's balls. Licking, sucking nad wanking on that cock has Jirka feeling so good and he fucks it into Romi's hot mouth. Romi does a great job of sucking and his own cock gets very hard too. Jirka begins to suck it, his head bobbing up and down, as the balls are tight around the base. The move to 69 with Romi on top, as they each eagerly suck the other. Jirka pulls as Romi's ass cheeks and rubs over his tight hole. Then Jirka lifts his legs in the air to offer up his sexy hole. Romi is quick to start rimming the ass, his tongue lapping at the hole. With Jirka moaning a little he slips a finger into that tight hole and sucks on the cock some more. Jirka then turns over, and Romi slides his throbbing cock deep into Jirka's tight ass. He fucks that sexy ass, stretching it wide as Jirka wanks himself. Jirka moans as he takes that cock deep in his hole, with Romi spanking his ass as he fucks. Then Romi lays down so that Jirka can ride his cock. Jirka wanks himself as his ass slides up and down on Romi's pole. He wanks hard and fast as his hole works on Romi's hard cock. Romi thrusts his cock up into that ass and they move to doggy for him to fuck even deeper. That pushes Romi over the edge and he pulls out to shoot his hot cum over that sexy ass. Jirka turns around and kisses his partner again to end a lovely scene.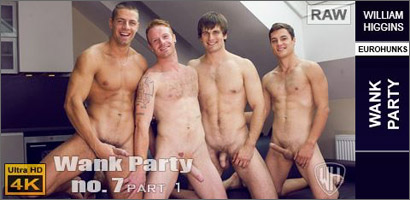 WANK PARTY 2014 #7
In part one of our latest Wank Party Arny Donan has visitors to his new apartment. They are Tom Vojak, Victor Burek and Jirka Mendez. He proudly starts to give them a tour, starting with his hot tub. Tom and Jirka quickly get naked and into the tub as Arny takes Viktor to show him more of the apartment. As they continue Vitor and Arny start to kiss. Tom and Jirka have similar ideas, and are soon all over each other, kissing and with Jirka wanking on Tom's big cock. The cock looks so good as Jirka begins to suck it. With Tom lifted out of the water, and Jirka bobbing his head up and down on the throbbing cock it all looks so good. Then Jirka sits back and wraps his feet around Tom's cock, with him holding them to wank himself. Jirka is hard too and he lifts himself up, so that Tom can suck him. That sexy body looks so good as Tom works on the cock. He really does a great job on it and then turns around, presenting his hot ass, for some tongue. Jirka gets to work, dipping his tongue in that tight hole, as Tom wanks himself. Meanwhile Arny is working on Viktor, stripping his clothes down, and finding a big, hard dick He takes the cock in his mouth, sucking it all the way. Viktor sits on the stairs and Arny continues to work on his dick. When Arny stands his boxers are bulging and Viktor pulls them down, so that he can taste some cock too. By now Tom and Jirka are standing, kissing and wanking each other. They climb out of the tub and go to join Viktor and Arny. Tom sits and is joined by Arny as Viktor gets together with Jirka. They all kiss and then Tom gets to work on Arny's cock with Jirka doing the same for Viktor. Then they change so that Arny and Viktor are sucking, with Tom's big cock standing so pround as Arny's mouth slides up and down on it. Viktor's mouth licks up and down on Jirka's thick pole and opens to take the head in. Jirka pushes Viktor down again and they kiss and wank each other as Arny sits so that Tom can suck him some more. Arny just loves cock and looks so good as his mouth is open, with Tom's long cock fucking in and out of it. Viktor does a great job on Jirka's cock again, sucking him ready good.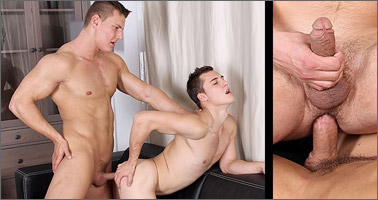 LUKE BAREBACKS JAKE DANTE
Luke and Jake Dante are groping and kissing when we first see them. Jakes is a young, small, lean man with a cute face and great ass. Luke is a ripped, muscle stud with chiseled abs and massive biceps. The two studs jerk each other's cocks and get hard. Jake gets on his knees and sucks on Luke's massive member. Luke takes his turn soon after. Luke then eats Jake's sizzling ass, getting it moist and ready for his raw cock. Luke towers over Jake and shoves his meat stick in and out bareback, fucking him doggy-style. Jake sits on the hand-rest of the couch and gets fucked bareback in the missionary position. Jake loves the feeling of Luke's raw cock inside his tight ass, making him smack his ass cheeks. Luke takes a break laying down on the couch. Jake sucks the huge cock that had just been deep inside of him. Jake goes for a ride and sits on Luke's cock bareback. Luke fucks him hard and good as Jake soon shoots his load. Luke pulls out and shoots his jizz all over his body. Luke and Jake Dante end up their hot session with a kiss.
STAXUS
WILLIAM HIGGINS
WILLIAM HIGGINS STR8HELL
JAKE CRUISE COCK SURE MEN
CZECH HUNTER
WANK PARTY 2014 #7
MASSAGE: JIRKA MENDEZ
ROBIN FEW BAREBACKS JAKE DANTE
LUKE BAREBACKS JAKE DANTE
CZECH HUNTER 168
EROTIC SOLO: JIRKA MENDEZ
FULL CONTACT: JIRKA MENDEZ & ARON ROS RAW
FULL CONTACT: ROMI ZUSKA & JIRKA MENDEZ RAW
FULL CONTACT: TIBOR RYSAVY & JIRKA MENDEZ
FULL CONTACT: JIRKA MENDEZ & ALAN CARLY SCREEN TEST
WANK PARTY 2015 RAW #3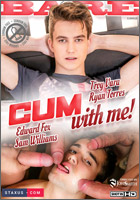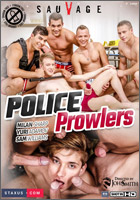 CUM WITH ME!
OPENED – TWINK MEETS FIST
SHOOT THIS!
POLICE PROWLERS
THE SEX FACTOR