Black British Staxus Gay Porn Star, Gareth Grant
Years Active: 2015
STAXUS INFO:
He claims to be the world's biggest fan of Arsenal Football Club, with a collection of Gunners' memorabilia that would impress every die-hard soccer fan around. It's getting to the point that he'll soon be needing a new flat to house it all in!
Date of birth: 19th January, 1983
Height: 5'11" (180cm)
Cock size: 7.5″ (19cm)
Ethnicity: British
Role: Top
Interesting Fact:
Gareth once auditioned for the UK version of "The Voice" – but sadly didn't make it to the TV rounds!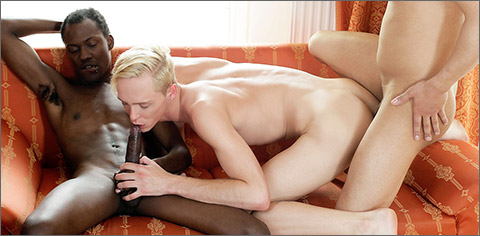 TWINKS DESTROYED 4: BLOND BEAUTY GETS HIS HORNY, TIGHT FUCK-HOLE INTERRACIALLY DP'D!
You don't need to be too much of a psychological expert to appreciate that Kris Blent is a young man with one hell of a dirty imagination; so give the blond beauty something phallic like a banana and before you know it he's dreaming up a truly terrific set-piece with the teasingly provocative (not to mention the ironically named) "Pinky". Add mixed-race and handsomely hung Gareth Grant into the equation – as happens here – and you genuinely have the makings of a fantasy classic! Indeed, just seeing the horny Dutch lad couched between this pair of ass-hungry dudes at the start of this scene is surely more than enough to underline the potential here; and needless to say you're not gonna be disappointed in any way.
   Suffice it to say that Blent's rump is in fine form right from the start – positioned in its full splendour over a sofa so that his two buddies can rim the tight little button for all it's worth. To their credit, Pinky and Grant don't hold back – getting their tongues deep into the crack and working Blent into quite a frenzy right from the off. But there's no denying that it's the blond boy who remains the centre of the action; a point that's only underlined when he's being energetically spit-roasted like a common whore.
   Never one to know where to draw the line, however, Blent is soon taking matters one stage further; taking both oversized black dicks up his arse at the same time, before eagerly allowing them to spew the contents of their balls all over his face! If that doesn't get your spunk flowing then we honestly have no idea what will!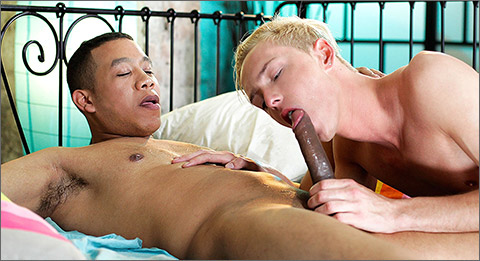 TWINKS DESTROYED 4: COCK-BITCH BLENT GETS HIS ASS RAMMED TO THE HILT BY BLACK DICK!
England meets Holland in a terrific interracial pairing, with the wonderful Kris Blent once again showing off all his sluttish credentials – a performance that a hardened ass-lover like Gareth Grant is clearly quite unable to resist. Not that that's in any way a criticism of the horny Brit. After all, there aren't many guys around who could willingly hold back from taking full advantage of the kind of fine bubble ass that Blent has to offer!
   Meantime, Blent is totally mesmerised by the terrific bulge that Grant is showing in his pants – a handsome mound that serves as a foretaste of great delights to come. Needless to say, it's no time at all before the Dutchman is peeling away the covers and taking a sneak at the treats inside – an act that signals the start of a delicious slurp on Grant's oversized ramrod! All this cock action evidently gets Blent in the mood – if indeed that was actually necessary! Before you know it he's grinding his hips back and forth in a totally explicit manner; inviting his buddy to first rim, then finger and then finally fuck his sweet, hungry ass-hole. And believe us, a lad like Grant doesn't need a second invitation!
   So sit back and enjoy the sight of Blent taking that almost obscene salami right up to the hilt in a wild succession of positions; culminating in him riding the full length like the bitch he is, before throwing himself down onto the bed and having the jizz banged out of him. All of which is nicely topped off by the lad pouting out his ass so that his older mate can cream his dirty little pucker. In short, a filthy, sweaty, jizz-inducing display!
CLICK HERE TO GO TO HIS STAXUS DETAILS